Soooo if you follow me on Instagram you may have heard the good news… I said YES to the DRESS!! About a month ago I went dress shopping with my MOH Logan and we went to two boutiques. I liked two dresses at the first place (or thought I did) and loved one dress at the second. I looked at pictures of that one on my phone over and over… and the more I saw it, the more I liked it.

I decided to make one more appointment for Saturday at another store because I knew it had a really large selection and this girl's gotta be sure about her purchase. I probably tried on 10 more dresses that morning and while there were several favorites, none of them gave me "that feeling" that I got in the other dress. No, I didn't have that break-down-and-cry moment, but I knew there was something awesome about it.

I also scheduled another appointment at Ladies of Lineage (highly recommend by the way) for Saturday afternoon to come see my dress again and see if I still loved it as much as I did the first time. The designer was also having a trunk show so I tried on two other gowns and I have to say one of them was a close second (dress shopping is hard y'all… I love them all!). After some deliberating and pic stitch action, I knew that the first dress was the one for me!! I know I'm over a year out from my wedding, but why keep shopping around if I know this is the one? It totally fits my personality and has that "wow factor" that I was looking for 🙂

I'm so glad that me, my MOH Logan, and bridesmaid Katie got to make a day out of it and it was fun to celebrate with them. We popped some more champagne and took our official Ladies of Lineage Instagram photo!
And here's our silly take 2 because we're cool like that 🙂

Ps. I wasn't the only one saying yes this weekend. Ryan & I went to the Hornets basketball game on Saturday and during a time out they did the kiss cam aka "conversation heart cam." First the heart said hug me, then kiss me, then after this couple kissed it changed to "marry me" and started playing Marry You by Bruno Mars… and then the guy proposed!! This was my first time seeing one of these public proposals and it was pretty cool! I'm sure they didn't care about the game at all after that.

And speaking of white dresses, Lupita Nyong'o killed it again at the Oscars. Her Calvin Klein Collection dress was embellished with over 6,000 pearls!!! It's probably one of the coolest dresses I've ever seen. She was a stunner but all I could think was, how much does this dress weigh?!?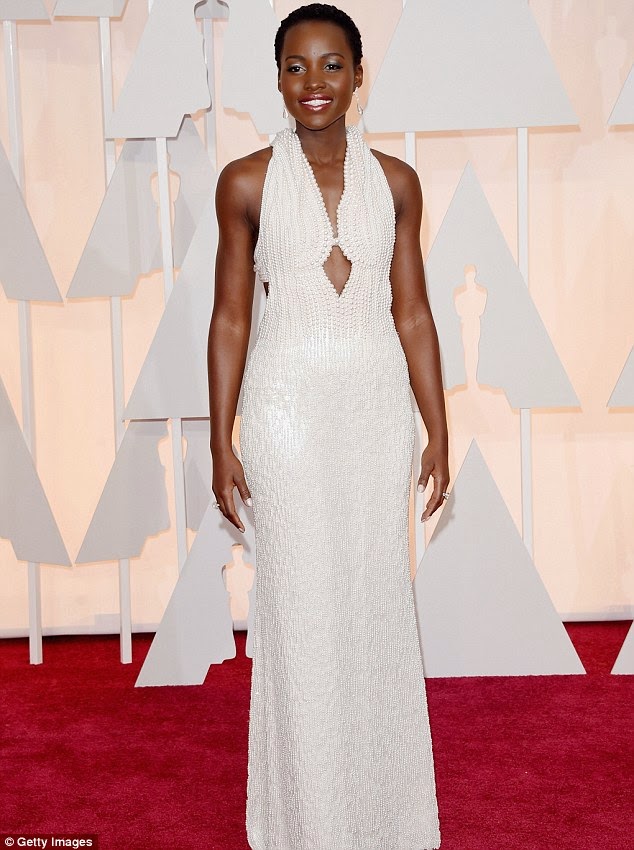 via

Hope y'all enjoyed your weekend! I'm headed back to Raleigh today and am staying for the whole week because it's time to really crack down on this Master's thesis. Thanks for stopping by and happy Monday!

Linking with Biana & Meghan.