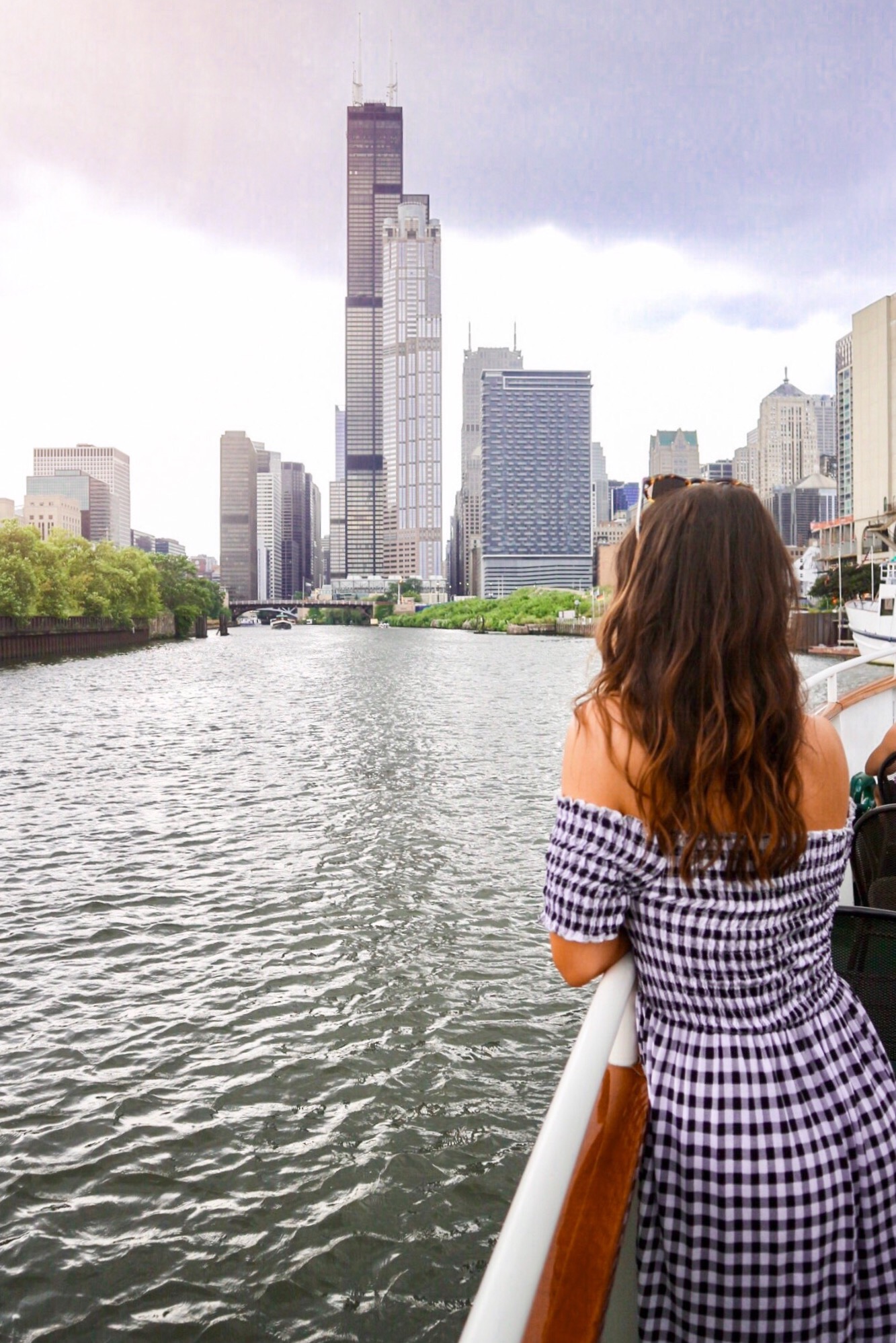 As y'all may know, I recently traveled to Chicago for the 5th Annual Blog Societies Conference (aka #TBSCon) and I wanted to take today to share a little recap with you guys. Many of you might wonder, what exactly do bloggers do at a conference? Of course lots of photo taking is involved but what I really love is getting the chance to meet other bloggers, network with brands, take workshops and just learn how to better myself as a blogger. And visiting a new city is just the cherry on top!

sunglasses // dress // sandals
This year I stayed with Meghan from I'm Fixin' To and Brittany from Tilley's Threads. I've known Meghan for a few years and met Brittany last year at the conference in Charleston so we decided to share a room and we all had such a great time! We got in on Thursday morning, took the train into the city and checked into our hotel at the W Lakeshore. I'm a huge fan of W's- I love the décor, ultra comfy beds and of course the Bliss products. This was where most of the conference took place so we knew it would be most convenient to stay there. After that we went out to explore the city a little bit, first stopping at a little beach bar called Castaways. Then we made our way to the river for an architectural boat tour which was awesome and I'd highly recommend it for anyone visiting Chicago. Funny story- after our Uber driver got a ticket for picking us up in the wrong place we were SO behind and were literally sprinting through the streets to make it to our boat (after stopping at 4 others along the way). Tip: make sure you know the exact name of your boat because they all look alike!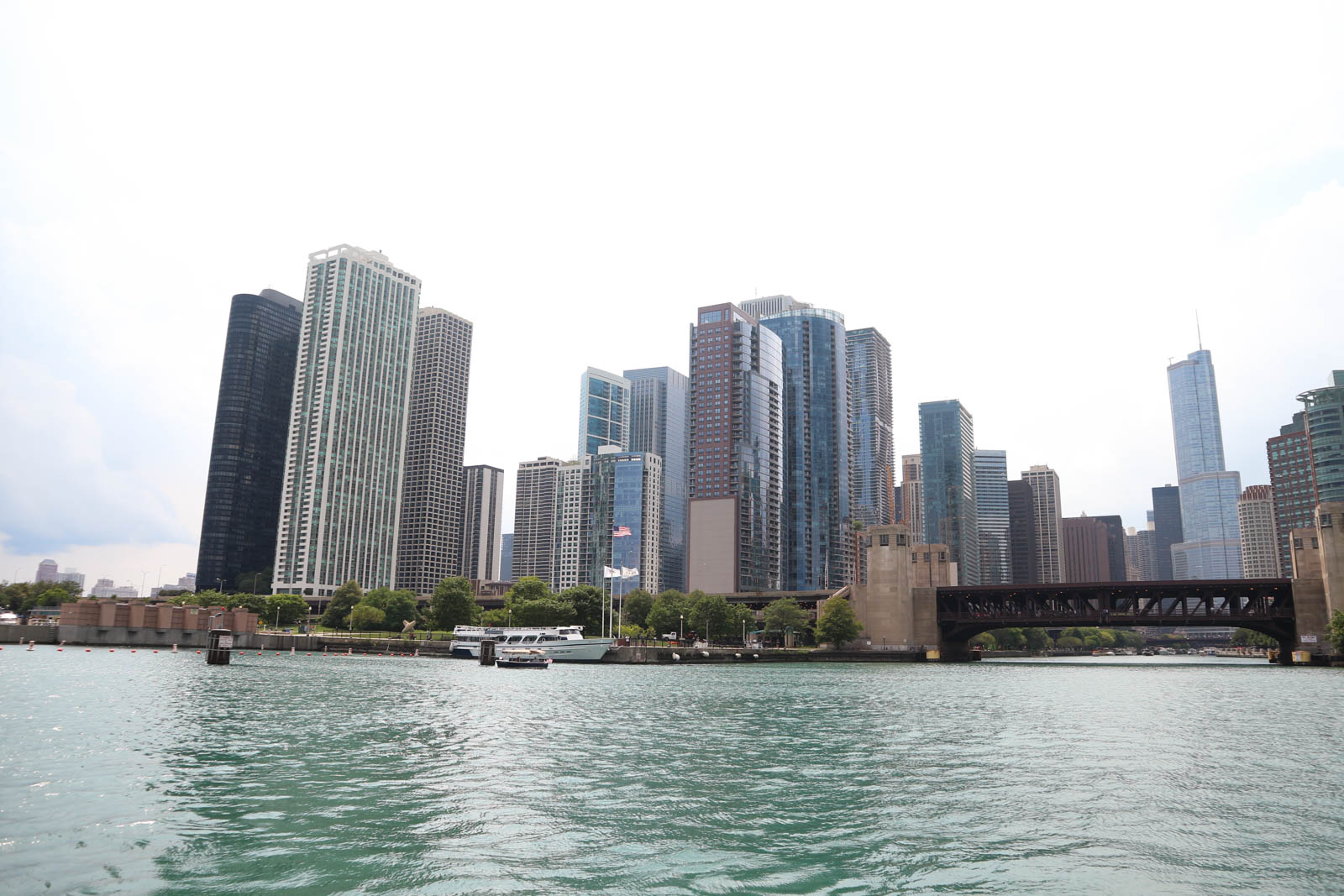 The first night we headed to the Vera Bradley welcome party at Sugar Factory (but not before squeezing in a quick photo at the famous flamingo wall!). Think lots of candy and sweet drinks complete with dry ice. We got to enjoy some yummy apps and bubbly while mingling with other bloggers, always a fun way to start the weekend! After that we made our way to Cindy's, a rooftop bar & restaurant overlooking Millennium Park. The views were incredible but sadly it started to rain after we got there. We had dinner there and while the food was certainly good, it was a bit overpriced but I guess you're paying for the experience. Either way, the 10 of us girls had a great time!
Day two was a busy one. After making a Starbucks run, we started 3 hour-long workshops on topics like Lightroom, SEO (search engine optimization), Tailwind, and accounting for bloggers. I definitely learned a few things and finally broke down and purchased Lightroom the other day. I'm excited to take editing to a new level so I can get the most out of my photography.
After workshops, 70 bloggers got on a bus and headed to lunch at The Boarding House. It was sponsored by Marc Fisher (love his shoes!) and the reps showcased the new fall collection and treated us to an amazing lunch. The venue was absolutely gorgeous! After that it was time for the networking suite at the hotel. This is where we got to meet brands, discuss possible collaborations and of course get some swag! And after that we got ready for the night by popping THE cutest glittery bottle of champagne from One Hope Wine.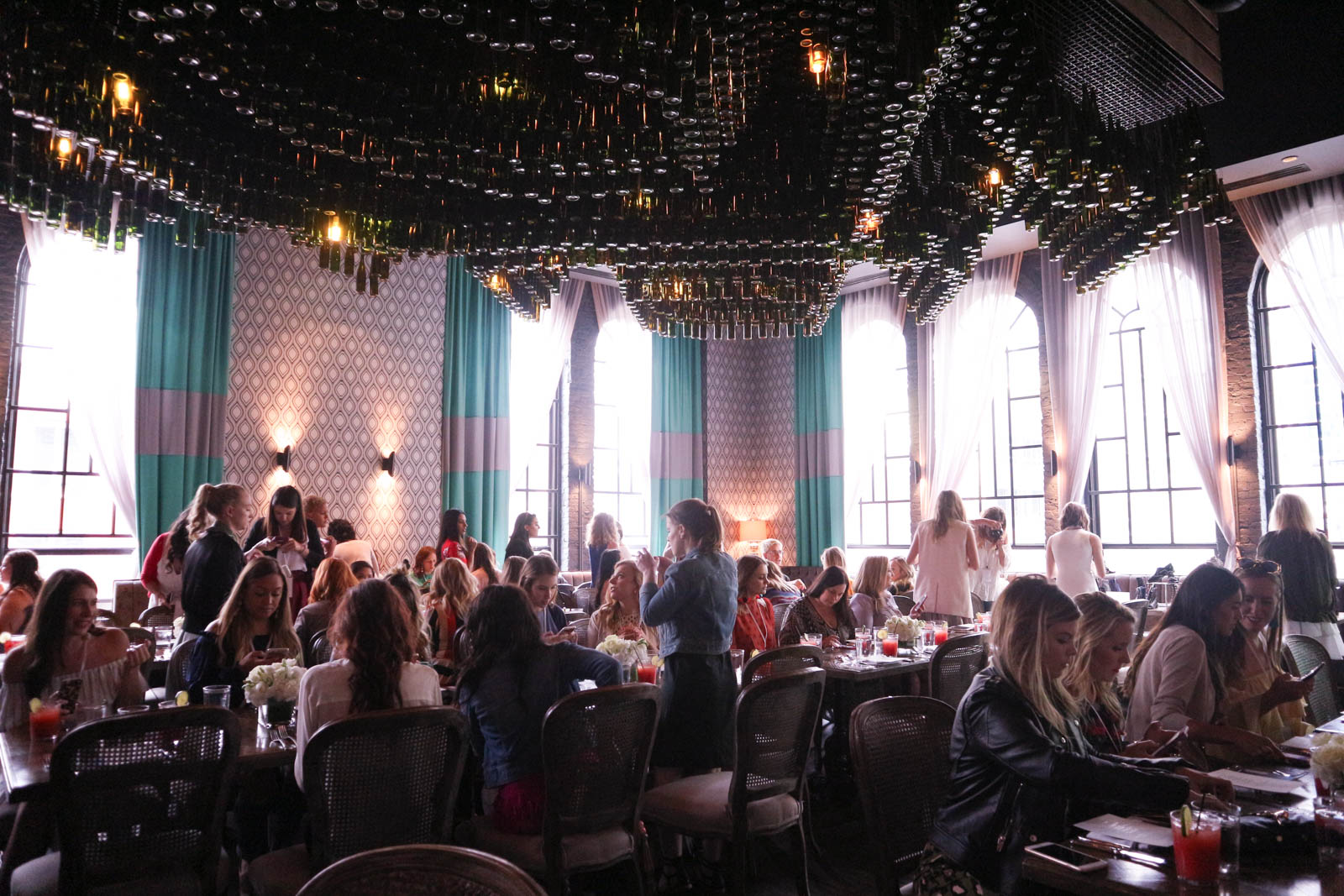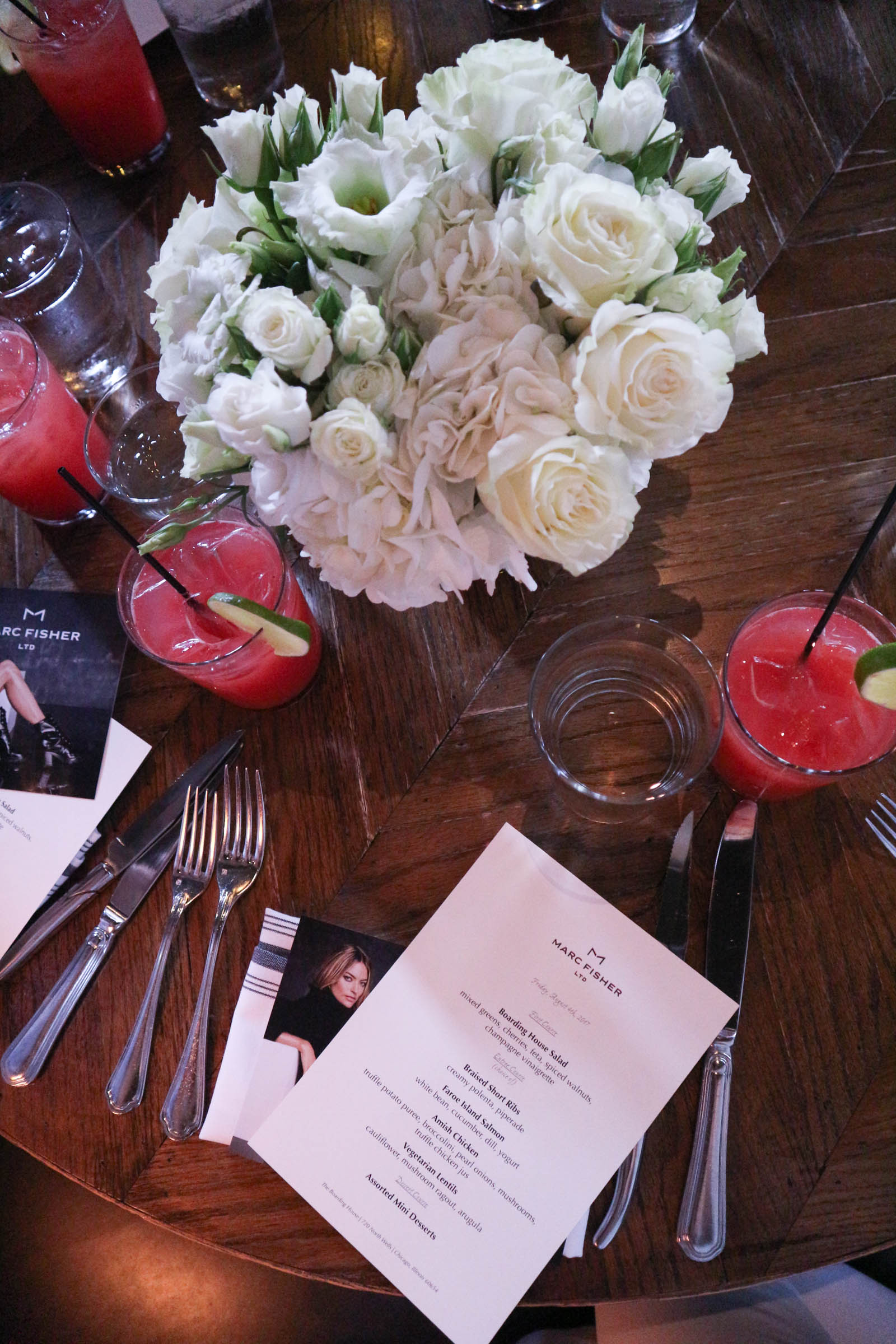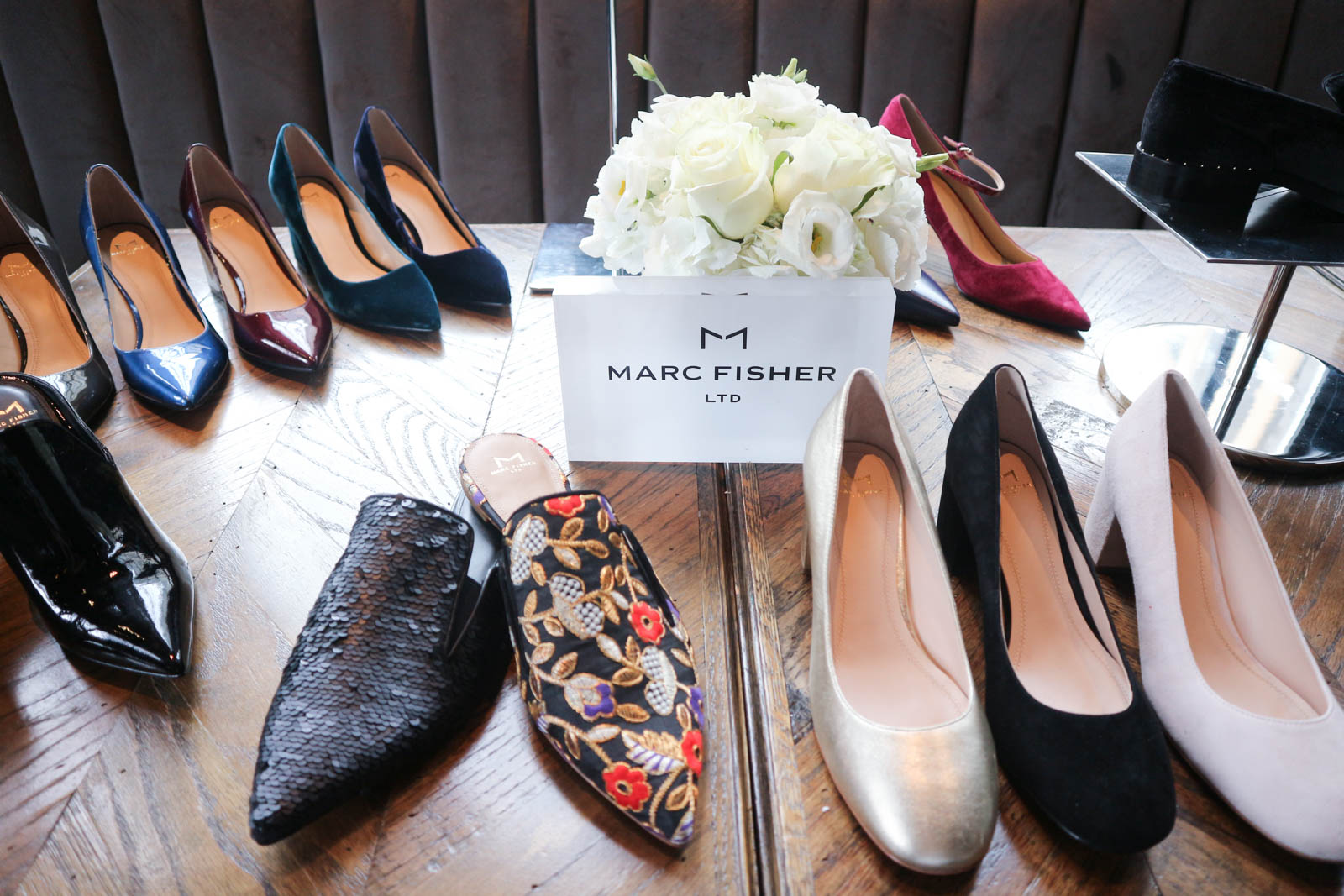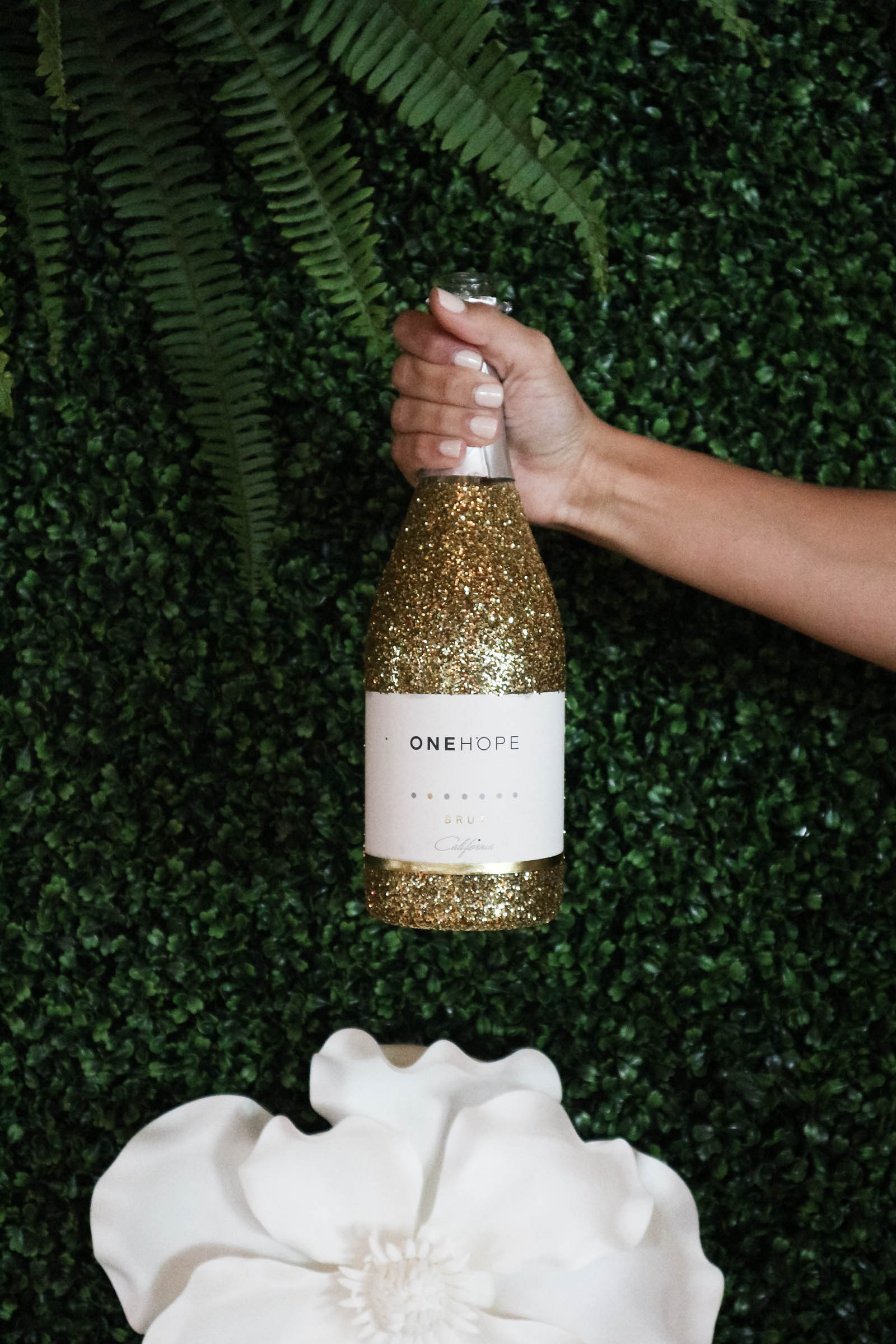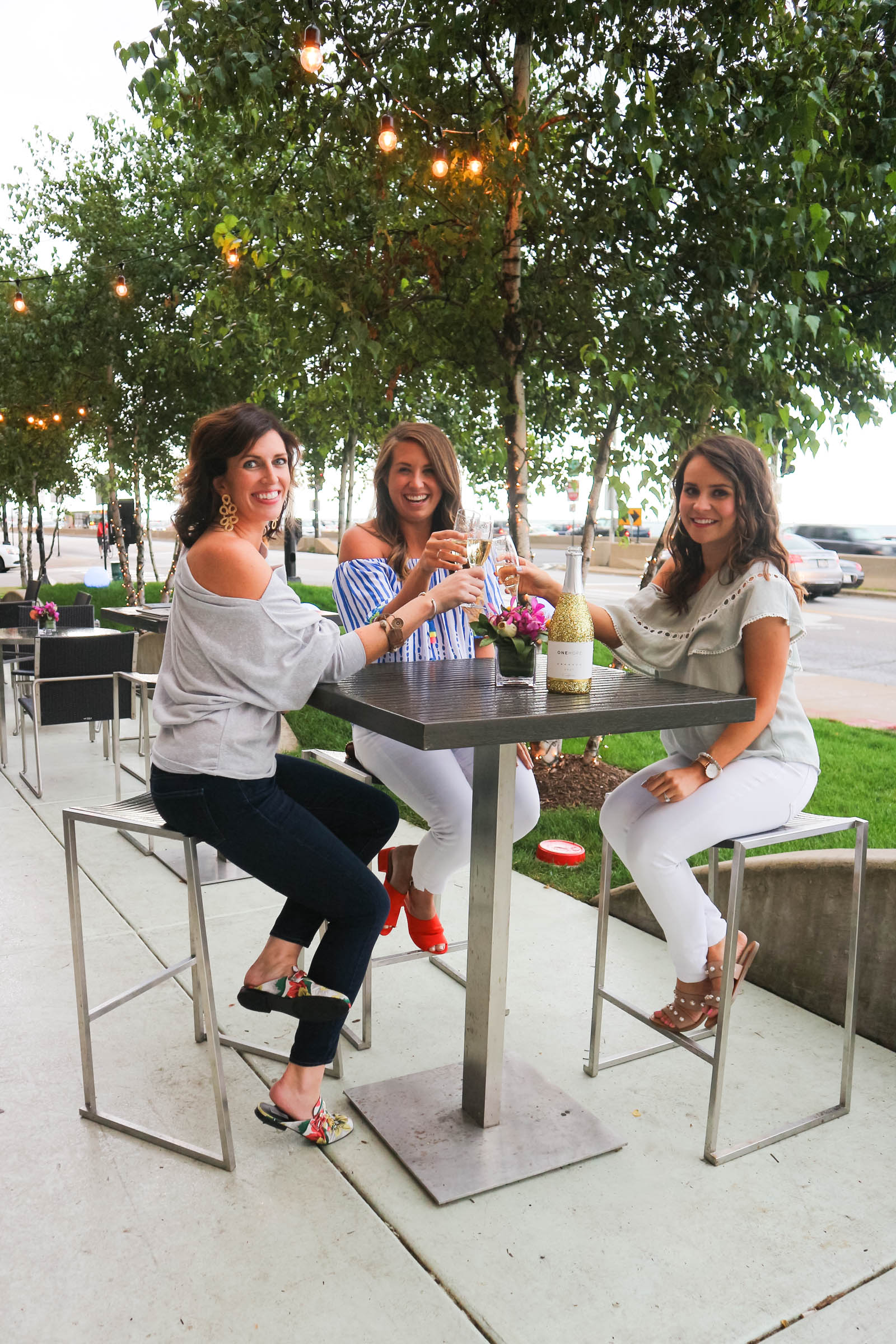 We made it a point to do a few touristy things on our trip so on Friday night we headed to the Willis Tower (formerly Sears tower). We got tickets for the Skydeck, which is located on the 103rd floor and has four all-glass ledges that you can step out on and literally see the city under your feet. Even though I'm not really scared of heights (I've been skydiving before) it was still a little freaky seeing all the buildings under you. Definitely a must-do for your first time in Chicago!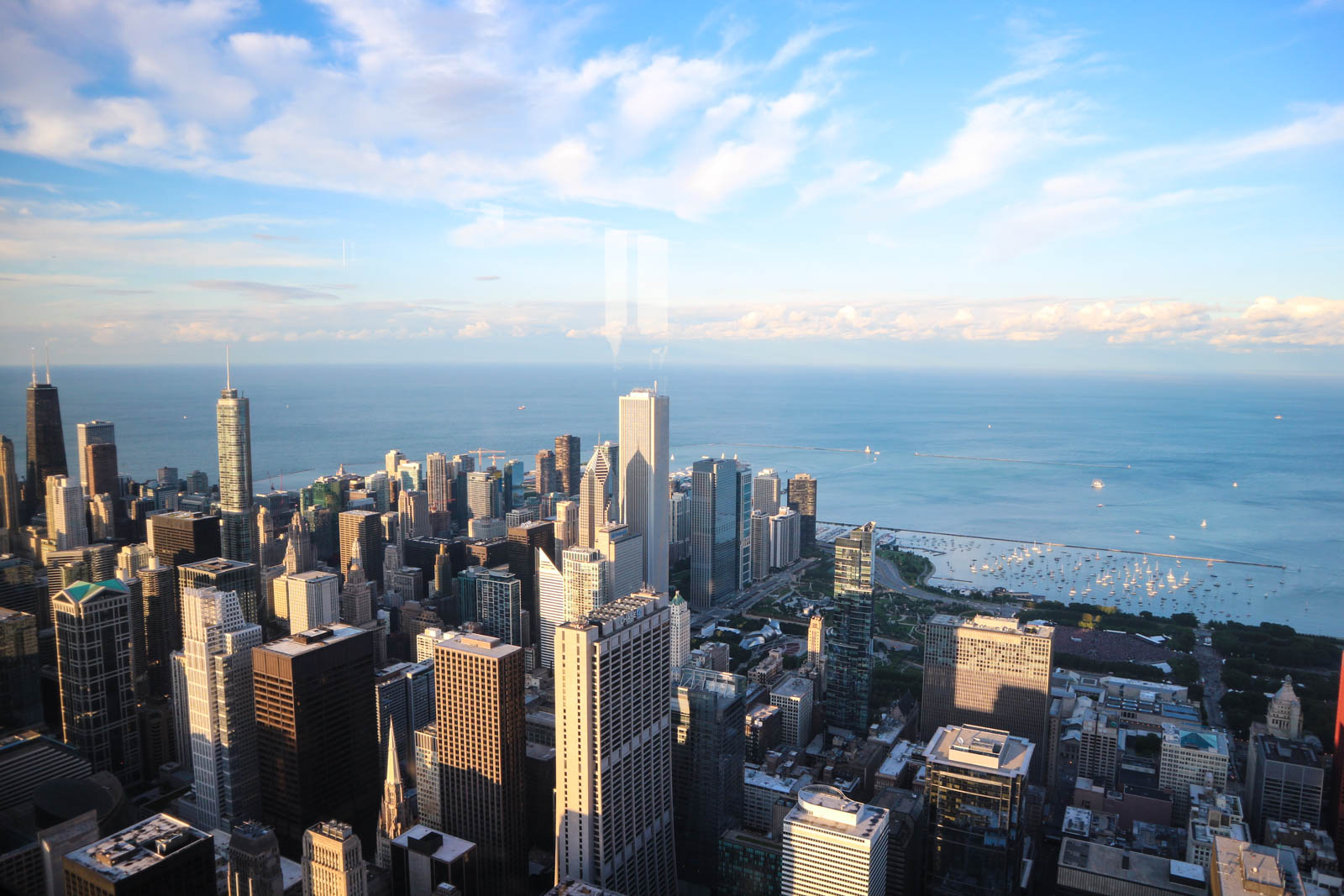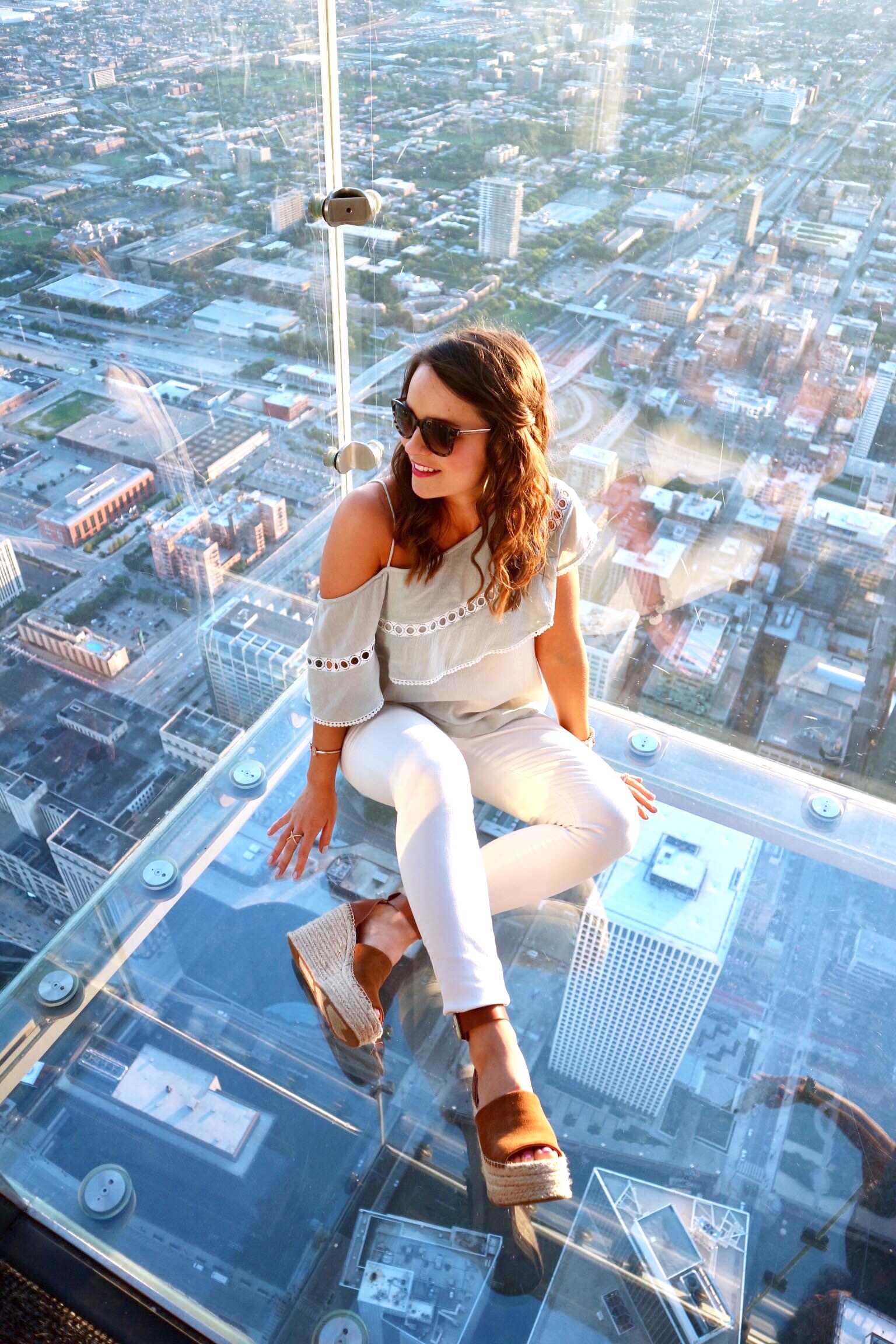 one-shoulder top // jeans // espadrilles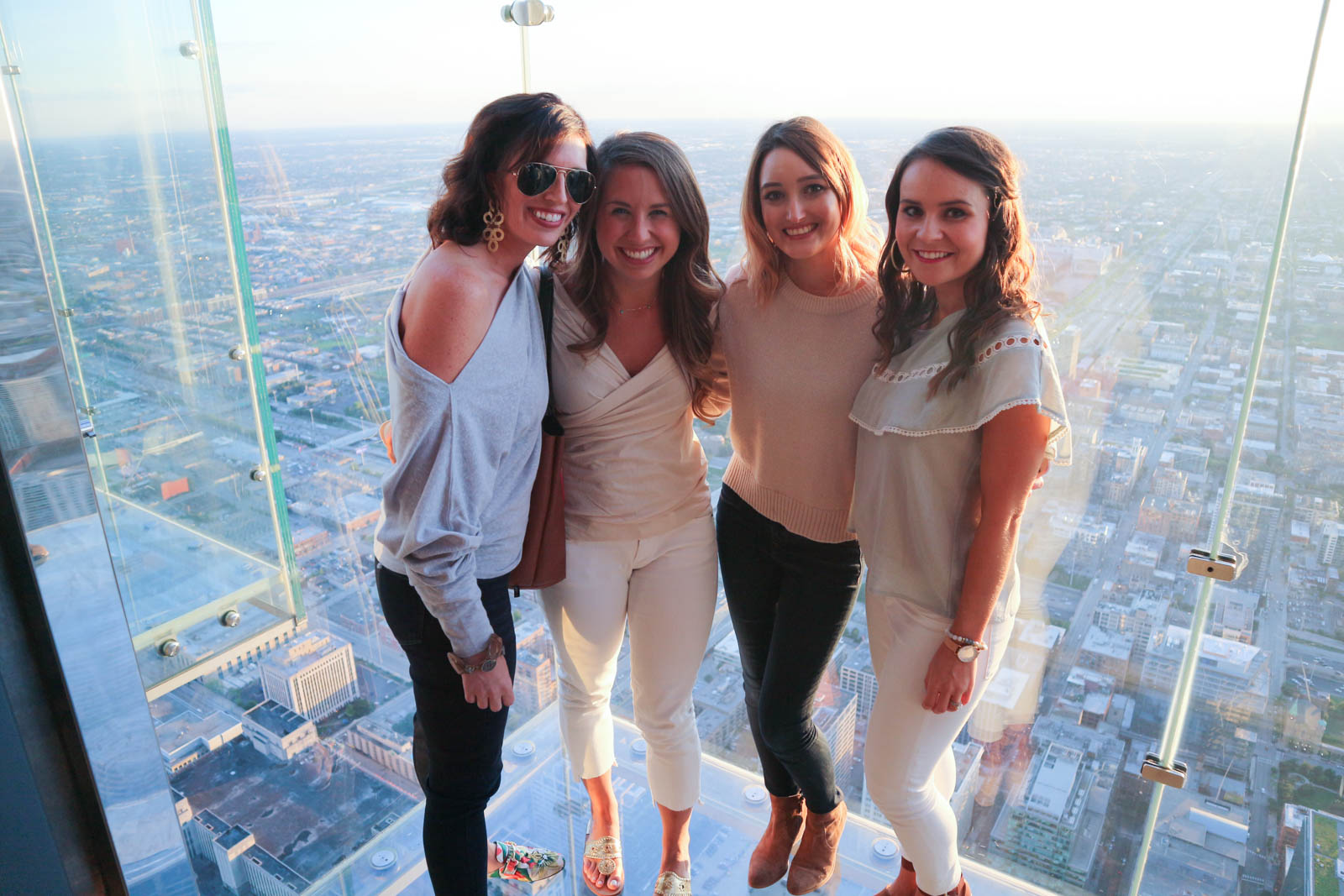 The night ended with 14 of us heading to The Hampton Social for dinner. You may have seen the infamous "rosé all day" sign and I will vouch that their frosé was absolutely delicious! I loved the nautical decor inside and their seafood was awesome.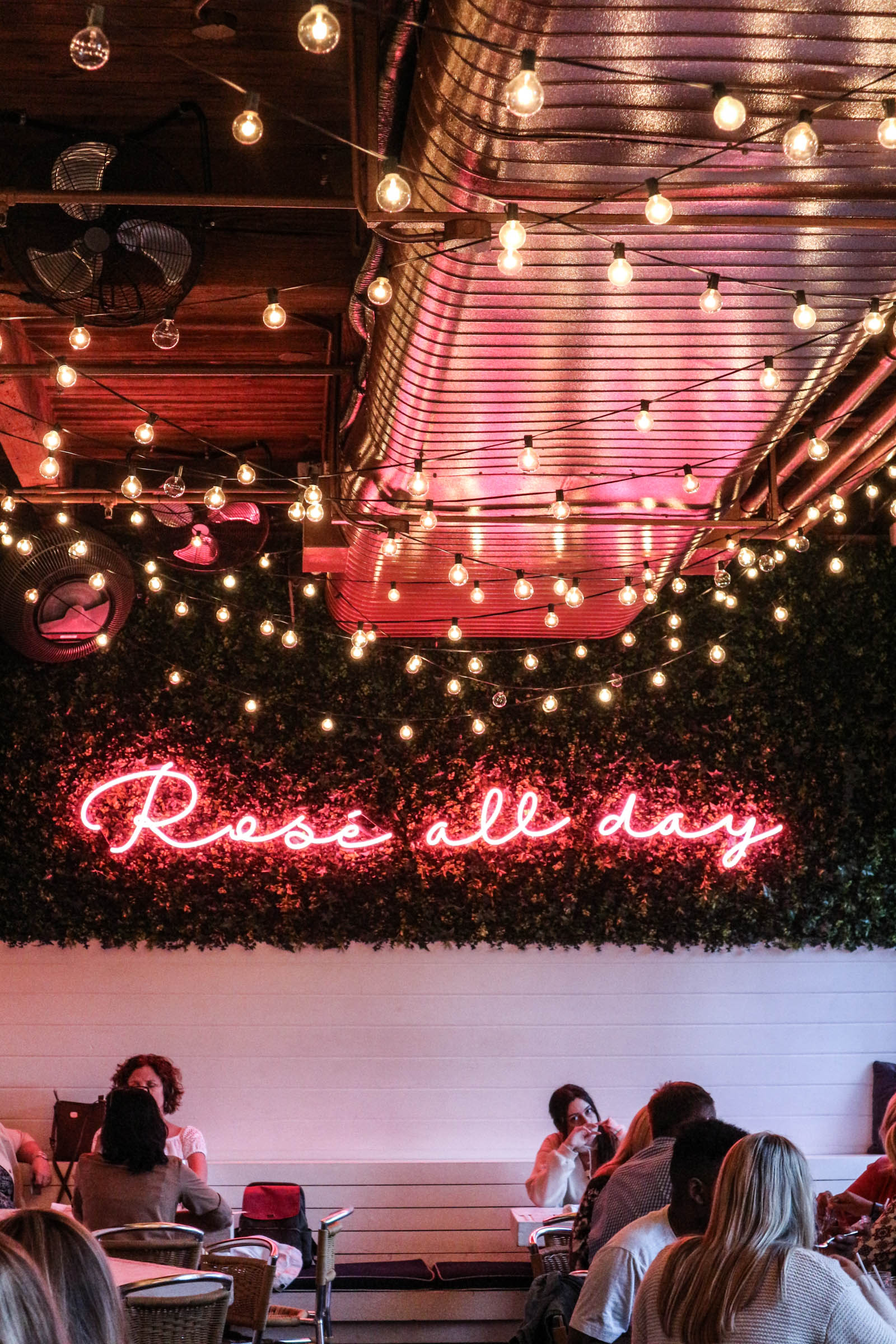 The last day ended with several speakers and a brand panel. First, we got to hear from Grace & Danielle (from A Southern Drawl and Shop Dandy) on how they incorporate travel content into their blogs. Then we heard from Rachel Martino who talked about her journey to become a full-time blogger/vlogger. Next up was Brittany from Lawyer Lookbook who discussed some legal topics in the blogging world. They are all some serious #girlbosses and I took away several great points from their presentations. We finished up with a brand panel and a causal picnic with Charming Charlie overlooking Navy Pier.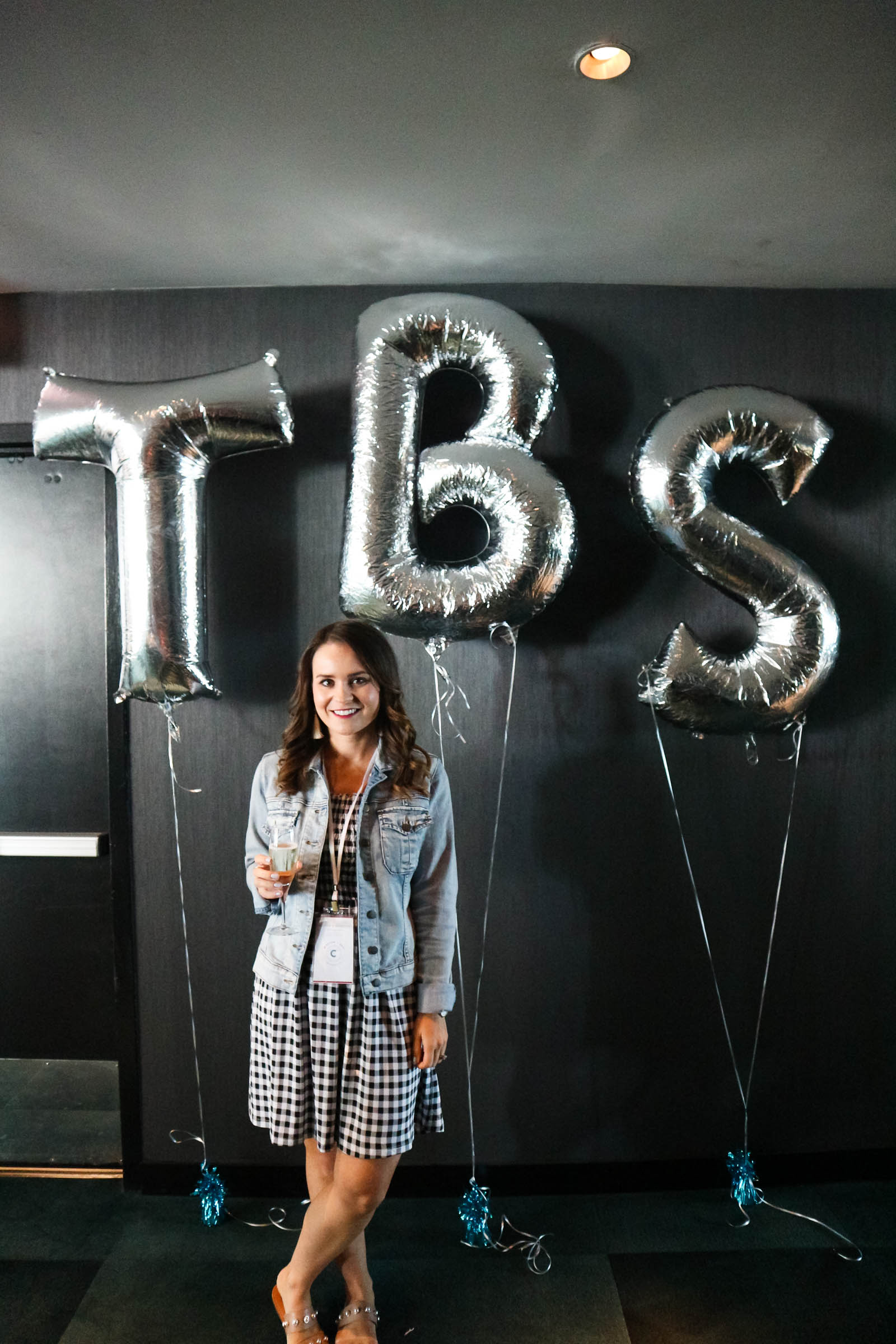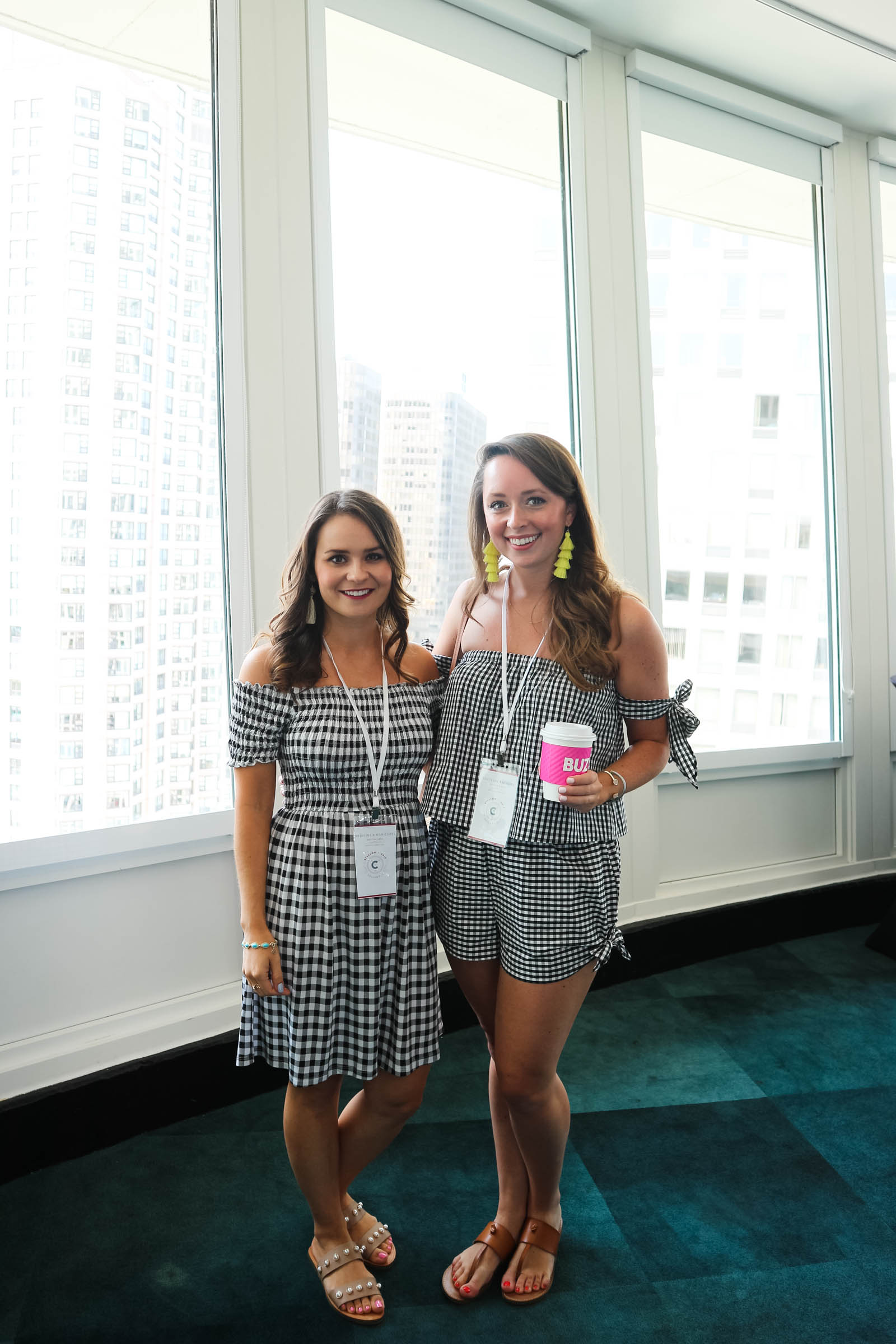 gingham dress // pearl slide sandals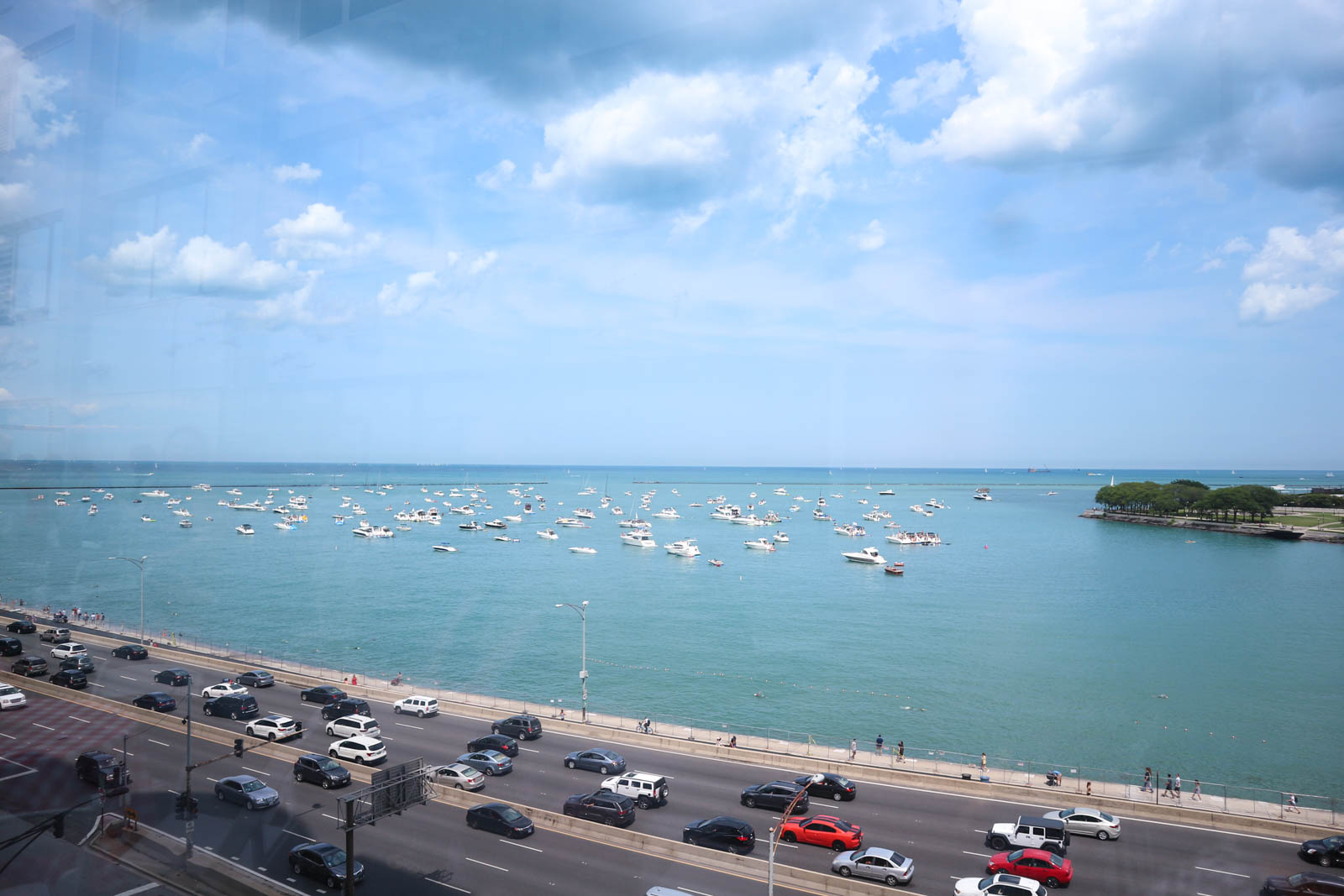 Phew, that was a long recap! It was a packed weekend for sure and along with all of the conference festivities, I really loved getting the chance to explore Chicago for the first time and hang out with blog friends, old and new. Stay tuned for another post where I'll be sharing a few of the things that I learned and took away from the conference as a whole. Thanks for reading!
You can check out my post about last year's conference in Charleston, SC here!