The holiday season is full of many traditions in our house but one of my favorites is decorating the tree. We always get a real tree right after Thanksgiving and this year we got another 9 foot flocked beauty. A few years ago Ryan & I started the tradition of collecting ornaments on our vacations as traveling is one of our favorite things to do together. In today's post I'm sharing the newest ornaments on our tree for 2019 and some of the holiday decor around our new home!
I'm going to start off with my favorite ornament this year, an early Christmas gift I gave Ryan as we were decorating the tree. (Technically not from a vacation but still very sentimental!) To commemorate our first Christmas in our new home, I had this ornament hand-painted by Sydney of Durrett Designs. She is a local Charlotte artist and her work is absolutely beautiful. I reached out to her a few months ago and commissioned this ornament and it turned out better than I could have imagined!!
Park City– I went on this trip with one of my girlfriends and it was my first time skiing out west. No skiing for me this winter but I will most definitely be back soon!
Atlantis– I love going on couples trips to mix things up so we decided to visit Atlantis in the Bahamas for March Madness. The resort was awesome with tons of things to do- we called it the Vegas of the Caribbean!
Mykonos– We knew this would be the year to start growing our family so we went on a bucket-list trip to Greece. We started out in Mykonos so I had to grab an ornament with an iconic windmill.
Santorini– Our second stop in Greece was the beautiful island of Santorini. This island is known for all the white buildings and blue domes so naturally I had add another ornament to our collection.
Paris– We had a very quick two days in Paris to end our summer vacation so I had to grab a glittery Eiffel Tower ornament. I actually found this one in the airport!
The Plaza– The last new ornament of 2019 was a hand-painted ornament by Michael Storrings that we picked up at The Plaza Hotel. It's absolutely gorgeous and he has tons of cute art prints of the city- so glad I discovered him!
Next I wanted to share a mini holiday home tour. We used most of the decor that we have collected over the years, just made a few tweaks. I added fun champagne colored ribbon to our garland on the stairs. I was also so excited to finally have a big mantle to decorate. We used the faux garland we already had and just added some brass candle holders and taper candles. Cannot wait to add one more stocking next year!
In our dining room, I added a fun touch of greenery on our brass linear lantern. I got fresh pieces of pine and cypress from Trader Joe's and attached it with clear fishing line. It was super easy and quick to do and made our dining room extra festive. We still don't have artwork in the nook so I added a "Merry Christmas" sign and a lighted birch tree.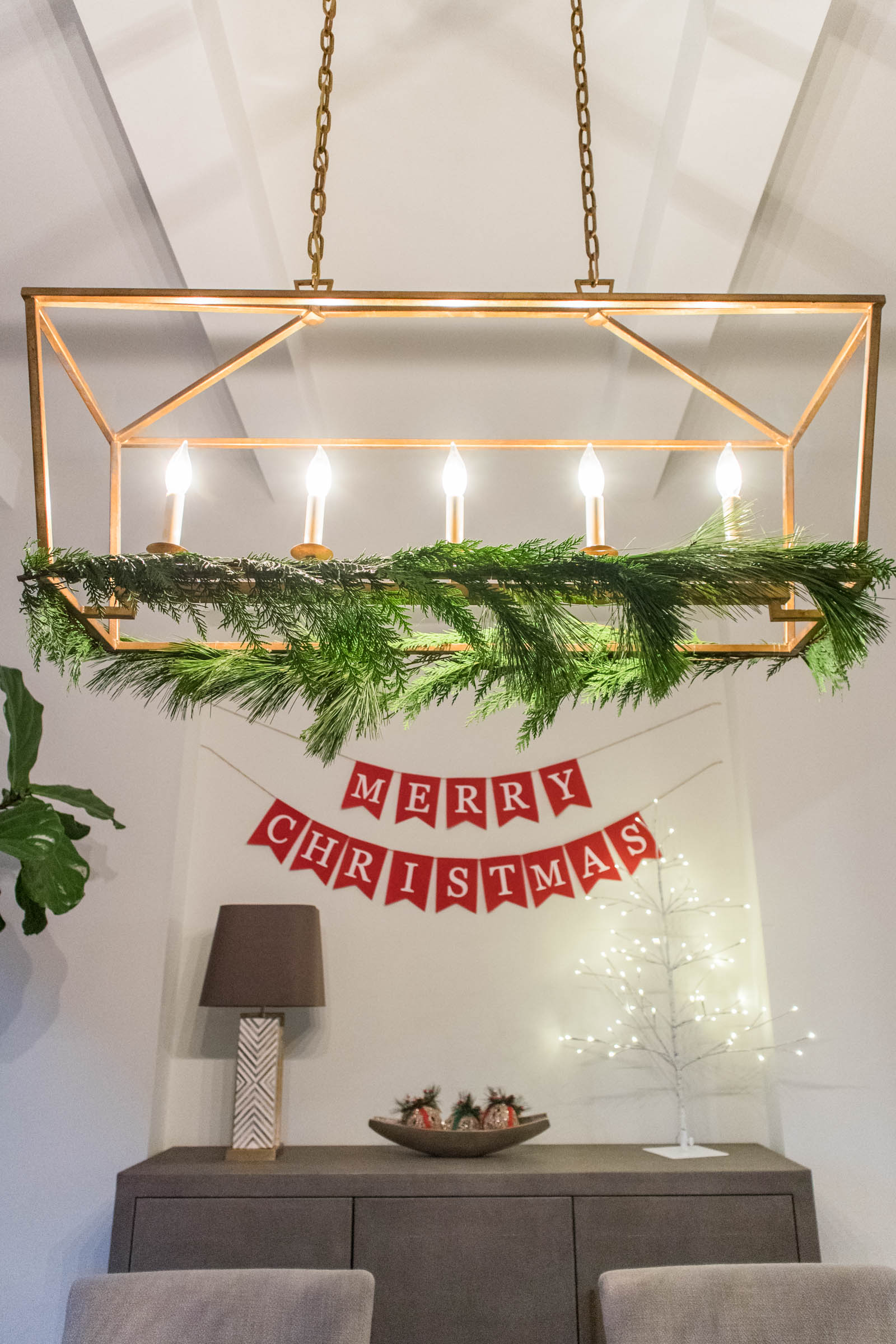 I hope each and every one of you have a very merry Christmas!! We are hosting Christmas Eve dinner then will be going to my sister-in-law's for Christmas. And is it just me or has this December flown by?? I think it feels like that because Thanksgiving was so late but I'm so not ready to take down all these decorations. Thanks for reading and I'll be back with a new post on Friday!
See last year's holiday decor post here!