Hey, friends! This post has been a long time coming but I wanted to share with you some of my favorite baby brands for clothing. Dressing Porter was one of the things I was most excited about- I mean, what's cuter than teeny tiny baby clothes?! It's been so fun to experiment with his little "style" and see which pieces work best for us. Today I'm sharing a few of our favorite brands that he's been wearing his first few months.
Kissy Kissy | One of my all time favorite brands if you love sweet, classic pieces for baby. All their items are made of Pima cotton so they wash super well and are so soft. I've gotten a lot of these secondhand from a local mom's Facebook group and they truly feel like new.
Magnolia Baby | This brand is very similar to Kissy Kissy- timeless and great quality pieces. We love their convertible gowns.
Angel Dear | One of my favorites because of their adorable prints! I recently picked up this octopus romper and Porter also has avocado toast and sushi onesies- I mean, what's cuter than that?! This brand is a little more trendy and the fabric is amazing. They also make cute lovies and blankets!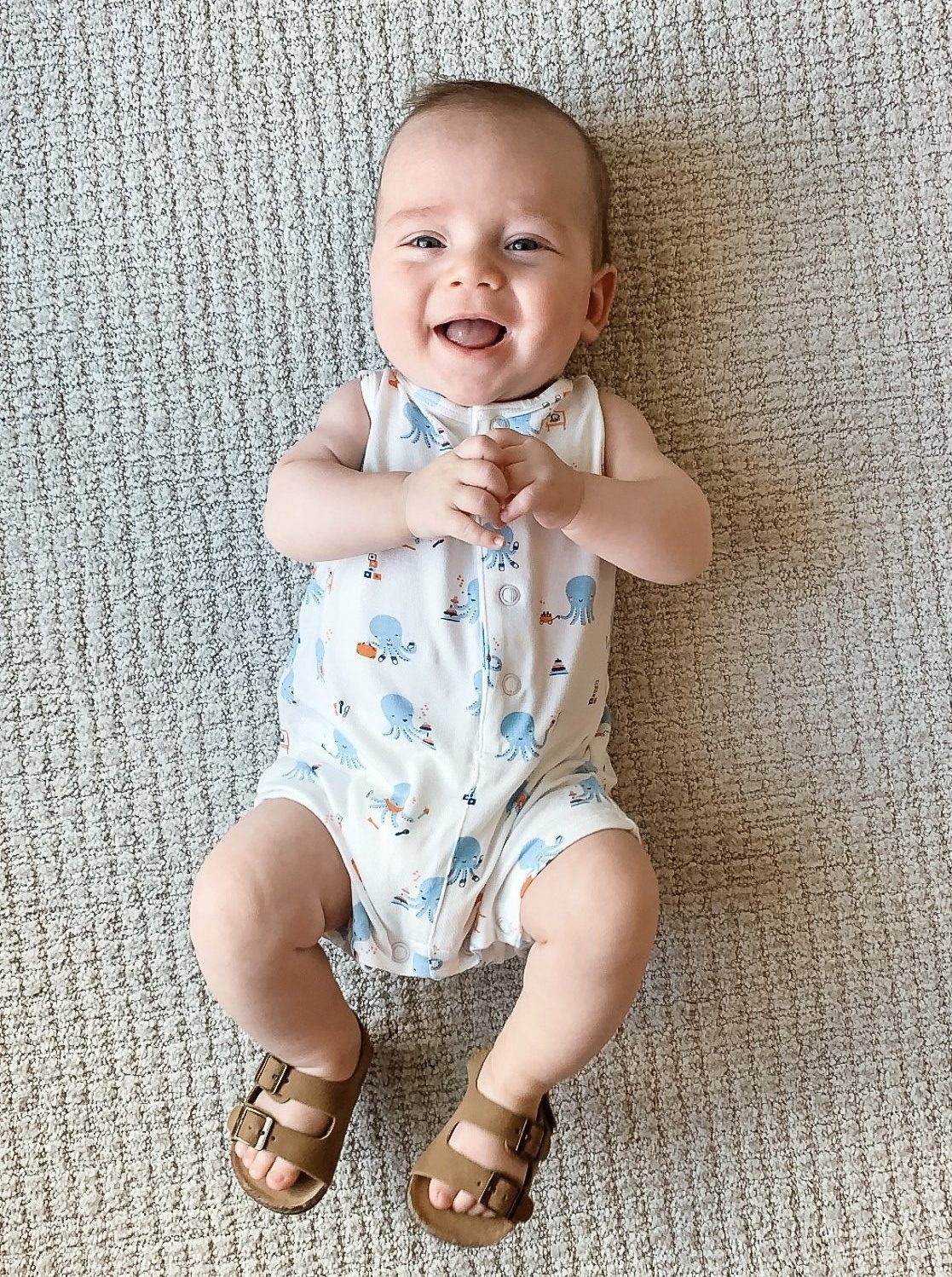 Just Kidding | This was a brand I randomly found on Amazon but I have been loving their kimono-style onesies. Easy to snap on and off and are my go-to's for wearing around the house.
Magnetic Me | Hands-down the easiest and most convenient pieces for baby, especially during those newborn days. Instead of snaps or a zipper, they close with magnets which make for quick changes which I appreciate as a new mom! Shop his elephant set here.
Janie & Jack | If you love preppy clothes, then this is your brand. Their store has THE cutest things and luckily we have an outlet here in Charlotte. I bought porter this blue jumper the day after our gender reveal when we found out he was a boy.
Lou Lou & Company | This company is known for their knotted gowns but we got porter two of the matching sets and love them. I love that this brand was founded by a NICU nurse and the pieces feel like butter! They outfits are stretchy, breathable and silky soft.
Ralph Lauren | We all know this brand and I never even thought about their baby clothes until recently. Love their classic tees, polos, and of course the baby hats! Also a great one if you want to do matching outfits with dad!
Baby Gap | Definitely a staple for baby clothes, Baby Gap has great basics that you can usually find on sale. I really like the fit of their bottoms and they are also my go-to for baby shoes!

The Beaufort Bonnet Company | Splurge-worthy and oh so adorable, TBBC is a southern gal's dream! I got Porter this plaid sunsuit for the 4th during one of their sales and it's too precious. They also make the cutest bow swaddles which are perfect for newborn photos.