Happy Friday!! This post is coming to you live from our train heading to Venice, Italy (except I'm about 6 hours ahead of all my East Coast friends). Ryan and I are in Italy for our first anniversary trip – has it really been a year? – and we are having an absolute blast! I originally planned to have this post up for y'all on Friday but… overseas internet problems.
Traveling is one of my favorite things to do, however, I always dread packing. Always! But one thing I can usually get right is packing my toiletries so I thought I would share a few of my travel-sized must haves for any trip!

TRAVEL-SIZED FAVES
Living Proof Full Shampoo & Conditioner
As a girl with fine hair, I need all the oomph I can get and I love knowing I can always get these in travel sizes. I especially love the Full Thickening Cream because it gives my hair body and makes my style last longer but doesn't weight it down. These products are a little pricey, but so worth it!
It Cosmetics CC Cream
When I want a little more coverage, this CC cream is my go to. I use the light shade and it blends so well, covering imperfections but not looking cake-y like some foundations.
Almay Eye Makeup Remover Pads
I use these every day in general to take off my eye makeup, but they also come in a little travel-size container. They're super gentle and don't burn or irritate your eyes… which is always a plus!
Batiste Dry Shampoo
The holy grail of drugstore dry shampoos, am I right?! This stuff is amazing and I always have 2-3 bottles in stock. I was cursed with oily hair (will it ever end?!) so you'll never catch me traveling without this stuff.
It Cosmetics Anti-Aging Armour Beauty Fluid
I swear by this stuff for every day use. It's the perfect no-makeup makeup look and I love that it has SPF 50 built right in. This stuff is great if you're at the pool, heading to the gym or running errands. A must for my travel bag!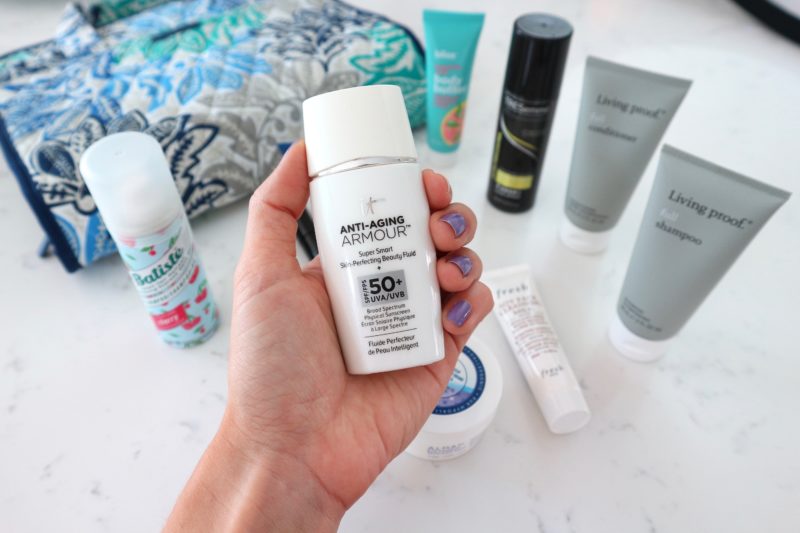 It Cosmetics Superhero Volumizing Mascara
I have been hooked on this stuff ever since getting my first tube at The Blog Societies conference last year. It makes my lashes look huge and doesn't flake.
Fresh Soy Face Cleanser
This just smell so… fresh! When it comes to cleanser, I'm not too picky and usually bring whatever I've gotten a sample of at Sephora recently. I've came back for this one several times.
Bliss Body Butter
I love Bliss products and you never know about hotel lotions so I like to bring my own. I moisturize after every shower and it's important to keep your skin well hydrated, especially when traveling. This grapefruit aloe scent smells delicious!
TRESemme Hairspray
I have been using this stuff for years and have to say it holds pretty well. You can always find it in the Target travel aisle and it's pretty inexpensive!
It Cosmetics Confidence in a Cream
While I won't be doing my entire nightly face routine in Italy, one must-have is my nighttime moisturizer. This cream is ultra hydrating and smells amazing. I've raved about it before and I'll rave again- if you haven't tried this stuff yet then go get a sample size. You'll thank me later!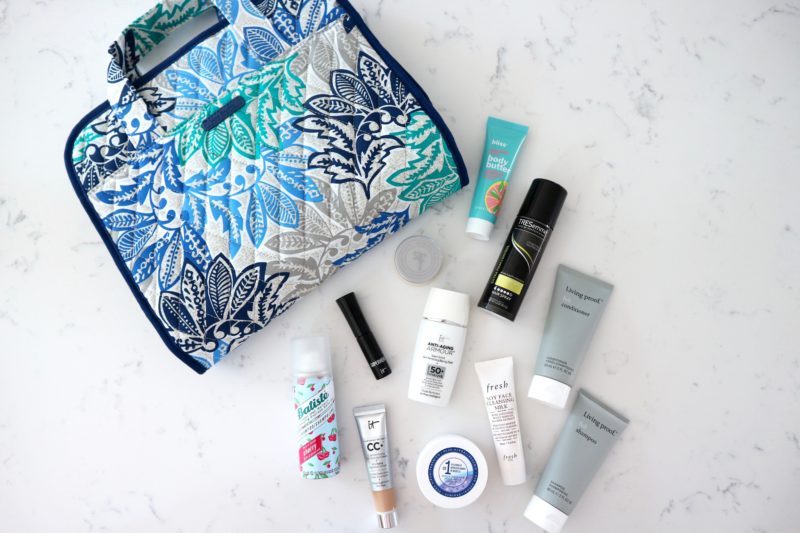 So obviously I have many more toiletries that I packed but these are just some of my top picks. Now, let's talk about how to transport those travel size beauty favorites. I don't have the best system for packing these and usually pack a makeup bag and put all my liquids in a quart-size plastic bag. You can imagine my excitement when Vera Bradley sent over this hanging organizer. Hellooo organization!! This thing can hold it all- skincare, makeup, brushes- and has tons of zippered compartments and pockets. The big zippered areas are also lined with plastic so they can easily be wiped clean. And how pretty is their new 'Santiago' print?! This has made getting ready so much more efficient, especially in small hotel rooms with little counter space. It has a hook so you can hang it in the bathroom for easy access and roll it back up when you're ready for your next destination!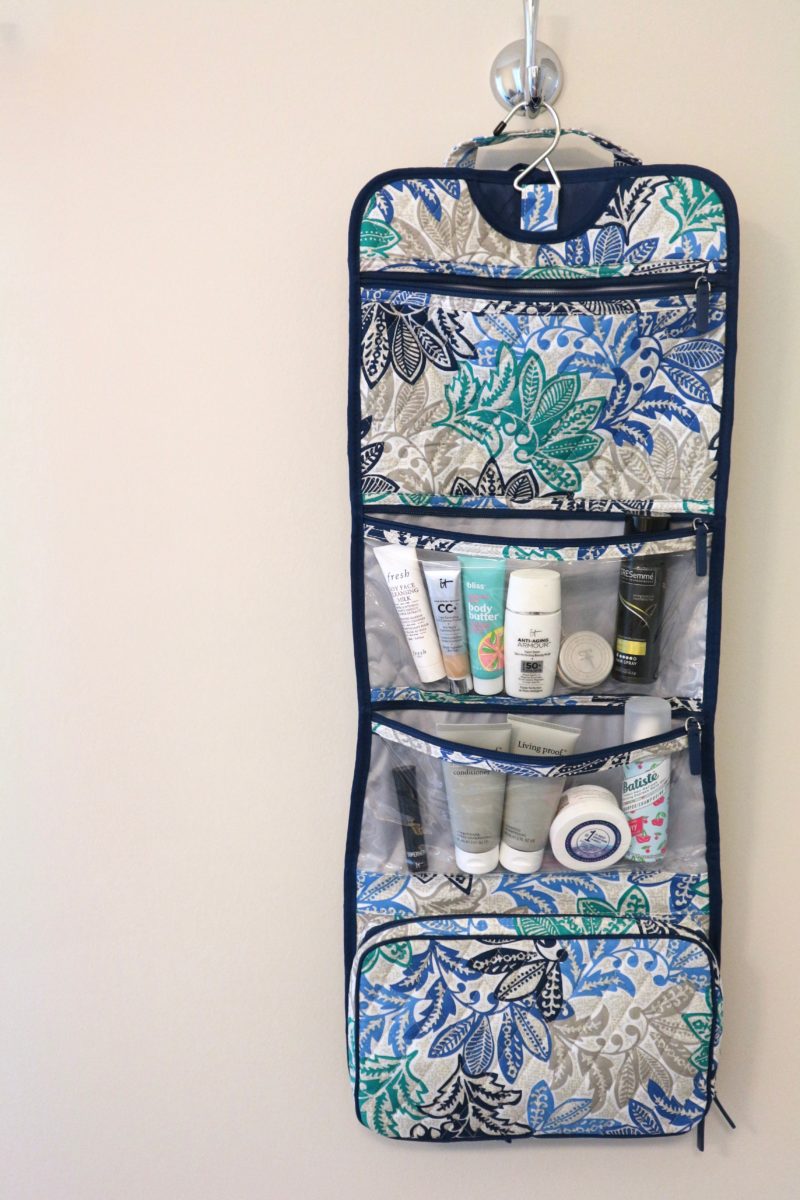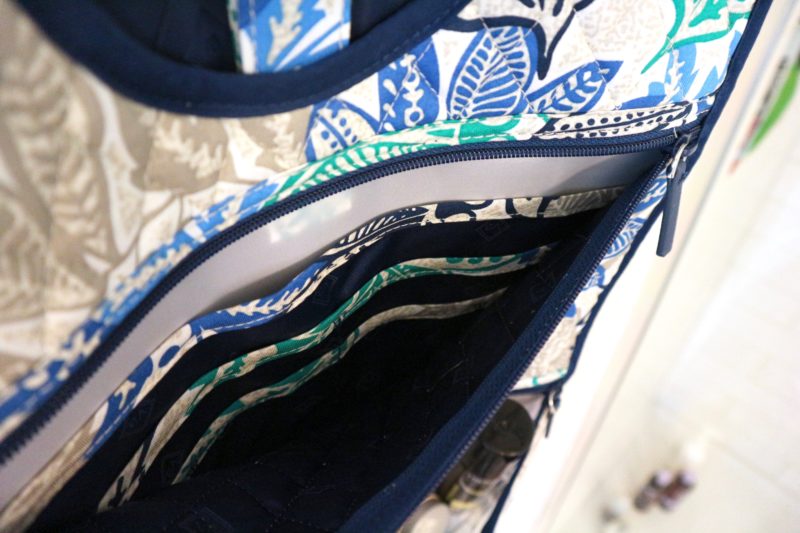 Vera Bradley hanging travel organizer, c/o
I am taking a break from blogging this week to soak up our vacation and celebrate our first wedding anniversary. No posts planned until I get back but I will be sharing lots on Instagram/stories so make sure to follow along (@kristinahendley)!! Ciao, loves!