The past few weeks have been busy with holiday events but I'm not complaining. Not one bit! I love this time of year and will easily jump at any chance to celebrate so I thought I'd share a fun little recap of what I've been up to. Be sure to follow along on Instagram (@kristinahendley) and Snapchatt (khendley) for more behind-the-scenes fun!
Two weeks ago I attended the holiday fashion show at Athropologie Atherton Mill. This location just celebrated its first anniversary and I love the fact that it's only a mile away from our new townhouse. And that it's so bright and airy and has that industrial feel of the South End neighborhood. At the event there were festive drinks, yummy treats, and plenty of holiday fashion. Can I just have one of everything please?! 
sweater // necklace // joggers
sequined cami (under $100) // faux-fur bomber // heels


Another fun event was a holiday-themed blogger brunch at SouthPark Mall. I met up with some local style bloggers and we had a yummy brunch complete with mimosas and a presentation of fun winter styles and gift ideas from SouthPark's own personal shopper. And can we talk about how cute the decorations were?! We were each gifted a beautiful embroidered stocking filled with lots of goodies. I still need to finish going through it!

tunic // similar vest // boots
Last weekend Ryan & I went on the Fourth Ward holiday home tour in our historic neighborhood in uptown Charlotte. It was so neat to see inside some of these houses and condos and admire the beautiful Christmas decor. There were carolers, tasting stations and hot cocoa. It was a cold, rainy day but we're so glad we went!

umbrella // coat // boots
This past Saturday was the busiest day of all. We met two of our friends at Old Mecklenburg Brewery to check out the Weihnachtsmarkt. I have no idea what that word means but it was basically a German-themed Christmas village. Beer, brats and lots of vendors- it was a great time!
After the brewery, we headed home to get ready for our three Christmas parties. Phew! The night started with our condo party at a restaurant across the street, then we drove 30 minutes to Ryan's boss's house for party #2, and finally made our way back uptown for a tacky sweater party with our besties and ended the night at Blackfinn. It was a crazy busy day but SO much fun! And needless to say, the majority of yesterday was spent bumming on the couch.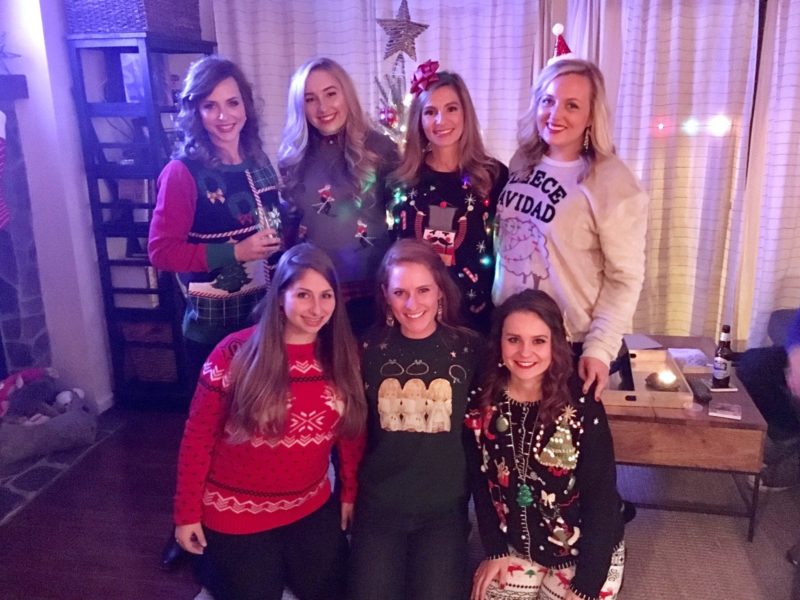 Have y'all been making your holiday party rounds as well? I still can't believe there are less than 2 weeks until Christmas. Where did 2016 go?! Thanks for reading and be sure to stop by on Wednesday for my next gift guide for the beauty lover (and check out the rest under the '
holiday
' tab in my menu bar).