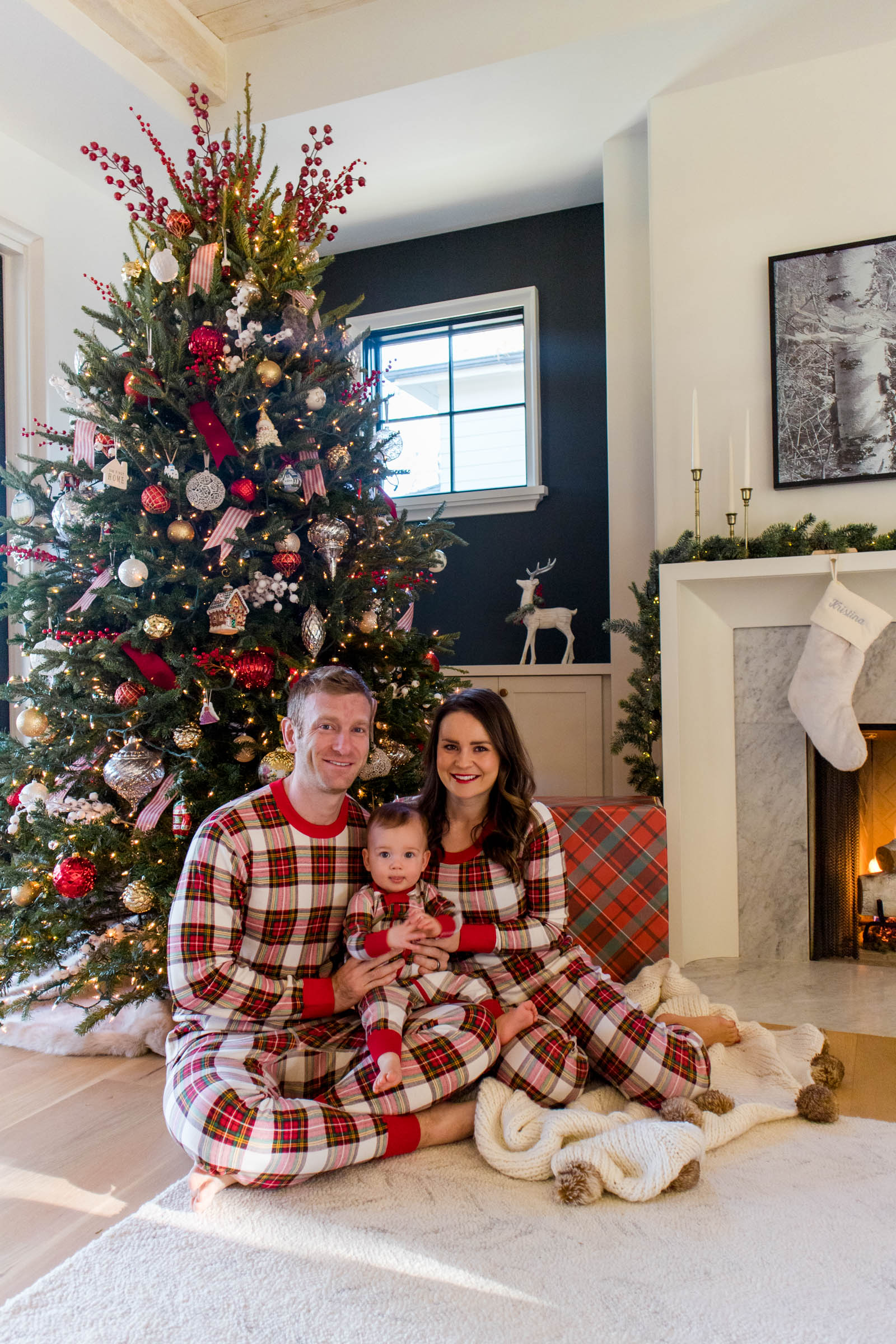 Happy 2021, y'all! I hope everyone is having a great start to the year and I'm hopeful that we can get back to some sort of normalcy in the near future. I didn't have a chance to get this post up before the new year, but wanted to share a recap of baby's first Christmas!
First things first, we went to pick out Porter's first Christmas tree at the lot where we've been going since we started dating. So glad that we get to share this tradition with him and while I've been getting a flocked tree for the past few years (seen here), this year we went with green!
 We took photos in our matching plaid pajamas- and yes, I've dreamt of being the family in matching Christmas PJs ever since I could remember! Funny story, Ryan actually tried his on for the first time before we took the photos and let's just say the Hanna Andersson unisex pajamas run
quite
small and by the time we wanted to order him the right size they were sold out! Next year we'll be better prepared so he can actually wear them on Christmas morning.
We started a new tradition this year and decorated our first gingerbread house with Porter! I can't even remember the last time I made one of these but it was a fun activity that we got to do with him and my parents. Not to mention it makes for really cute decor!
We got dressed up and hosted our family for Christmas Eve dinner. It was so nice to see Porter play with his cousins (both boys) and spend time with family. Santa came and brought Porter a few gifts- mainly a basketball hoop,
PB Kids Anywhere Chair
, and an activity walker. We didn't go overboard because he is only 10 months old and could honestly be happy playing with a box, but it was still fun to see him play with his new toys. Overall it was a great "baby's first Christmas" and naturally I took way too many photos so I'll let them do the talking!