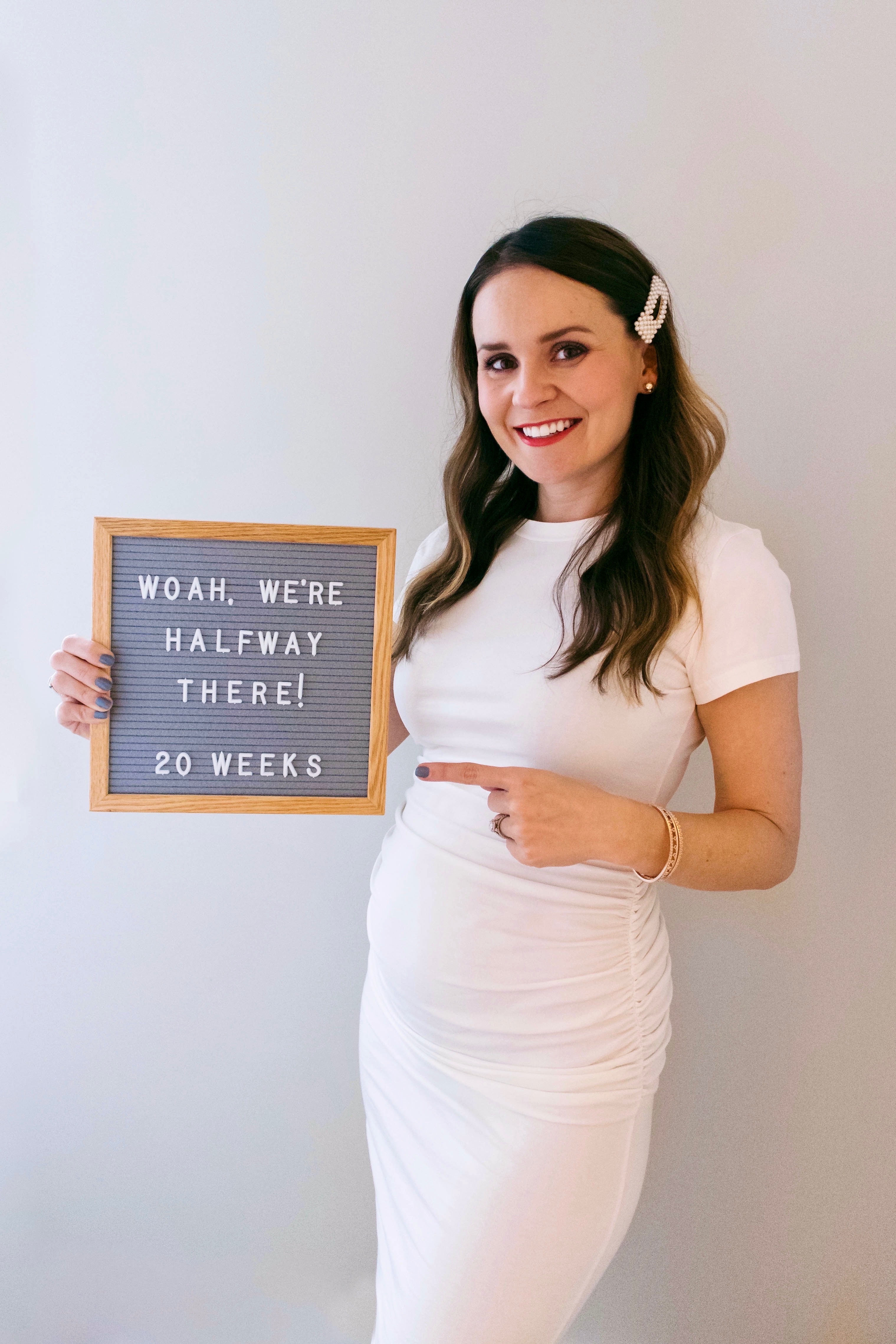 Alright guys… we're halfway there!! I'm just over halfway through this pregnancy so I thought I'd share another little bumpdate.
You can read my first trimester bumpdate here!
Baby Size & Feeling Movement
Baby Sapel is currently about 10.5 inches long and weighs about 3/4 of a pound (and the size of a baby bok choy according to my pregnancy app! I started to feel baby boy move around 17-18 weeks and it has been THE coolest thing. At first I wasn't sure what the feeling was- it just felt like little flutters but then started to become more regular. Now I love feeling his tiny kicks and Ryan even felt him through my belly for the first time the other night!
Maternity Clothes
I've finally broken down and gotten some maternity clothes. Summer was easy because flowy dresses were easy to throw on and didn't restrict the belly, but my jeans aren't staying buttoned these days so I finally went shopping. I found two pairs of designer jeans at a local consignment store that are SO comfy (highly recommend the AG jeans) and also got some maternity scrubs. They make such a difference!!
Full outfit post here
I have also found the magic of Facebook mom groups- particularly one where moms resell preppy boys clothing and it is amazing!! You can get such cute stuff that has been worn a few times for a fraction of the price- how cute is this bubble and these little loafers?! I'm really having to restrain myself, lol.
Anatomy Ultrasound
We recently had our 18 week anatomy ultrasound. We already knew the gender but this milestone appointment isn't just about that. The ultrasound tech looks at each body part in detail to make sure everything is developing correctly- brain, heart, lungs, kidneys, extremities. This was the first time Ryan had seen the baby since the 8 week ultrasound when he still looked like a little tadpole. This time he was moving around for us and we're so happy to know he is growing and thriving in my belly!
As far as me, I'm still feeling pretty great (although moving this past weekend was quite exhausting). I'm still eating all the foods and getting in workouts when I can. I am definitely loving the baby bump!!

Weekend Getaway
Ryan & I took a weekend trip to one of our favorite places the first weekend of October. We got engaged at the Grove Park Inn almost 5 years ago and I had a work conference so I decided to bring Ryan along and make a relaxing weekend/"mini babymoon" out of it. We are going to take a weekend trip to NYC for the holidays so that will probably be our official babymoon and last trip before we become parents!
Nursery & Registry
We just moved into our new house and the nursery is bare, but we are planning to get the ball rolling on that in the next month or so. We have narrowed down a crib and a glider, just need to look at some more dressers, paint/wallpaper options and decor. We've also started working on our registry, slowly but surely. We decided to do it through Babylist which is so easy! You can add any item from any site- it will even show you which retailer has the lowest price. I think this is great so you don't have to limit yourself to one or two stores. Feel free to leave you favorite baby must-haves in the comments below, any tips are appreciated!