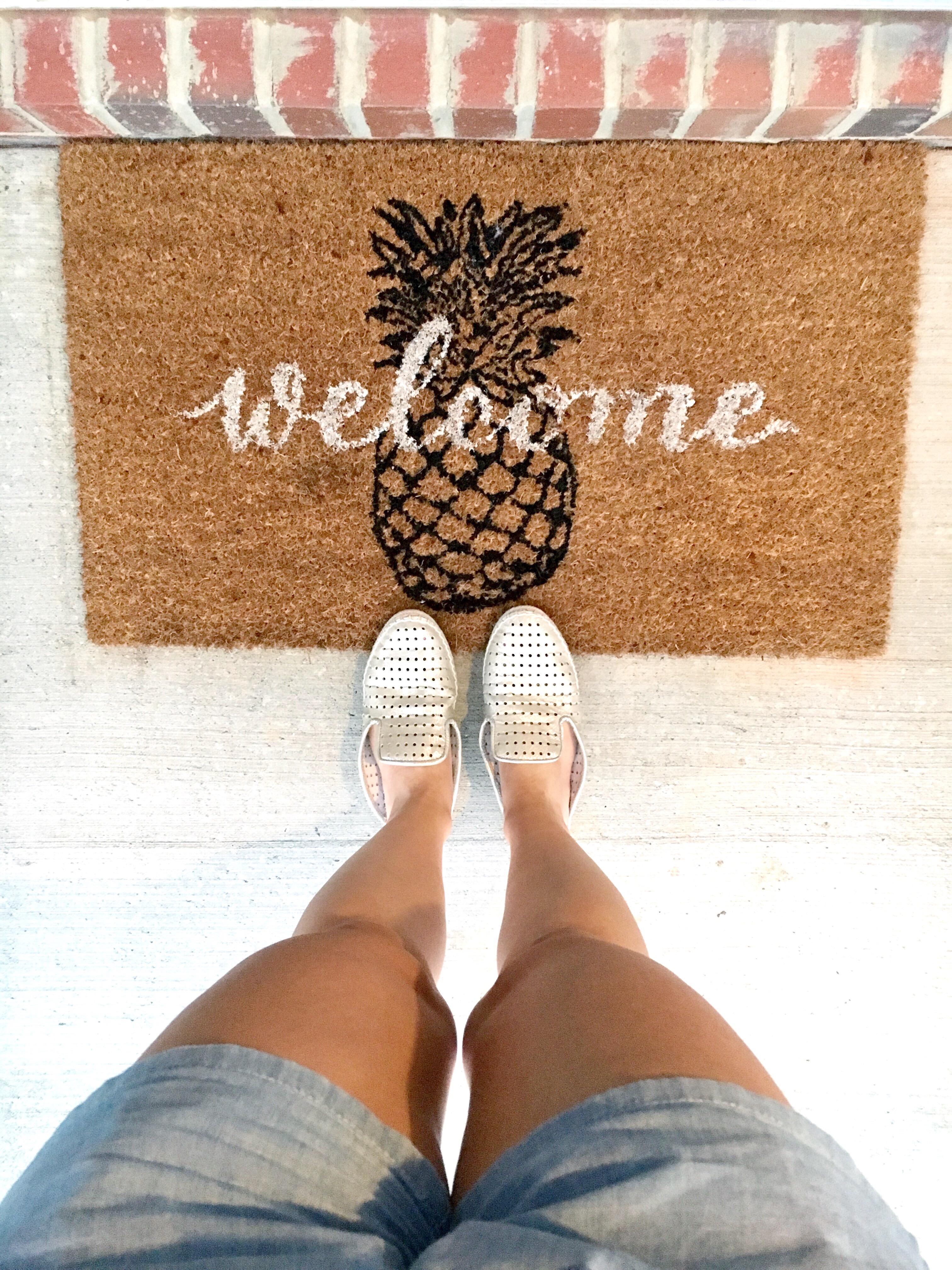 Hey y'all! Please excuse the sporadic blogging lately but I have been crazy busy at work (as in staying until 10:30-11pm the past few nights) and my days off haven't been very productive. Well, other than catching up on Bachelor in Paradise and getting some workouts in. But anyways, who's ready for another home update? I will eventually share each room with you guys but let's be real, that will probably take several more months and I'm just way too impatient. So today I'm sharing a mini update on some of the progress in our new home!
Living room
This is the area we spend a big chunk of our time in and I wanted it to be contemporary and stylish, yet comfortable. These sofas from Crate & Barrel are so comfy and I love the look of the coffee table ottoman (which can also function as extra seating)! We are still waiting on our side table to come in from West Elm and deciding on a light fixture to hang.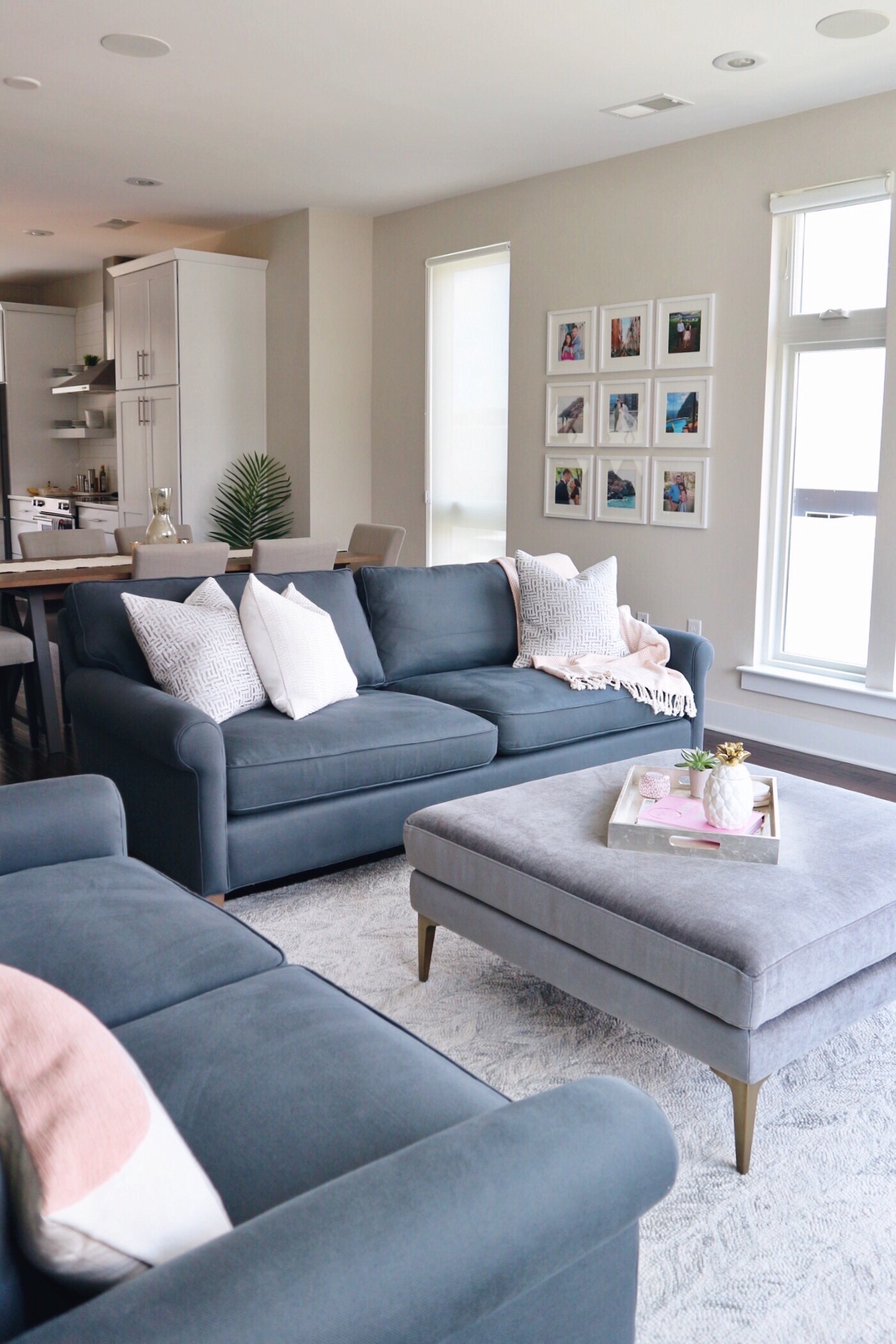 sofas | rug | ottoman | pillows | frames | lacquer tray
Bookshelf
This bookshelf is in a little "office nook" right off the living room. It gives the room some height and you know I'm all about the gold! It's taken a while to decorate so I'm always on the hunt for new "chotskies" (as my MIL likes to call them) to fill the space. And clearly I need a few more books!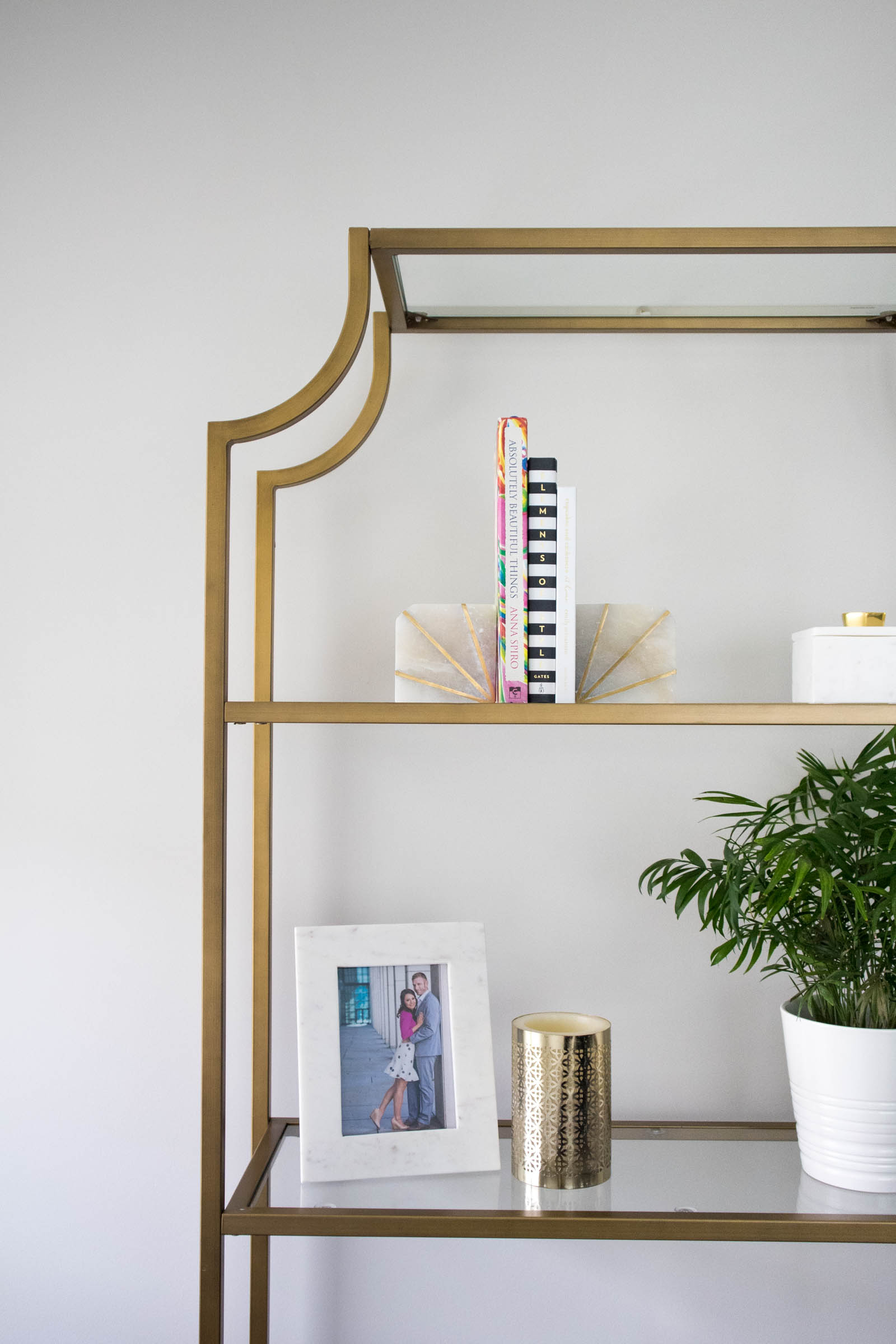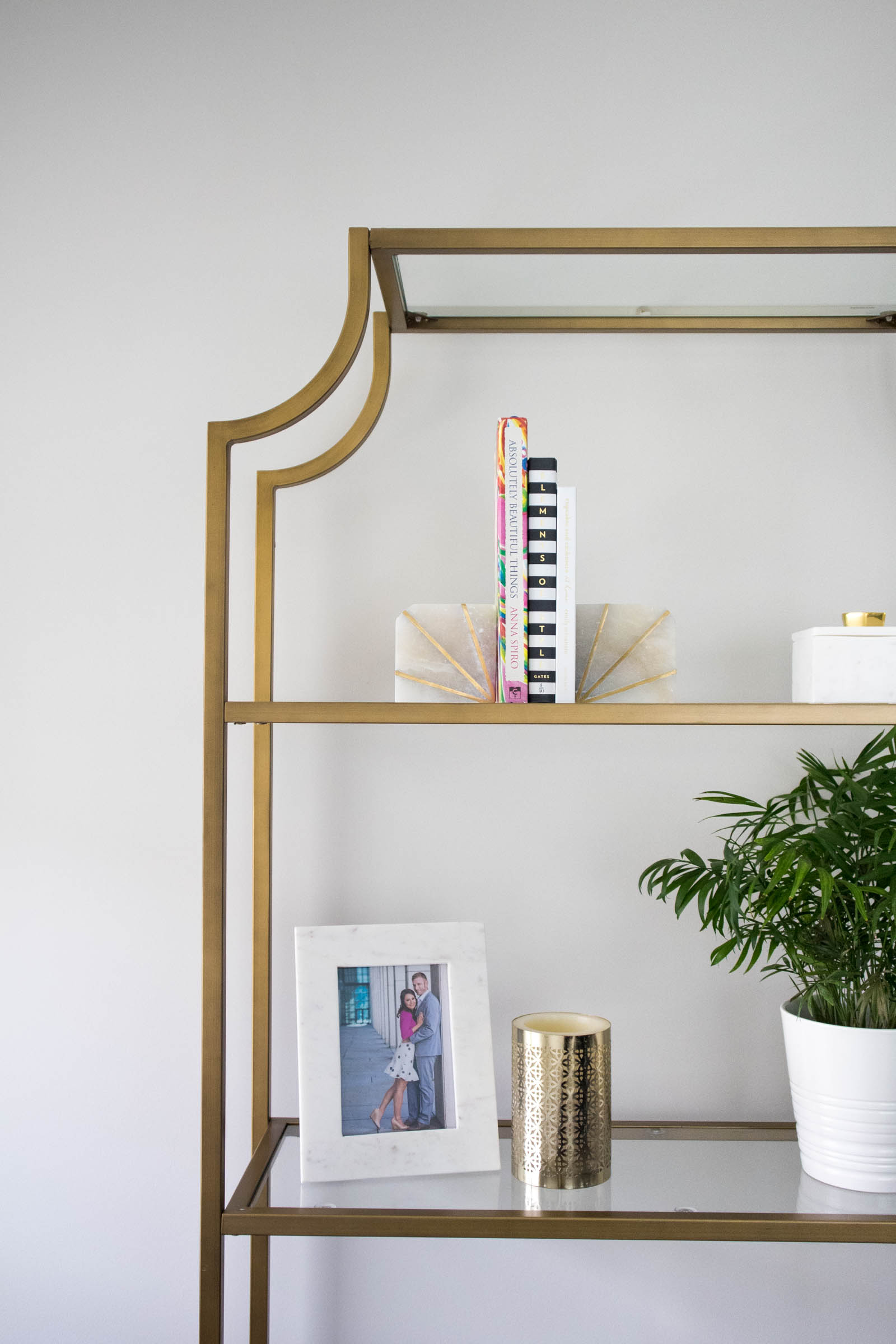 gold bookshelf | bookends | similar marble box | similar frame | pot
Master Bedroom
Our master bedroom is dreamy, soft and cozy. I wanted to go with a fun, unique wall color (Chaise Mauve by Sherwin Williams) so we decided to go with an all white duvet and of course I had to throw a fur pillow in there. An upholstered bed was a must-have for me and sleeping in a king bed is life changing. In the near future I'd like to add a grey rug under the bed to add some more texture.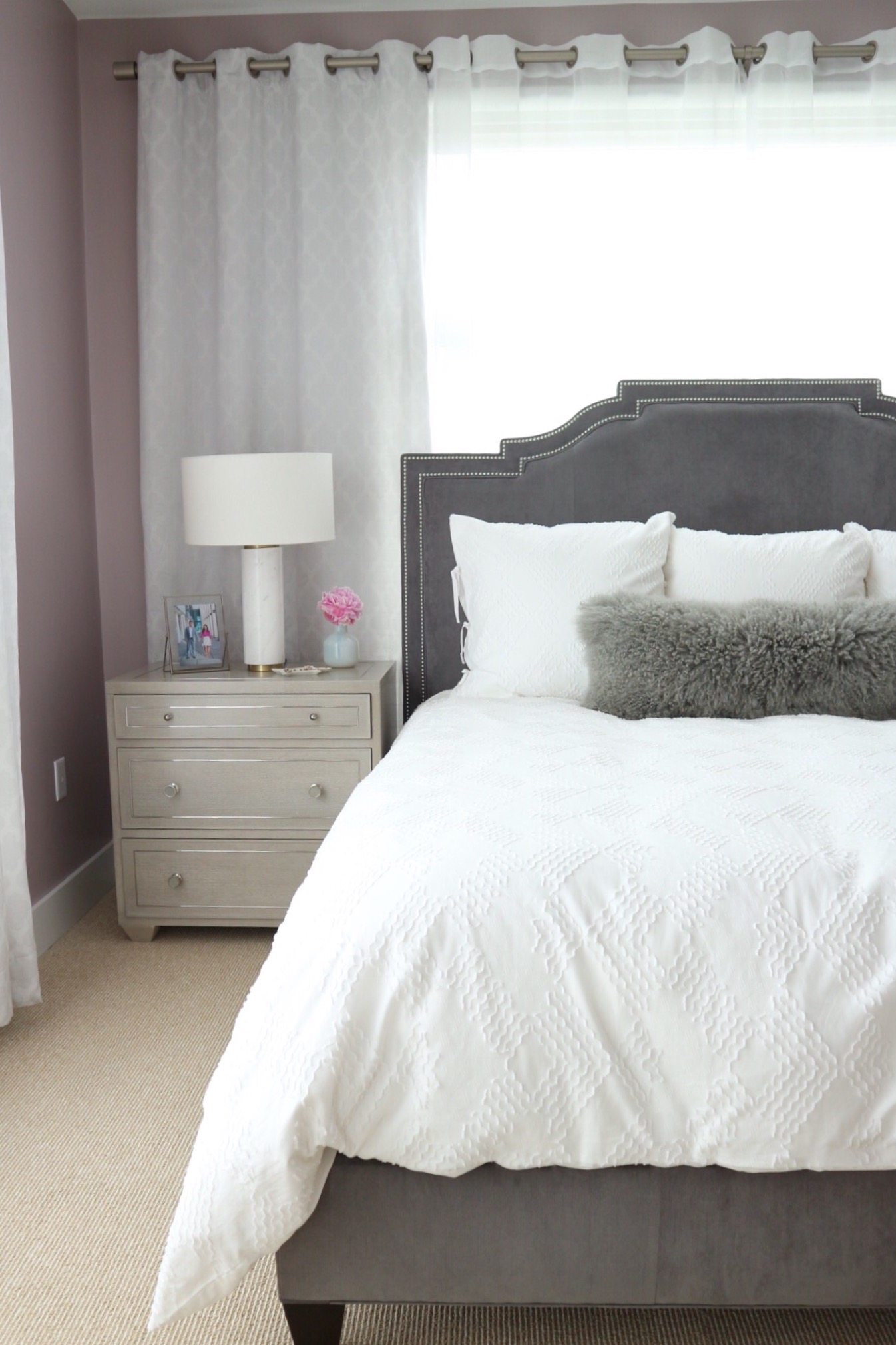 bed | nightstand | curtains | lamp | duvet cover | mongolian lamb pillow
Barn Doors
Ahh, the barn doors. All I can say is I'm so glad they're finally done! We opted to leave the downstairs bedroom open when we were building because we knew we wanted to add barn doors later. We hired a carpenter to frame and put up drywall and Ryan's dad painted the walls and trim. After that, Ryan got to working on painting the doors and installing the track. The project was a little more involved than Ryan anticipated so we decided to get some professional help to finish them up (thanks to Carolina Reclaimed)! I love how they turned out and hopefully we can get this room filled one of these days!
Hope y'all enjoyed another little peek into our home's progress. We just got a fall wreath for our front door and before we know it we'll be decorating for the holidays… and I cannot wait!! Thanks for stopping by 🙂