I still can't believe this day has come… but my baby Blair is ONE!! I feel like this year flew by but she truly made my heart grow ten times bigger and I cannot imagine our lives without her. To celebrate the big day we had a Lilly Pulitzer themed birthday party fit for a princess. This was so much fun to plan and I'm excited to share ALL the details with you guys today (and lots of photos, too!). Sources will be listed at the bottom.
First off, a Lilly Pulitzer party calls for a fun party dress so naturally Blair & I had to don our brightest Lilly prints. I found this adorable shift dress for Blair on Mercari (the print is called Seasalt Blue on Parade) and highly recommend this app if you're looking for certain prints or sizes, plus it's way more affordable than buying new.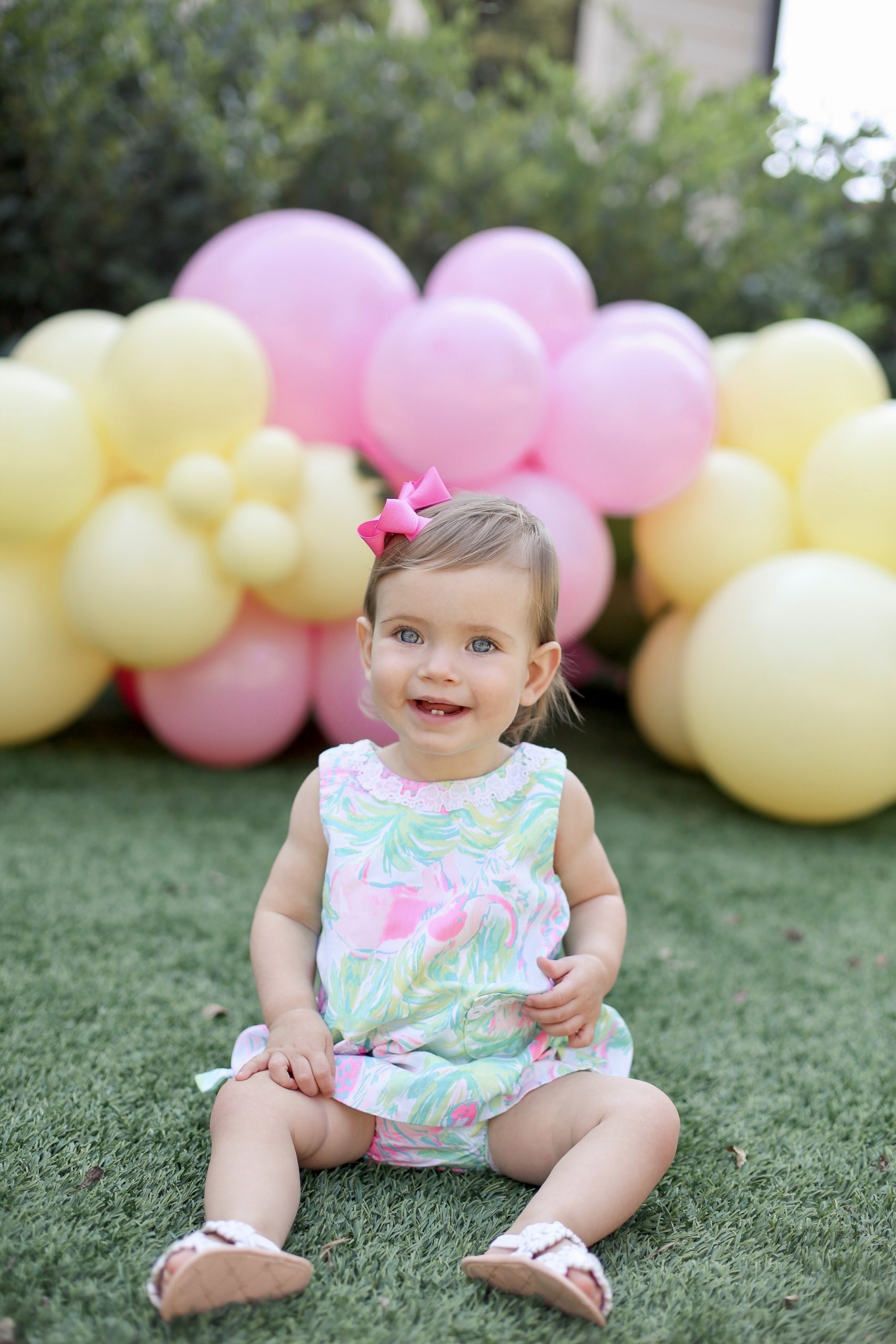 Now, let's talk about the decor… can you really have a party without a few balloons? Paulina from Your Big Day did an amazing job matching the colors to our theme and setting up some fun backdrops. We used a giant gold hoop as the backdrop for the highchair and incorporated pink, green and yellow balloons around the food table. Paulina even sent me a mock up of what the design would look like so I knew exactly what to expect. They made for perfect photos and the kids were playing with them for weeks after!
We originally planned to have a pink bounce house/ball pit combo for the kids but unfortunately we had bad luck with the weather and it rained all morning. Luckily Little Hearts Mobile Play let us pivot and we got a large ball pit instead, complete with a slide! We put it on our patio so we still got to enjoy the outdoors a little bit. We also had one for Porter's 2nd birthday and it was an absolute hit with the kids- I can't recommend it enough for young toddlers!
Blair's birthday cake was a work of art. I sent The Wow Factor Cakes some inspiration photos and not only did it turn out beautifully, but they truly bake the most delicious cakes. I wish we would've saved more in the freezer! For the fist tier I sent them an image of a print I liked and they printed it on edible fondant. I had no clue something like that was even possible but once again they knocked it out of the park! They also made a small smash cake for Blair, pink and green in the shape of a flower.
For the high chair and monthly milestone banners we used FunstaCraft who I also used for Porter's Hole in One party, the quality of her paper goods is amazing! I also found Babadoo Stationery on Etsy and she created coordinating water bottle labels and monogrammed labels for the beverage cups. Pink Starfish Designs created our invitation which was so bright and colorful- I found the coordinating print (Mariposa Floral) and made a few food tent cards and added the print to our frame TV!
Last but not least… party favors!! Lilly Pulitzer was known for her shift dresses so we had a mix of those mixed with pineapple and flamingo cookies for the guests to take home. I ordered these from
Bake My Day
added little tags that said "Tickled pink you came to party."
We had the best time celebrating baby Blair and the fact that she turned one is so bitter sweet. It makes me sad because she's  my last baby so this is our last "first birthday party" and I'm still trying to wrap my head around the fact that she's no longer an infant. It's true what they say, babies don't keep BUT I know that the toddler stage is so fun and this next year will be a blast. She will soon be walking, talking and I'll be chasing after two little ones but I wouldn't have it any other way. We love you, Blair!!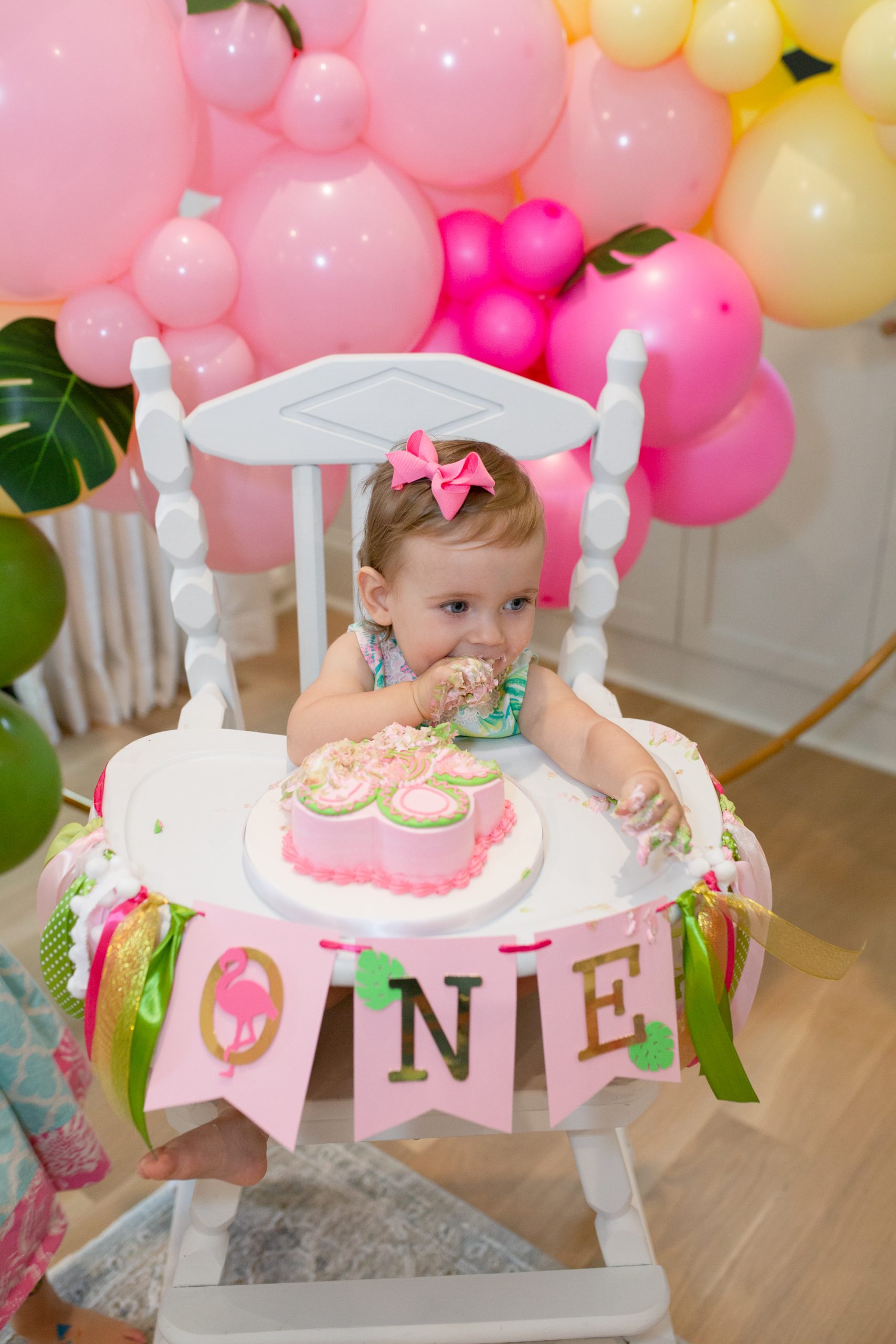 Photography by Deenaa Kourtney Photo
SOURCES
Cakes by The Wow Factor Cakes
Balloons by Your Big Day
Ball Pit via Little Hearts Mobile Play
Cookies by Bake My Day
High chair banner
Monthly milestone banner
Water bottle labels
Monstera leaf placemats via Michael's (similar)
Acrylic drink dispenser
Lilly inspired picture frame
Invitations via Pink Starfish Designs