I still can't believe that we close on the house in just a few weeks. WEEKS!!! Sharing a few more home updates as we get closer and closer to move-in day.
READ MORE ABOUT OUR NEW HOME BUILD HERE!
You can see from the first photo that our sidewalk has been poured. We are honestly still debating on painting those remaining bricks white. In our architect's rendering, they are this color and all the bricks on the left will be covered with boxwood hedges so you will pretty much only see the steps. Part of me wants it all to be white BUT I worry about the steps getting super dirty… any thoughts??
The patio is coming along as well. They painted the tongue & groove ceiling white and added these curved beams. Funny story- they got delivered to the house and we were wondering why we had so many (originally we were just missing one for the front porch) but turns out our pack patio had them too… we just never noticed/looked that closely at the plans of the back of the house! At first we didn't think we needed them but after seeing them up and painted, I love how they turned out. Now we just need brick to go up around the fireplace (will also be painted white), add a mantle and composite decking will go in last.
We have about half of our lighting in the house. The linear pendant in our dining room is definitely a fave. We were debating on black or gold and SO happy we went with the gold. I'm just anxiously waiting to see the pendants over our kitchen island- they will definitely make a statement and hopefully work in the space. Lighting is hard, y'all!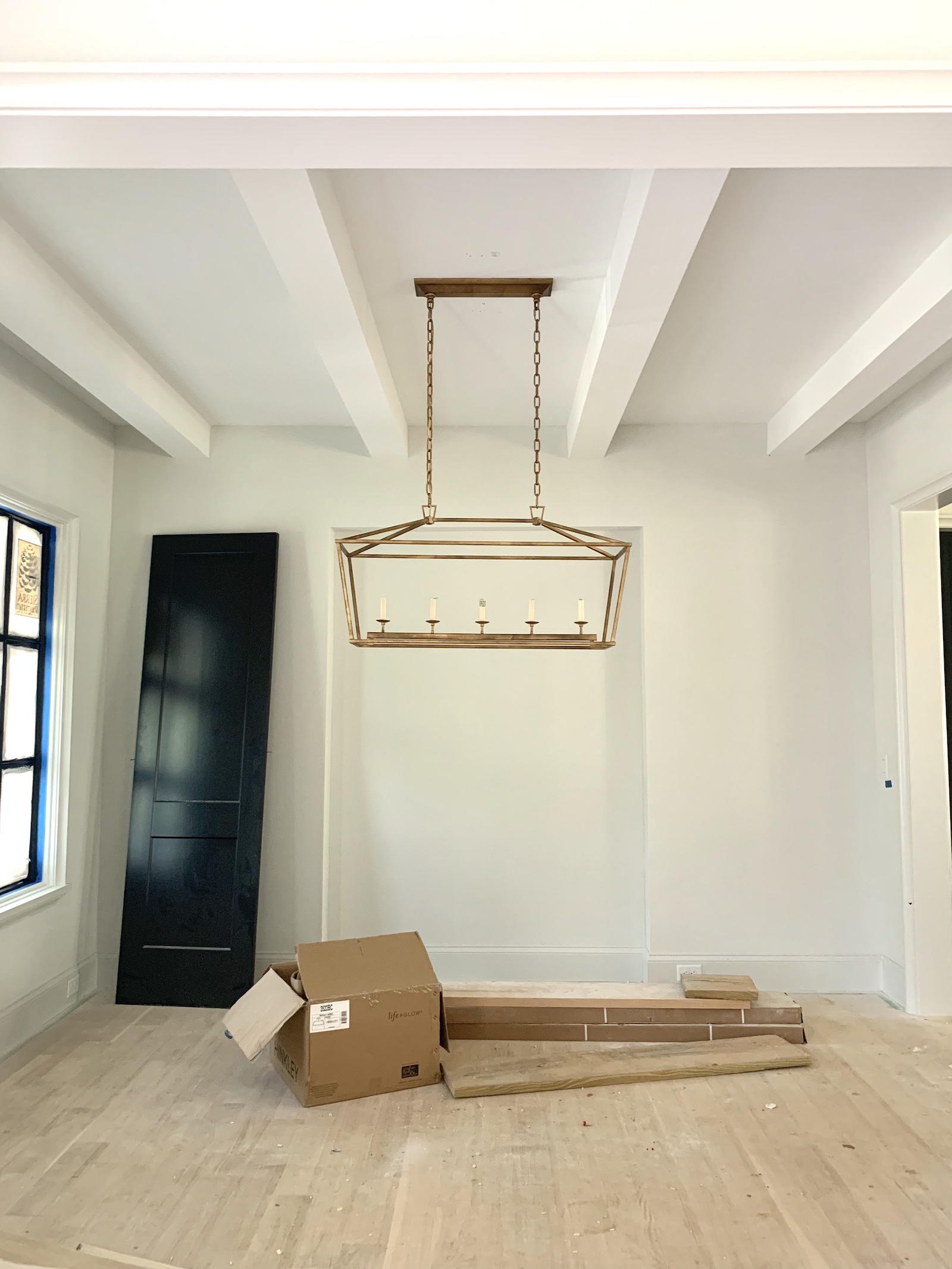 They finally built our bench in our breakfast nook. I love how it sits directly under the big windows. We were debating on whether we should put an angled back on the bench and are happy we did because otherwise if you sat down, your back would dig into the window trim. This is still waiting on paneling and we eventually will add cushions. I'm envisioning an oval table in this space because it's different and will take up a little less space than a rectangle would. They are hard to come by so we will figure out what size we need and may have a local shop make one for us.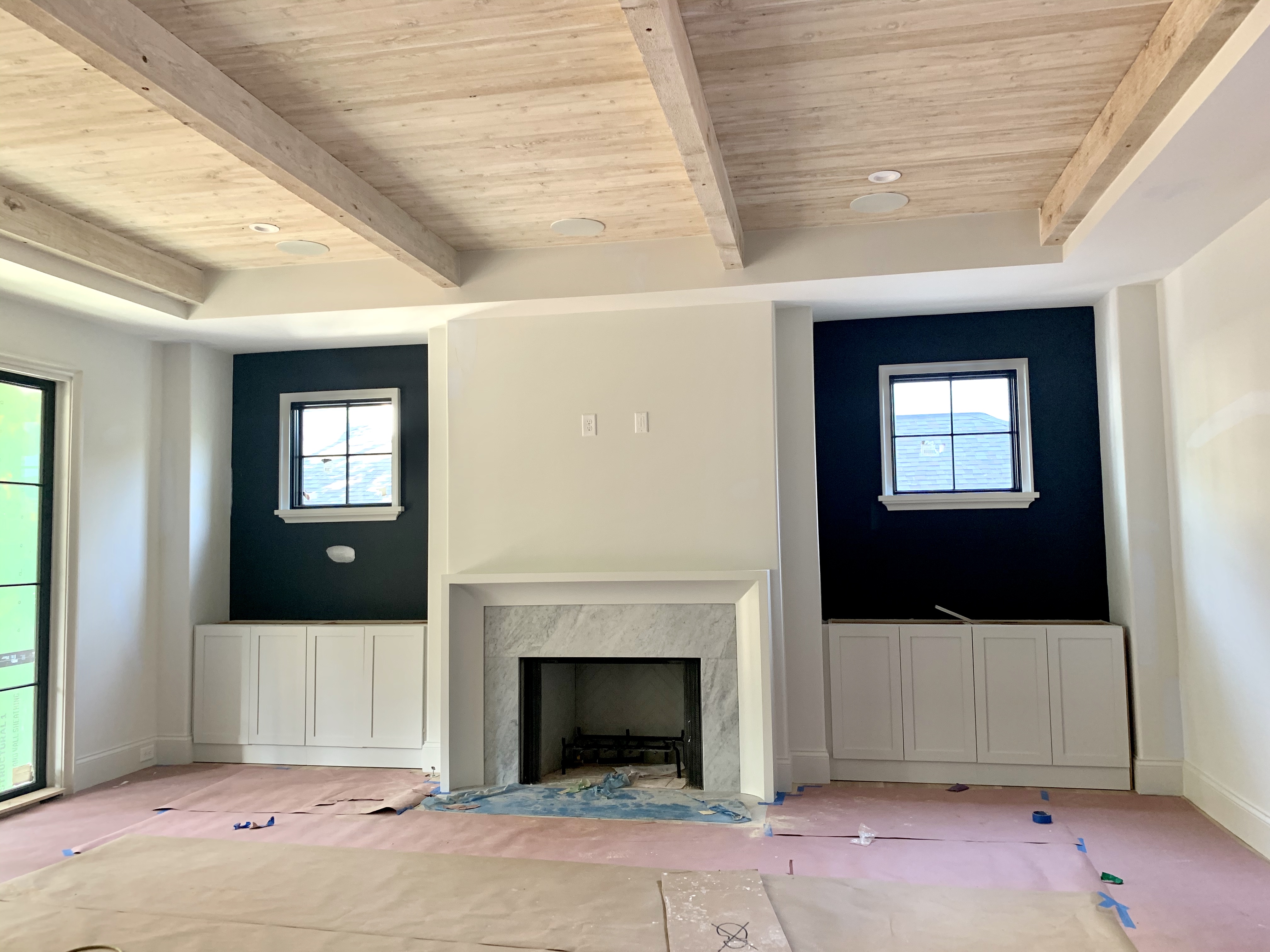 The marble around the fireplace is in and the Carrara marble makes my heart swoon! We have a curved wood trim around it and I can't wait to dress it up for the holiday season. We've also had a few closets installed, we did about half through our builder and doing the rest through California Closets after closing.
They have installed most of the cabinet hardware and I'm happy with all of it with the exception of my makeup vanity. I thought these finger pulls would be fun but I think they look too modern for the space so we will switch them out and use the same knobs we did in the rest of the bathrooms. You can't win 'em all!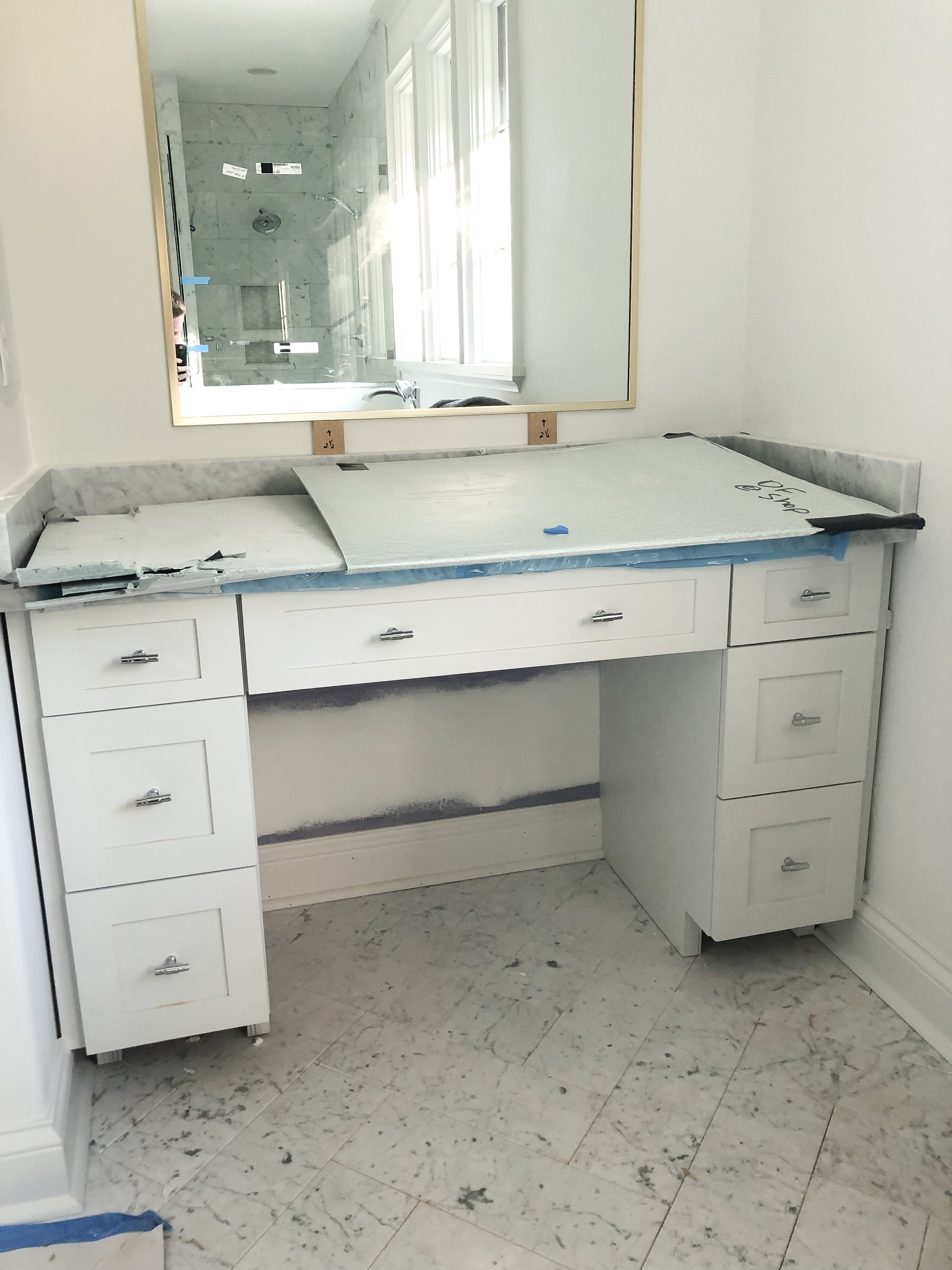 More exterior updates include our front door and gas lantern!! I may have had to convince Ryan just a little on the gas lantern but I think it will add a charming ambiance to our front entrance. I think we have picked out pretty much everything at this point. We've ordered carpet (this will be going in the 3 bedrooms upstairs and our master closet), got all the bathroom hardware, door stoppers, and just ordered our address plaque and mailbox!!