Oh hey, humpday! Today I'm sharing one last post about the #NSALE and this one's about those splurge-worthy items. And don't worry, they're all between $100 and $300 so not too pricey. In addition to stocking up on some fall staples and trendy pieces, the Nordstrom Anniversary Sale is also a good time to get that one piece that you've been saving for or maybe that one item you always wish you had at the start of fall. Frye boots, anyone? Things are selling out quickly so I apologize in advance if any of these items are gone BUT remember, they restock pretty frequently. Happy shopping!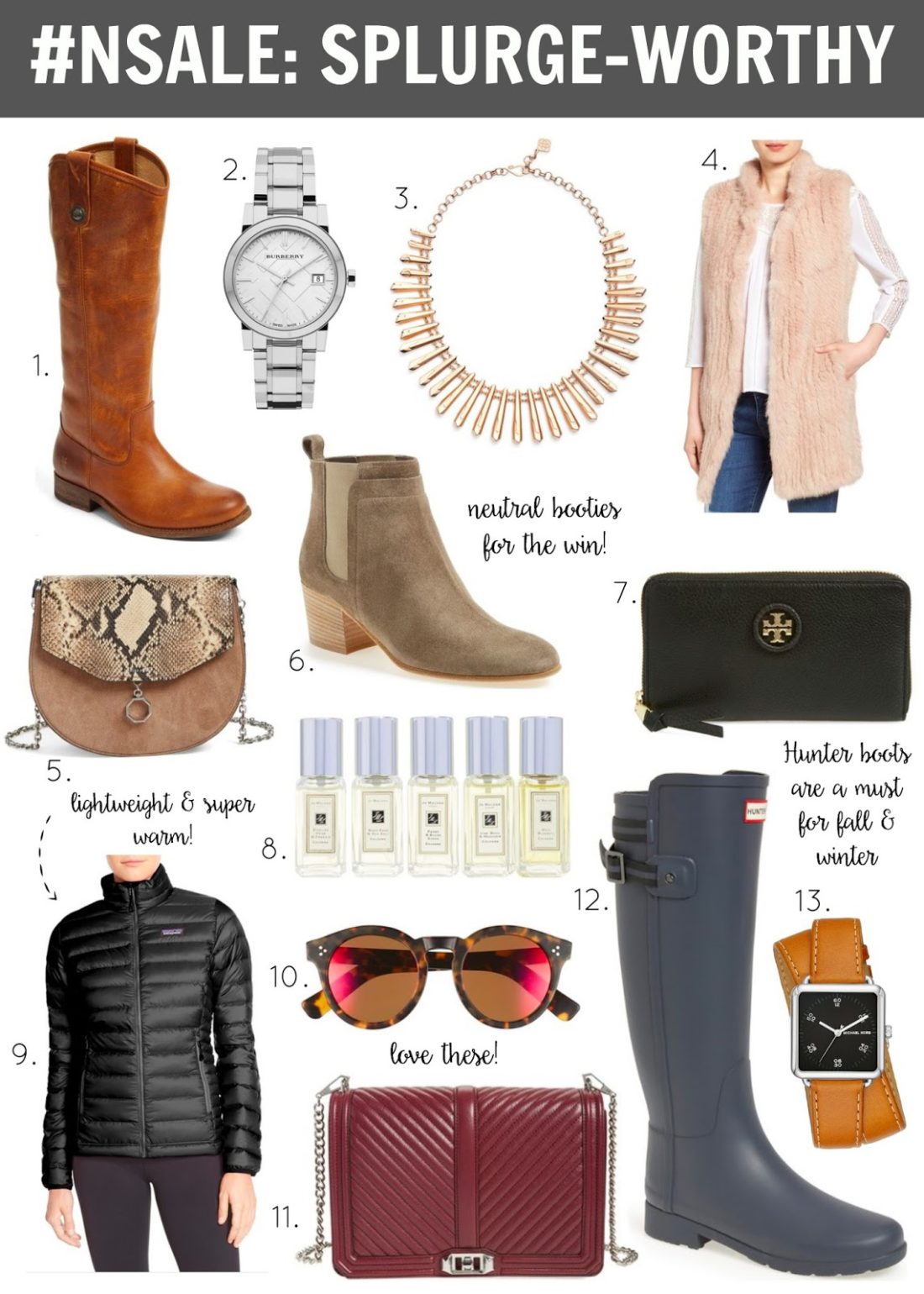 1. Frye 'Melissa Button' Boots

If you want a stylish pair of boots made of high quality leather that will last you years and years, then get a pair of Frye's. I got my Jackie Button boots a few years ago and always look forward to wearing them in the fall. These boots usually sell for almost $400 and are $246 for the sale which is the best deal you'll get all year.
2. Burberry Check Watch

Ryan got me this watch a few years ago for Valentine's Day (thanks, boo!) and it has gotten so much wear. It's sleek, modern, and the perfect professional watch for work and play. I also love it because not everyone has it 🙂
3. Kendra Scott 'Jill' Collar Necklace

This is a pricier piece from Kendra Scott but I love the rose gold and I could see it with so many outfits.
4. Love Token Rabbit Fur Vest

Okay so… didn't know this was actual fur until I clicked it but I couldn't help but imagine how soft and fuzzy it is. And you know I'm a sucker for blush!
5. Louise et Cie 'Jael' Handbag

Ahh, another "Chloe" shaped bag. We're seeing a lot of them these days, aren't we? Of course I love the tan color and the snake print on this one.
6. Vince 'Hallie' Booties

Could you ask for a more versatile bootie? I hope to add a pair of Vince shoes to my collection in the near future- they are always minimalistic but oh-so-chic. I could probably have like 15 pairs of neutral booties and be perfectly okay with it.
7. Tory Burch Wallet

You can't go wrong with classic black from Tory Burch and her leather is always buttery soft.
8. Jo Malone Perfume Set

All of the Jo Malone scents smell amazingggg. The only problem is- there are just so many to choose from! This set is the perfect way to try out a few new scents or would make a great gift (wink, wink).
9. Patagonia Down Jacket

Ryan got me this jacket in purple last year for Christmas and I seriously wore it all the way into spring. It's made of 800-fill goose down (one of the warmest kinds) so that makes it super lightweight and compact yet oh-so warm. I only wish I would've gotten one sooner!
10. Illesteva 'Leonard' Sunglasses

Y'all have seen me wear the heck out of mine so you already know what I think about these. Mirrored glasses are here to stay and I'm loving it!
11. Rebecca Minkoff Handbag

The cranberry/bordeaux color will be everywhere this fall and I love the color of this piece. Rebecca Minkoff always has the best cross body bags.
12. Hunter Rain Boots

I had been wanting a pair of these for years and finally got them for Christmas last year. They're a must for rainy fall days or snowy days (well, at least here in the south!).
13. Michael Kors Leather Strap Watch

I think it's clear that square faces are making a comeback this season. This watch is definitely unique- I love the double leather strap.
SHOP THE POST


On another note, who watched The Bachelorette last night?! My favorite line was when Chris Harrison said that Jordan and Robbie were complete opposites. Um… they're both ex-atheletes with tall hair. And Chad. That guy is crazy but I may actually cave in and watch Bachelor in Paradise this season… or at least the first episode 🙂 Thanks for reading & hope y'all have a great day!