Happy Monday, friends! It's been a while since I've shared a home decor post and today I wanted to share some inspiration for our guest bedroom. Since Ryan & I were previously living in a one bedroom condo, having a guest room was one of the things I was looking forward to the most in our new home. Yes to hosting all the guests!! Well, we could before of course… if they were down for sleeping on a couch with no privacy but those days are long gone. I have big plans for this room so let's take a peek at my little inspiration board for this space!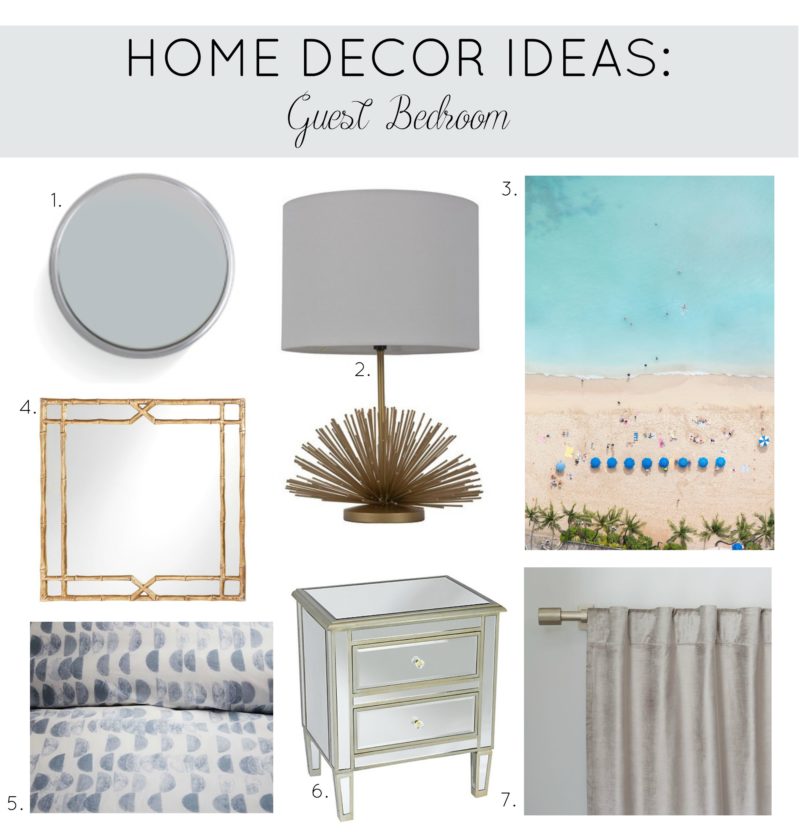 one // two // three // four // five (on sale!) // six // seven
Okay, first things first… paint! Up to this point we have only painted our master bedroom but the guest bedroom is next. It's currently a light greyish beige color (Sherwin-Williams Silverpointe) which is the color of the rest of our house. I'm all about neutrals but definitely wanted some pops of color in the bedrooms so we're going with Sherwin-Williams Krypton (a pale grey-blue) for this room. I just picked up the paint yesterday and hopefully we'll get this done in the next few weeks.
I want to add a few pops of gold like this adorable urchin lamp (under $30) and possibly a mirror.
In other news, I recently discovered the beautiful prints of Gray Malin (I know, have I been living under a rock or what?!) and am completely obsessed! The bright and colorful beaches just exude happiness but they cost a pretty penny. I did find a similar beach-themed framed print at HomeGoods the other week for $25 (um, yes!!) and that will hang over the dresser… whenever we decide on one.
If you've been following on Instagram stories, then you got a sneak peek when we got this bed in (love it) and we got this duvet cover a few months ago and have built our color scheme around it. I wanted a fun print in here and love the shades of blue in this one. The most recent update has been our nightstands. I love the mirrored look so we ordered these from One King's Lane and they are absolutely gorgeous!! They just need some lamps and some other fun accessories to go on top.
Last but not least the curtains. We have privacy roller shades in this room but they are not blackout shades so if it's a super sunny morning, our guests may not be sleeping in too late. #giantwindowproblems. Anyway, I want some drapes to hang here that will mostly be stationary, but can be drawn when guests come to cut down on some of that extra light. I think these platinum velvet ones may fit the bill!
And that's what I've got so far! I can't wait to share the whole look with you guys soon. And I'm pretty excited for this week because we are starting the barn door project on our third bedroom downstairs. Ryan's dad is also flying down to stay with us for a few days and work on a few things around the house (like hanging our master bedroom curtains… can't wait!!). As always, follow along on Instagram stories (@kristinahendley) to see more house updates!