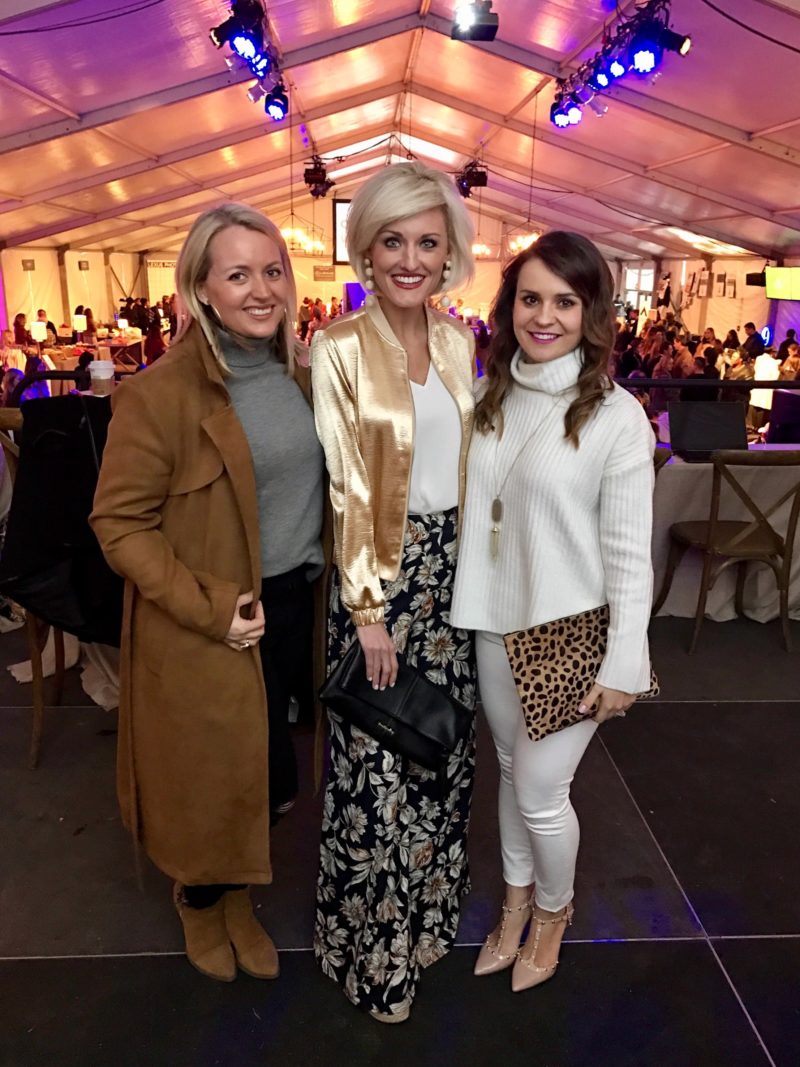 Hey y'all!! I know it's been a hot minute since I last posted (whoops!) but I'm super excited for today's post. If you follow along on Instagram, then you know that last week I visited one of my favorite southern cities for Charleston Fashion Week. I was joined by two of my favorite bloggers, my BFF Lindsay from Sell Eat Love and Brittany from Loverly Grey which made for a fun little girls trip. This was my very first fashion week –but hopefully not last– and today I'm sharing a recap of our trip!
After arriving in Charleston, we started off our trip with a delicious lunch at Amen Street Fish & Raw Bar. We feasted on the shrimp corndogs, she-crab soup, oysters (of course!) and shrimp and grits. Everything was so fresh and if you're a seafood lover like me, then this place is a must-try!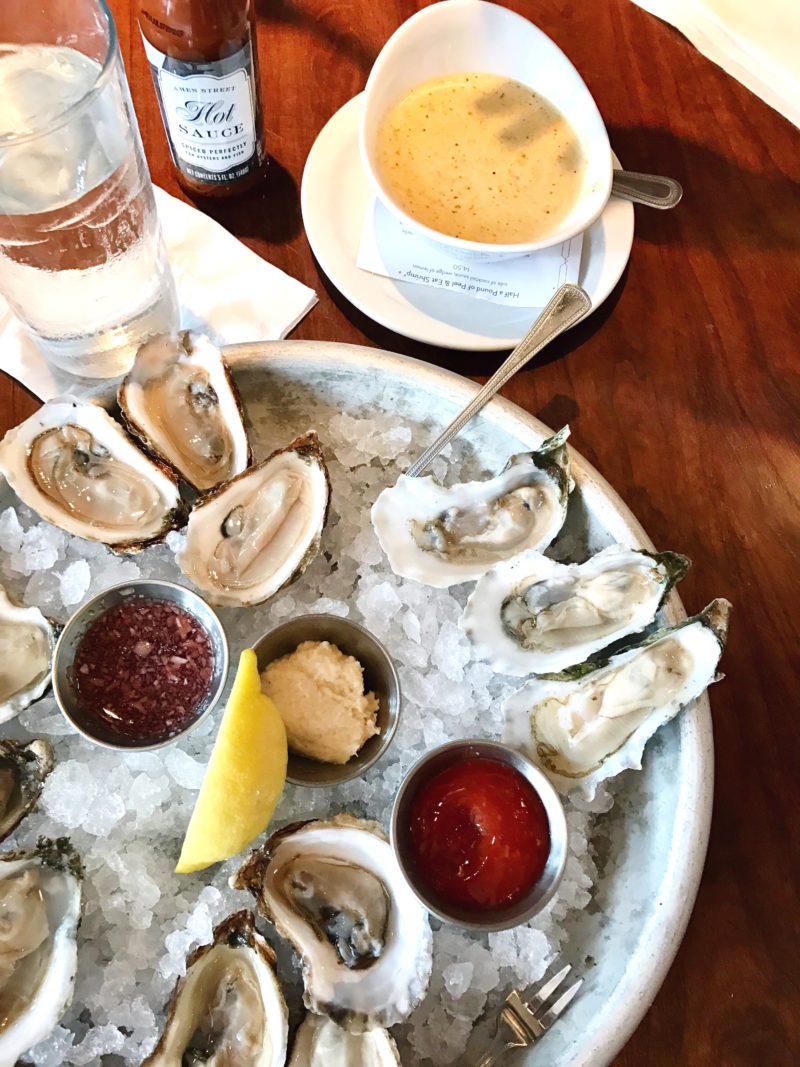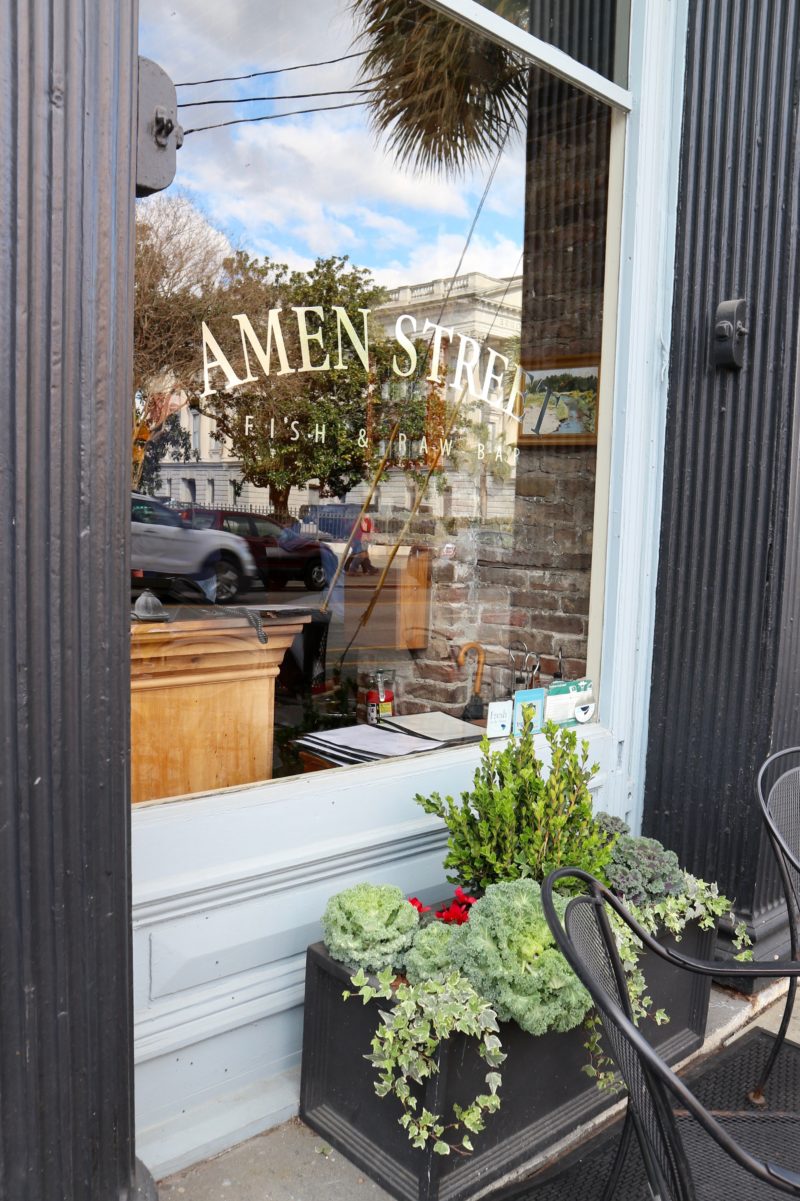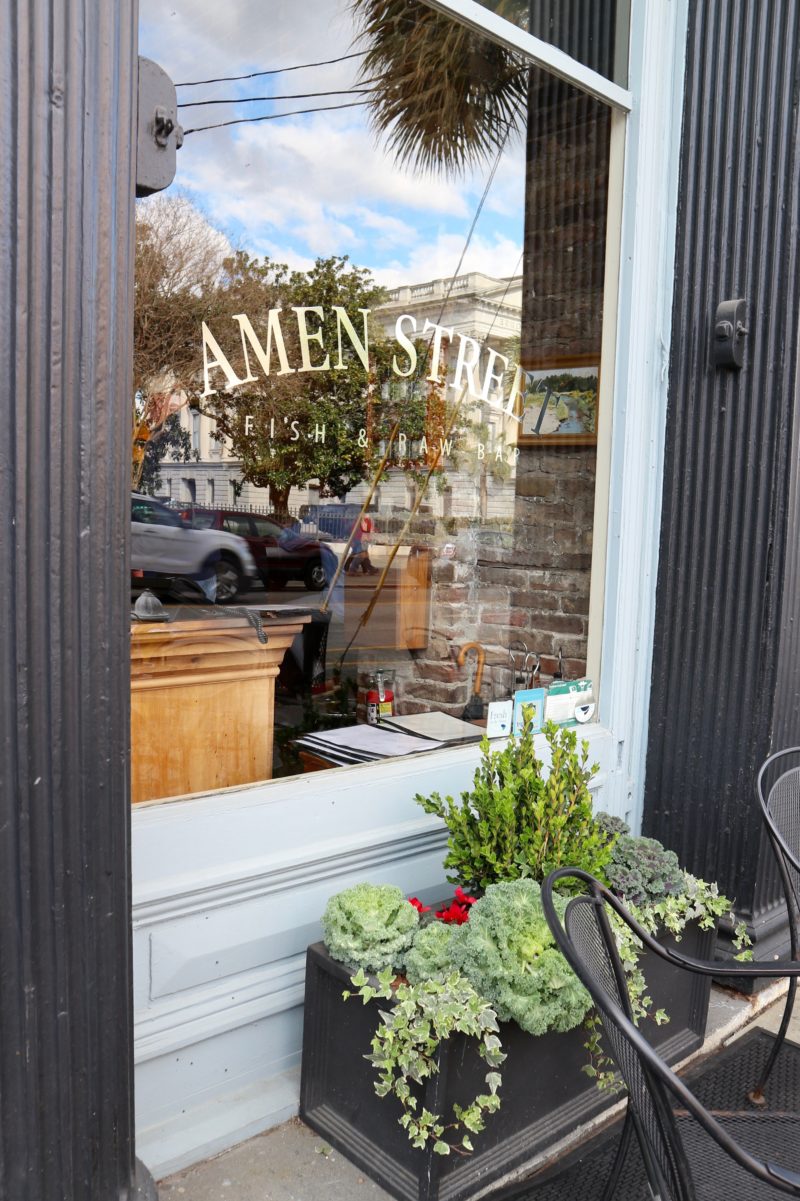 After lunch we headed back to the hotel to get ready for night one. Side note: We stayed at the Embassy Suites in Marion Square and while it wasn't the fanciest hotel, you couldn't beat the location as it was steps away from the fashion tents. I had hopes of wearing fun spring dresses but 40 degree temps called for a cute bell sleeve top (obsessed!) and jeans instead.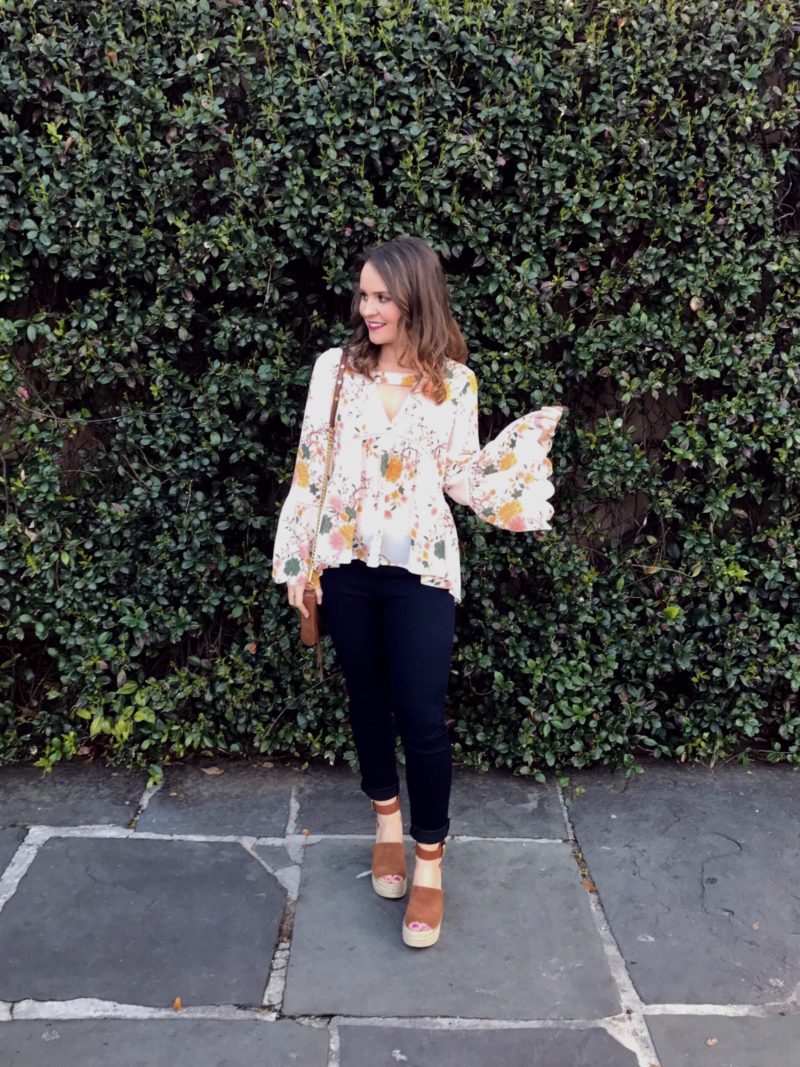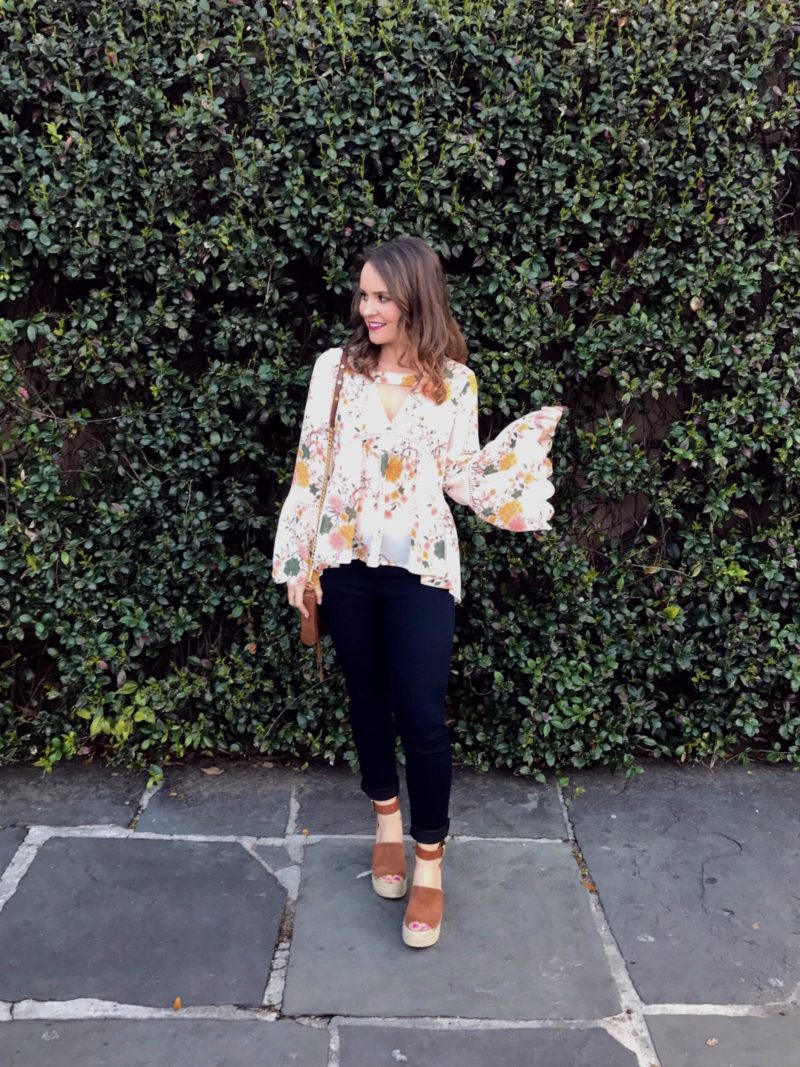 floral bell sleeve top ($55) // dark wash skinnies // Marc Fisher espadrilles (fully restocked!)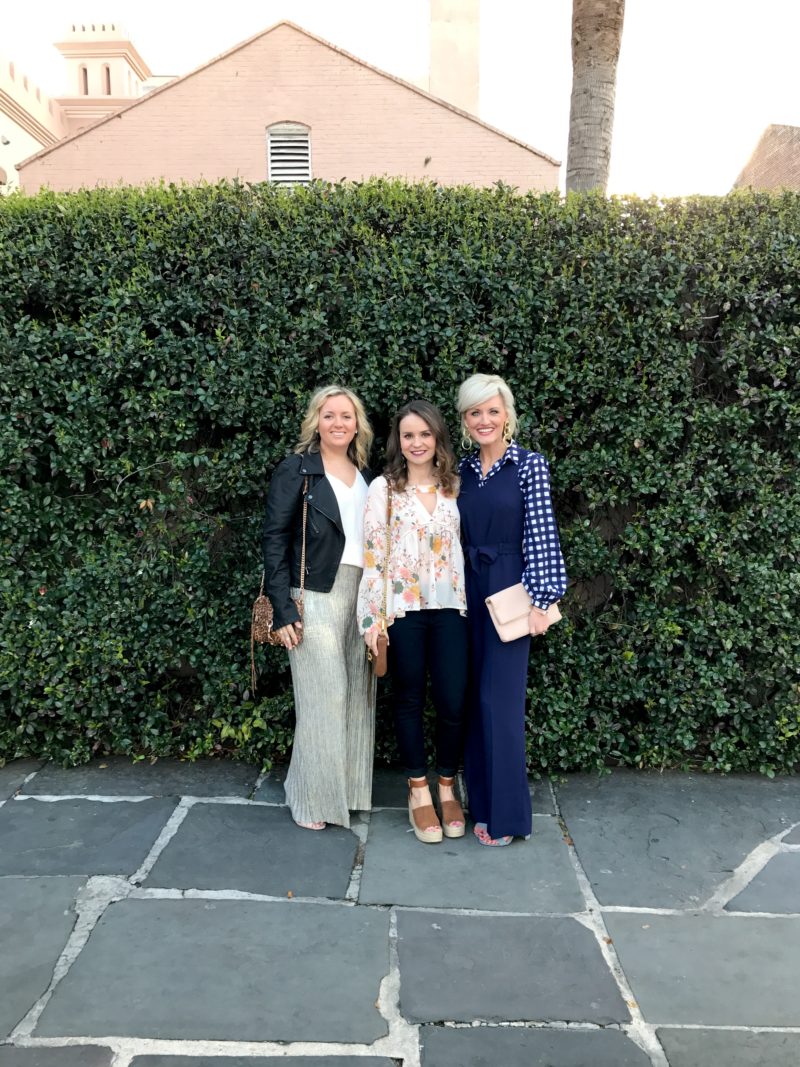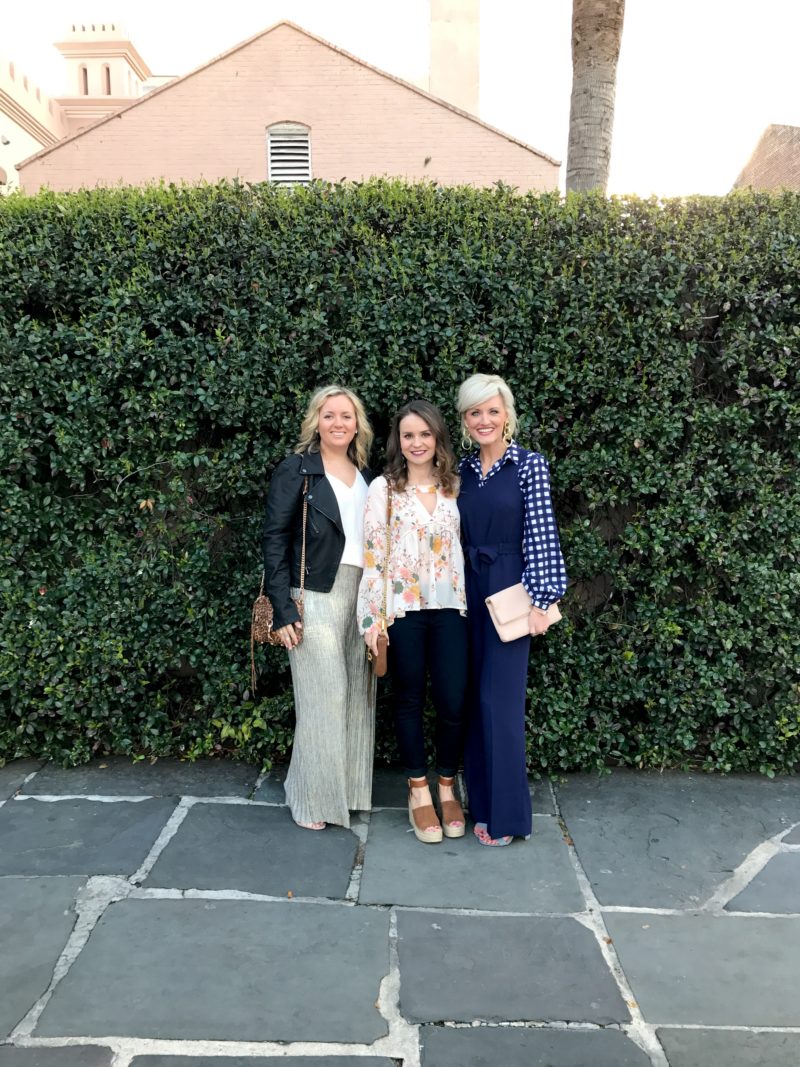 Since this was my very first fashion week I didn't really know what to expect, but it was a blast! Now, I know it's on a much smaller scale than NYFW so it was nice to experience this one first. The fashion shows were only at night and were all in one tent- super easy and convenient. I know New York is another beast but attending a fall fashion week is definitely on the bucket list!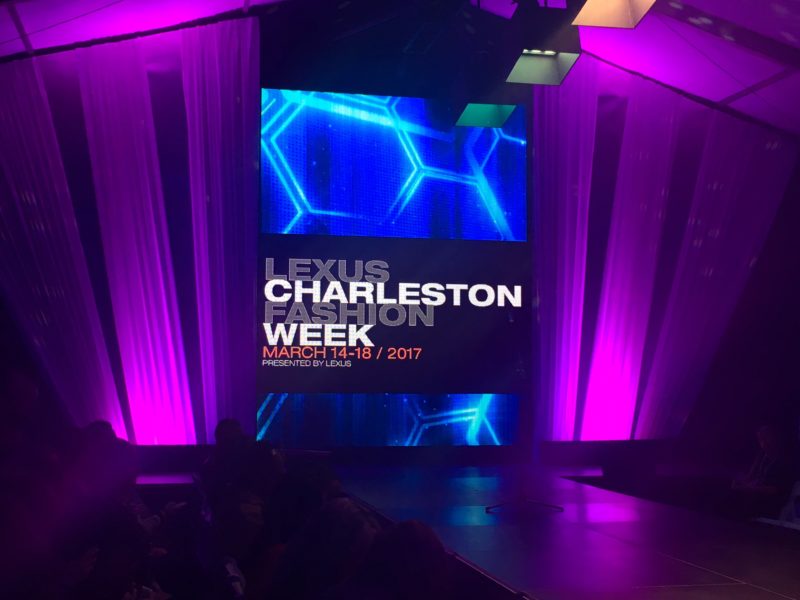 On Wednesday morning, we had a coffee date at Black Tap with the designer of Lilla P, one of my favorite brands for high-quality basics. Lindsay first introduced me to this line when she used to rep them in her showroom and I have grown to love the quality and fit of the pieces. They are a bit of an investment, yes, but these pieces are classics and will last for years and years. The designer Pauline was SO sweet and I'm excited to share some more Lilla P looks with y'all soon! Ps. If you ever make it to Black Tap, you have to order the Nutella banana turnover… simply delicious!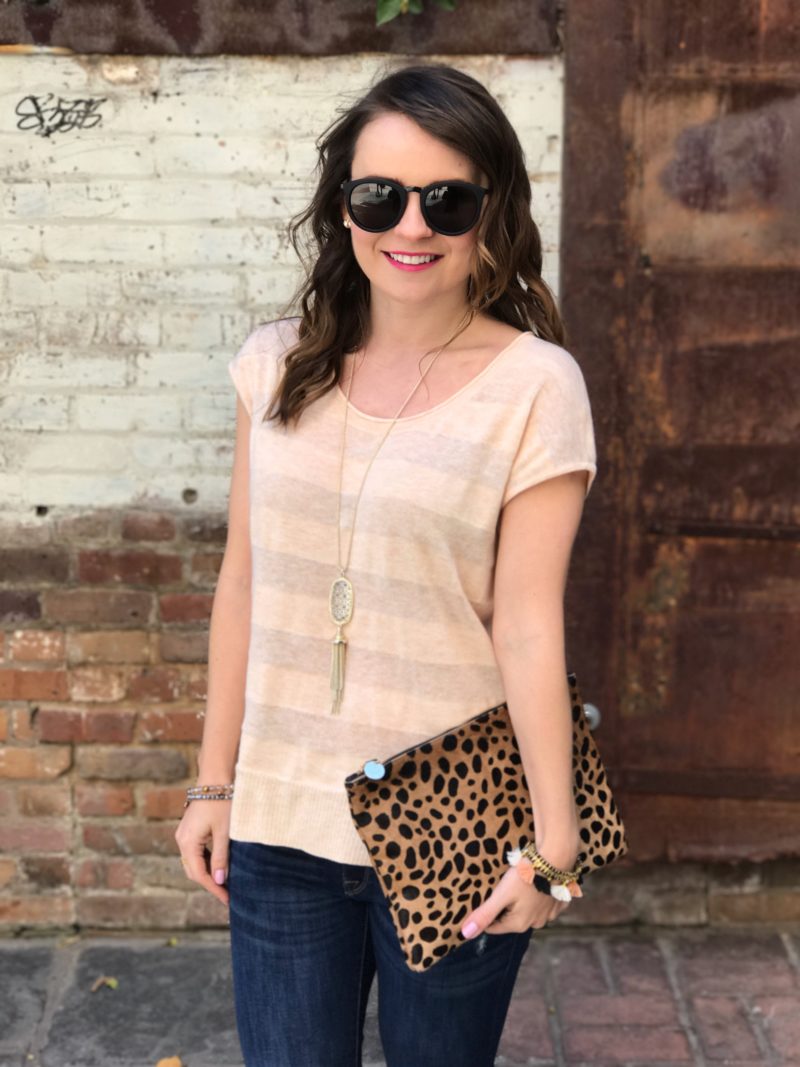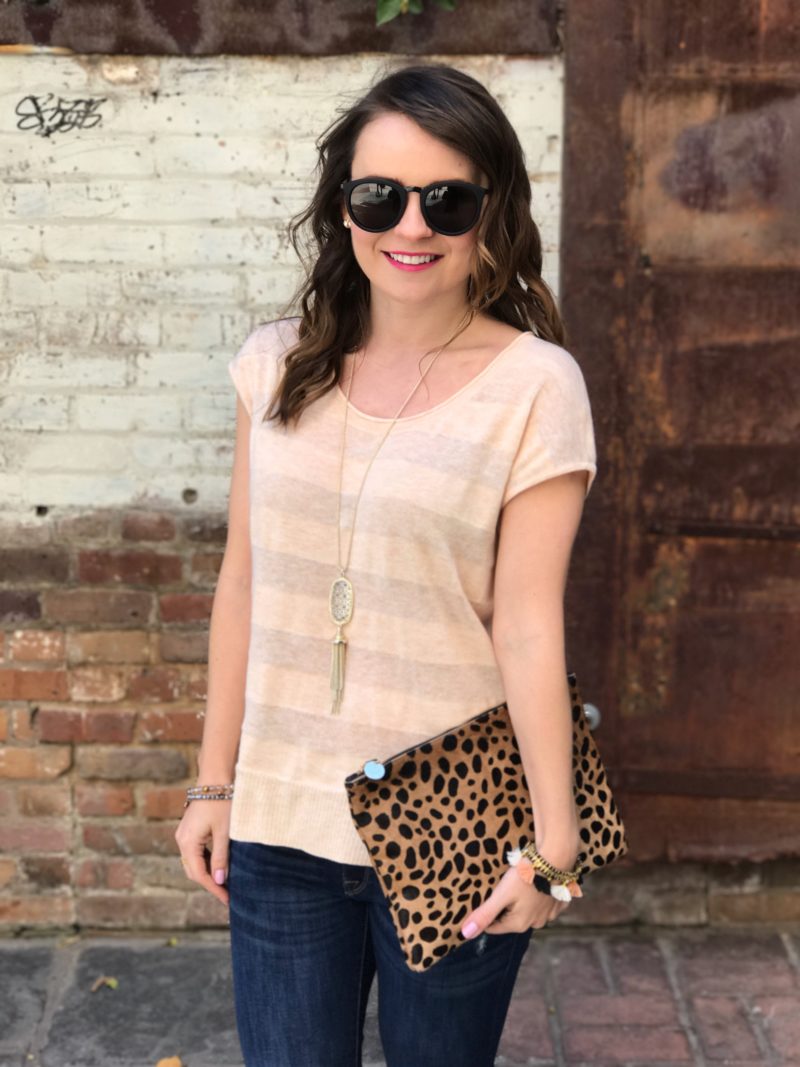 Lilla P scoop neck top, c/o (10% off with code MEDMANI) // Le Specs sunglasses // leopard clutch (dupe under $50 here)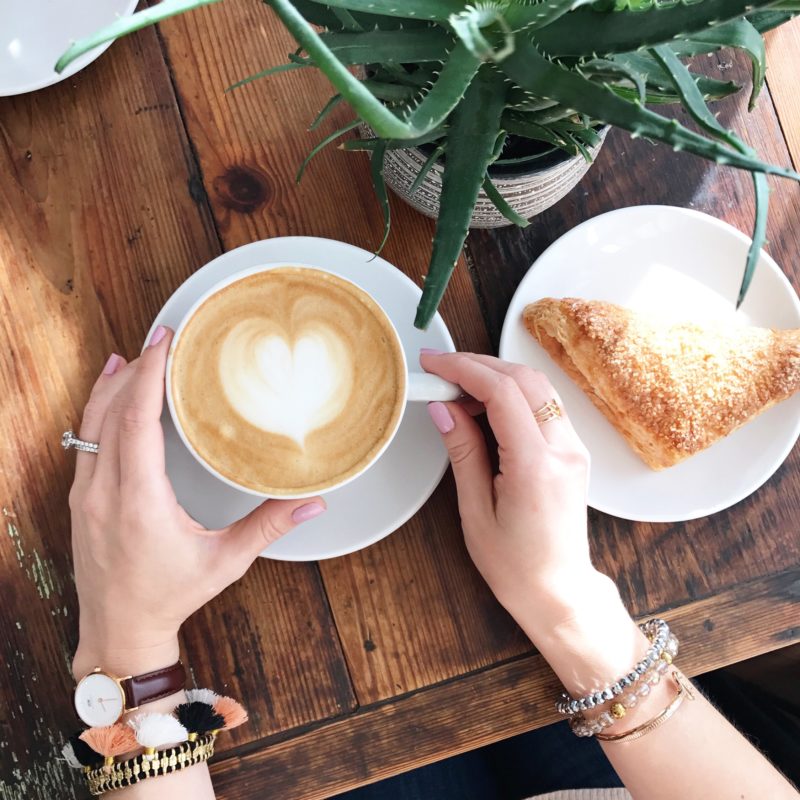 That afternoon we popped into some shops on King Street and even though it was a gorgeous day, I tried to limit my time outside because it was absolutely freezing!! And this girl doesn't do cold. Every time I visit Charleston I'm usually sweating and let me tell you, I'll take sweating over freezing any day. Brittany & I grabbed a quick lunch at Caviar & Bananas while Lindsay was working and then took some blog photos before getting ready for night two.
Before heading to the shows, we stopped by Cannon Green for happy hour. Somehow I had never heard of this place but already can't wait to go back. It is an open, airy restaurant and event venue that has a lush green courtyard full of palms. We got a bunch of yummy plates to share at the bar and the cocktails were top notch. I recommend the Hummingbird which gives off some major tropical vibes with the pretty orchid on top. Last but not least, the service was outstanding and there was plenty of southern hospitality to go around.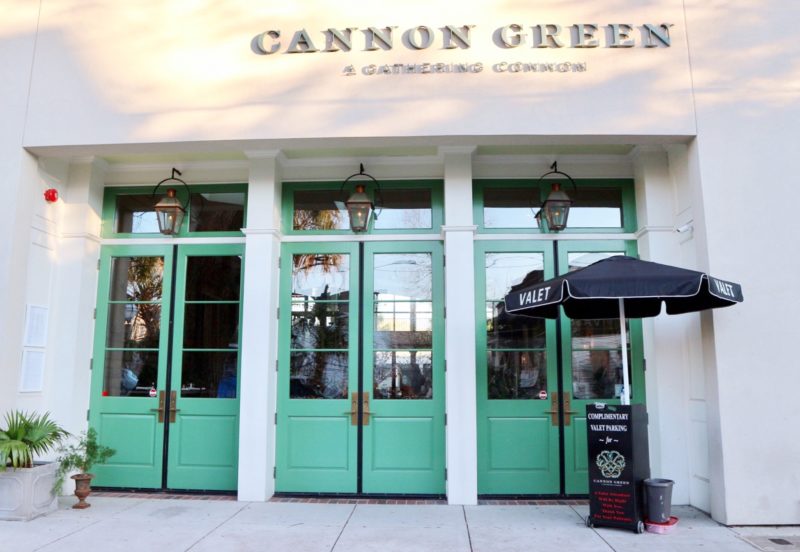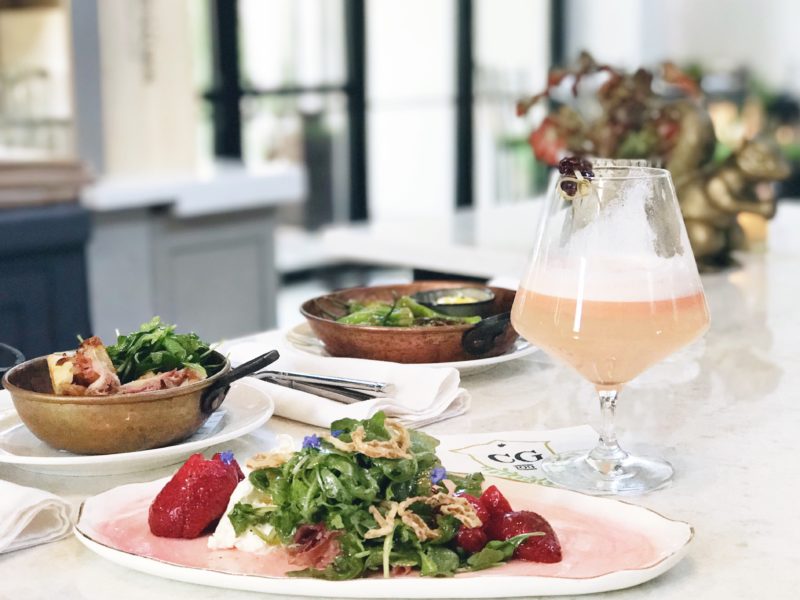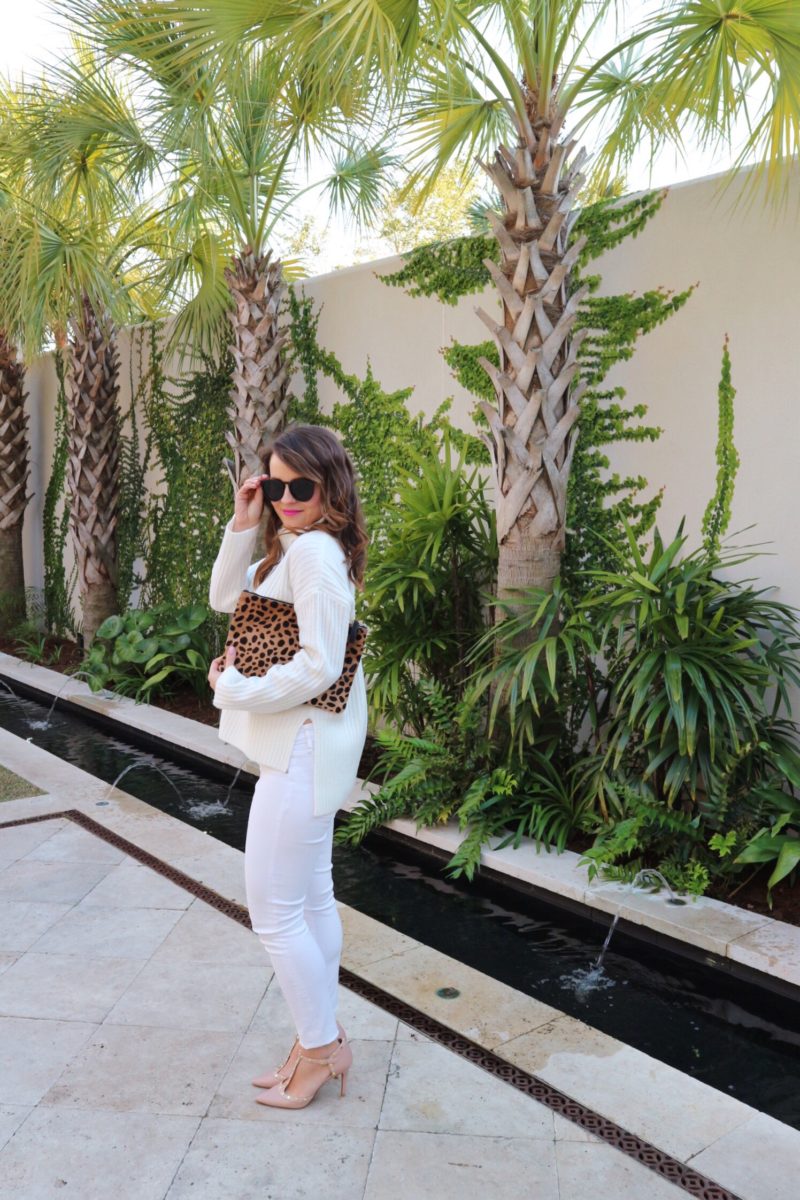 H&M white turtleneck // Le Specs sunglasses // white jeans (under $60) // blush studded heels, similar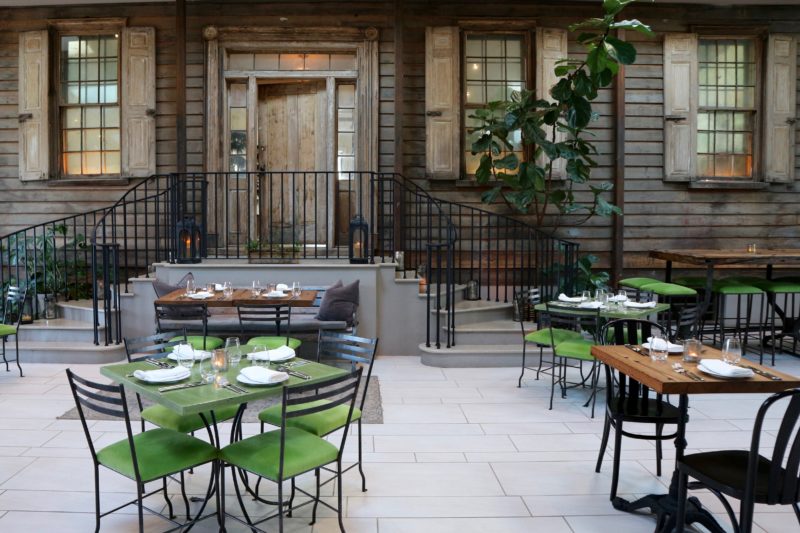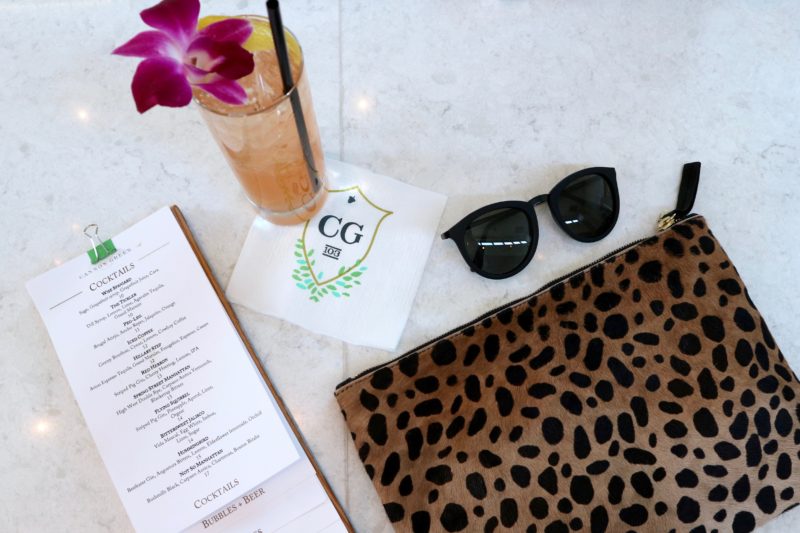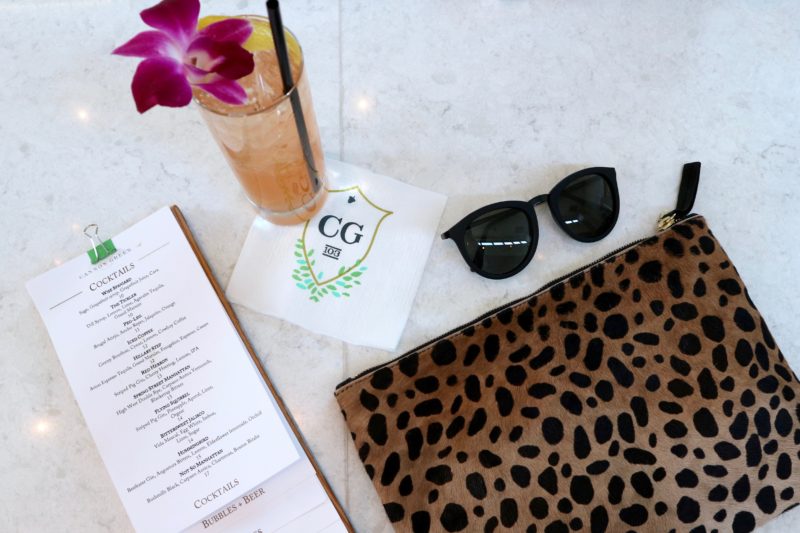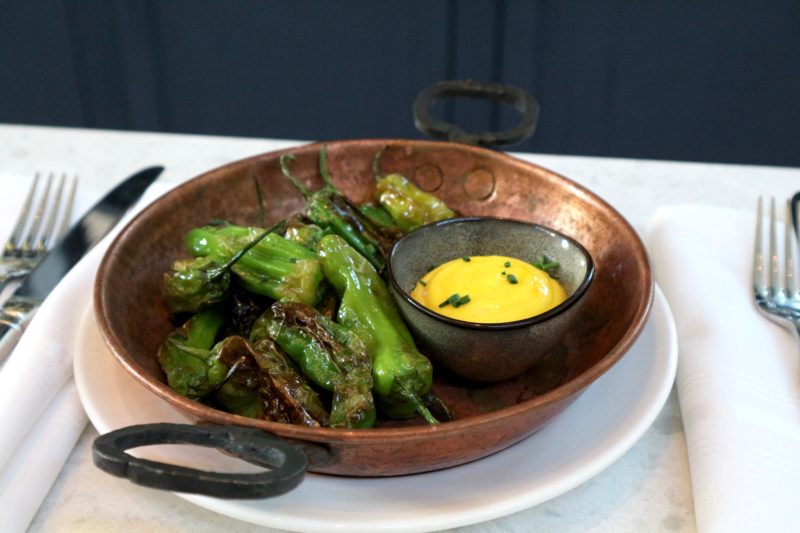 We saw some more great fashion at Wednesday night's shows but the highlight of the night was probably getting to meet one of my very favorite bloggers, Brighton Keller from Brighton the Day. We were literally sitting right behind her and of course I had to fangirl and say hi (and grab a quick photo, duh!). I love her blog because she keeps it real and is so hilarious, plus she was so sweet in person! We ended the dinner with some light bites at The Dewberry across the street and called it a night.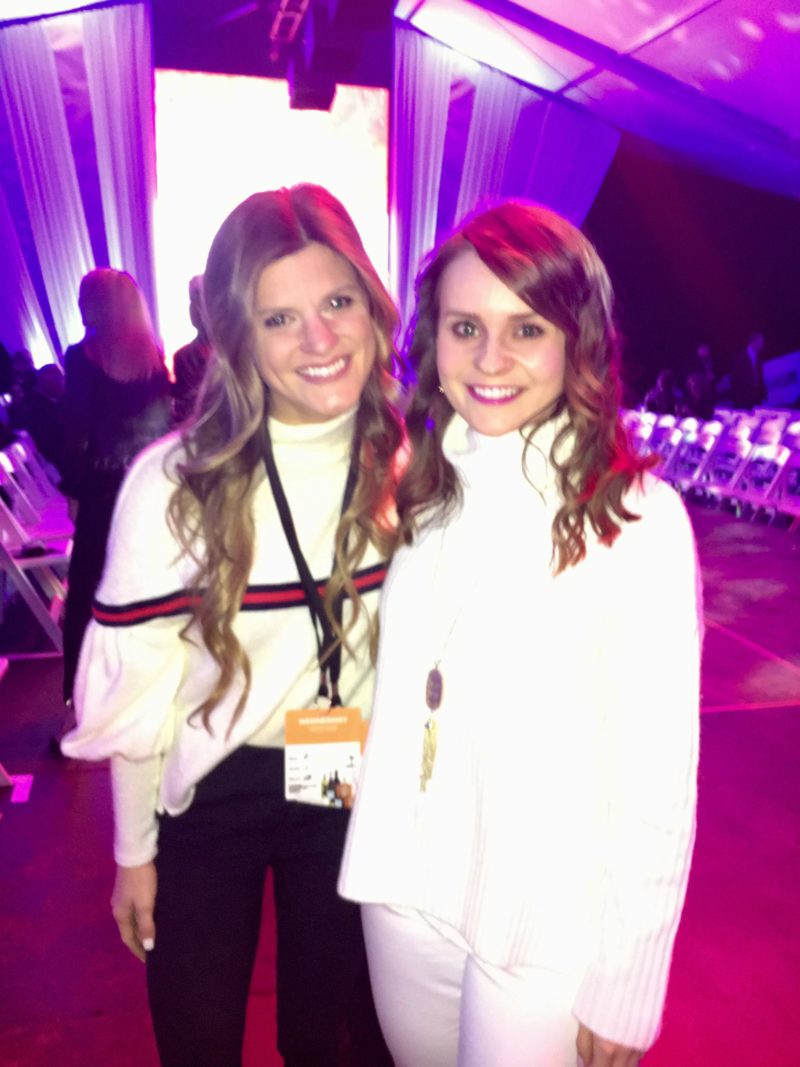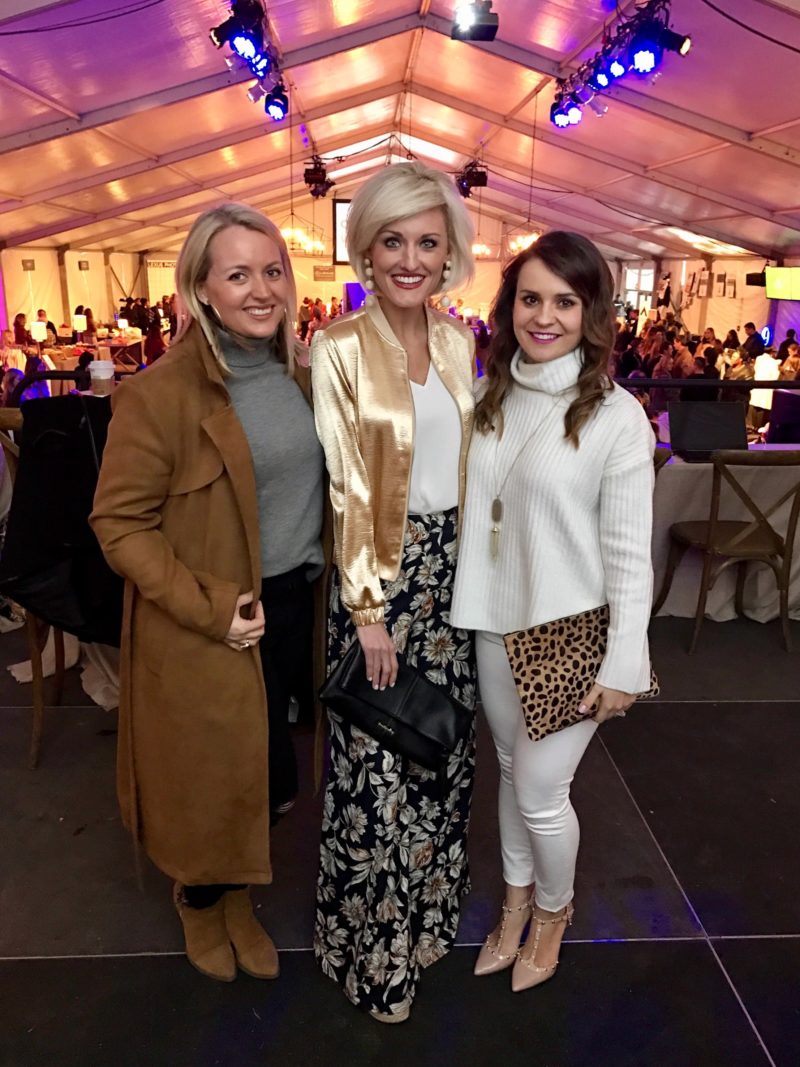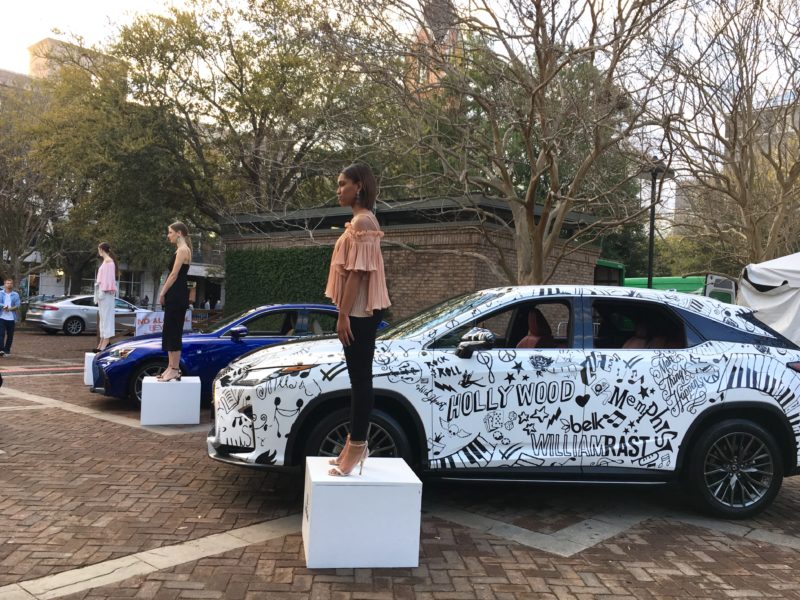 Have y'all ever been to Charleston Fashion Week? I will honesty take any excuse to visit this city and hope to come back again next year. And I can't believe it's already Monday again- mine will be spent running errands and doing home things, no surprise there. Thanks for stopping by!