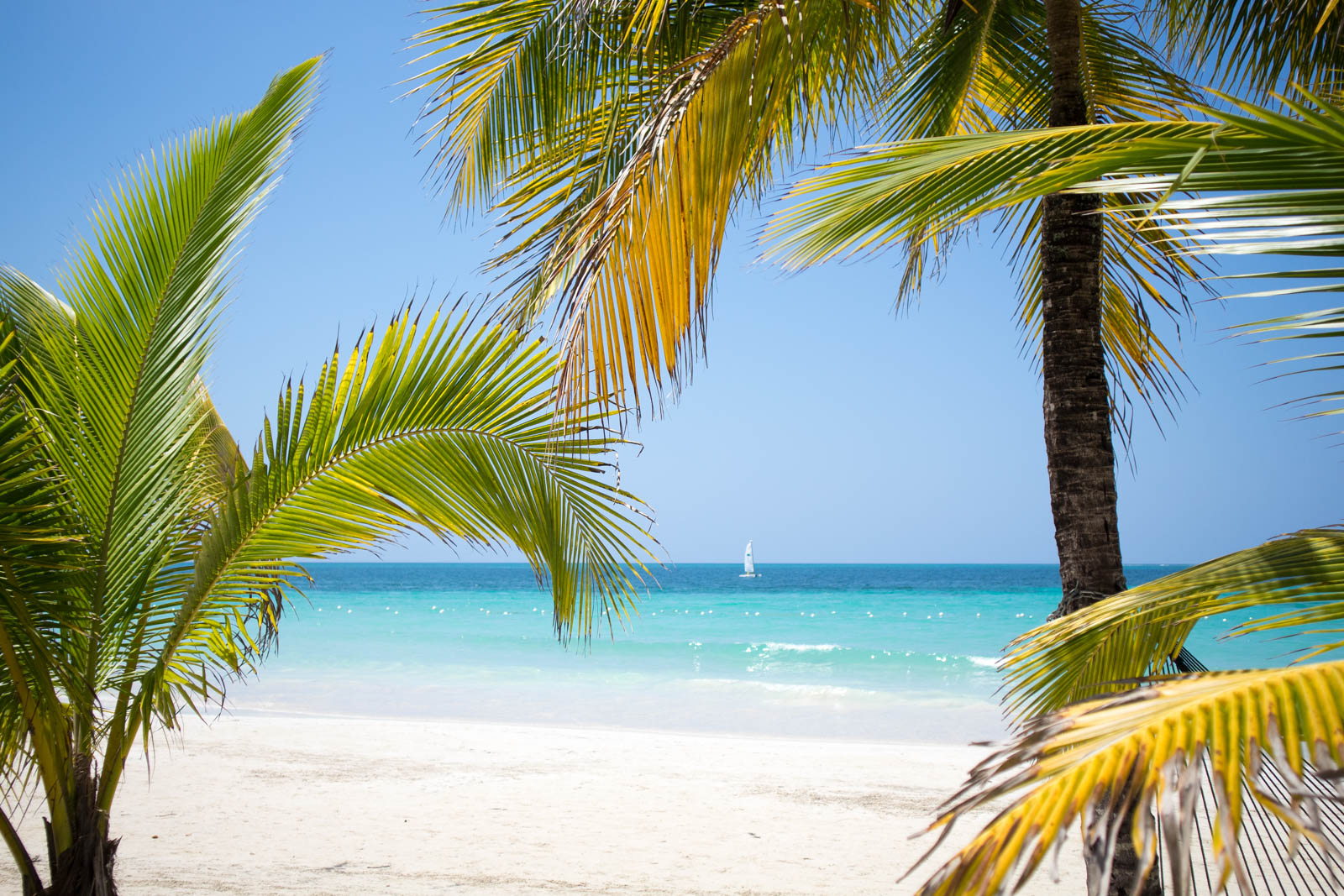 It's time for another travel post!! I have a major case of wanderlust and love experiencing new places and sharing them with you guys and today's post is all about Jamaica! I was extra excited for this particular trip because it was our first big couples trip. One of my best friends Sarah and her boyfriend met us all the way from California and we all had so much fun. Today I'm sharing a FULL recap of our trip to Negril, complete with information about our resort, outfit details, overall thoughts on the island and way too many photos! 
From Charlotte, we had a 3-hour flight to Montego Bay which was a plus. Our resort was located in Negril on the very western point of the island so we had a 1.5 hour ride after landing. After some research and a few personal recommendations, we decided to stay at Couples Swept Away. It's a couples-only all-inclusive resort (and most importantly, no kids) with locations in Ocho Rios and Negril. The resort was settled on absolutely gorgeous property, covered in lush palm trees and tropical plants. We stayed in the garden verandah suite which was on the back row of buildings and only a short two minute walk to the beach.  Since the resort was already on the pricier side, we didn't want to splurge on a beachfront room since we wouldn't be in the room a lot anyways, so this was perfect for us.
One thing that drew us to this resort was all that it included. On top of being "all-inclusive" with food and drink, they offered activities that most other resorts would charge for or would be typically booked through a separate excursion. Here we could do motorized water sports (glass bottom boat, water skiing, wakeboarding) and they also offered a nightly catamaran ride where we were taken to the southern tip of Negril to check out Rick's cafe and went swimming in some caves. Of course there were the usual others like Hobie cats, kayaks, and paddle boards.
I have only been to two other all-inclusive resorts (one in the Bahamas and one in the Dominican Republic) and I will say the food here impressed me the most. Our resort had 4 main restaurants- The Palms was the open-air buffet where you could get breakfast, lunch and dinner. Patois Patio was a made-to-order restaurant that also served all three meals. The nicer dinner restaurants required reservations- Feathers (fine dining/Caribbean) and Lemongrass (Asian).
There was also a beach grill by the swim-up pool bar where we ordered burgers and salads one day. But my favorite place for lunch was Sea Grape Café, a vegetarian beach cafe where you could sit under the hut or at a table in the sand overlooking the water. They had amazing smoothies, fish tacos and fresh chilled coconuts.
One of my favorite parts was the reggae beach party. They decorated the beach with string lights and brought the buffet outside while we listened to a local steel drum and reggae band and enjoyed some other entertainment. They did such a great job with this event and it was so nice to dine outside on the beach.

panama hat // sunglasses // tassel earrings, c/o
There was also good entertainment which we really didn't get into until the second half of our trip. There was a fun piano bar where they played great sing-a-longs. We also caught a circus show, part of the magic show, and hit the club one night (which was actually a blast)! I would say the Secrets resort we stayed at in the DR had better entertainment but then again we absolutely loved St. Lucia and there was no entertainment whatsoever- so it was nice to have a few options.
They also have a really nice sports complex and a nice spa. I almost forgot- golf is also included in the stay (at least the greens fees) so while the boys played a short round, Sarah & I had morning yoga on the beach and followed it up with a relaxing massage which was top notch! We didn't do any excursions that weren't included with the resort because we didn't feel like traveling and there was plenty to do where we were. Plus, it was all about getting that R&R.

swimsuit // floppy hat // sunglasses

full outfit post here

two-piece set // wedges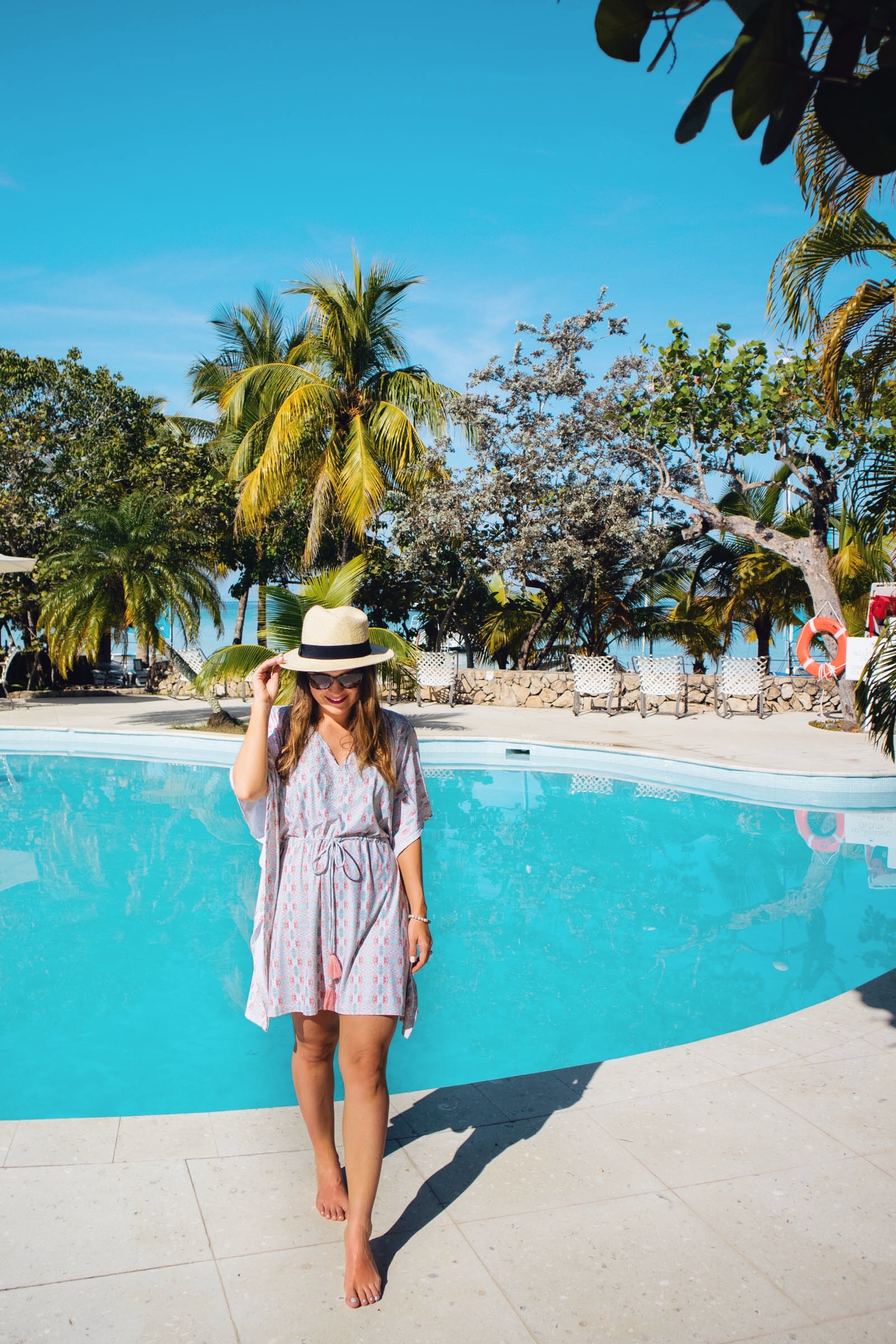 Cabana Life UPF 50+ cover up, c/o (use code HENDLEY20 for 20% off)

After visiting several islands in the Caribbean over the past few years, I will say that Jamaica has some of the most beautiful water I've ever seen! So clear and turquoise blue, no seaweed whatsoever. And the famous "seven mile beach" in Negril didn't disappoint, it's probably the best actual beach we've been to. This was a big draw of choosing Negril over Montego Bay or Ocho Rios. And since we were on the western part of the island, we got to see some amazing sunsets.
If you're looking for a relaxing vacation in beautiful surroundings with amazing food, I would highly recommend our resort. The only negative was that it was 1.5 hours away from the airport which isn't a deal breaker, we're just not big on car rides. We didn't know about this until getting to the airport in Montego Bay, but you can actually get a flight on a small prop plane into Negril- it will cost you around $140 for 15 minutes. The only other thing is that our resort did have a bit of an older crowd. If you're looking to stay up late and party, this may not be the place for you but if your trip is all about relaxing, then you would love it.
I hope y'all enjoyed this review/travel recap and if you have any specific questions about Jamaica or our resort, leave me a comment below or shoot me an email. Also, make sure to check back on Wednesday for a fun highlight video of our trip!