Hi friends and happy Tuesday! Sorry for my absence yesterday, but I had quite the busy weekend and had Ryan's parents in town the past two days so it has been crazy around here. This weekend I had friends and family come visit Raleigh, my car battery died, received my long white coat on Friday, had a secret Santa party, graduated with my Master's degree on Saturday, officially became a physician assistant, and packed up and moved from Raleigh to Charlotte on Sunday. Told you… Craziness!!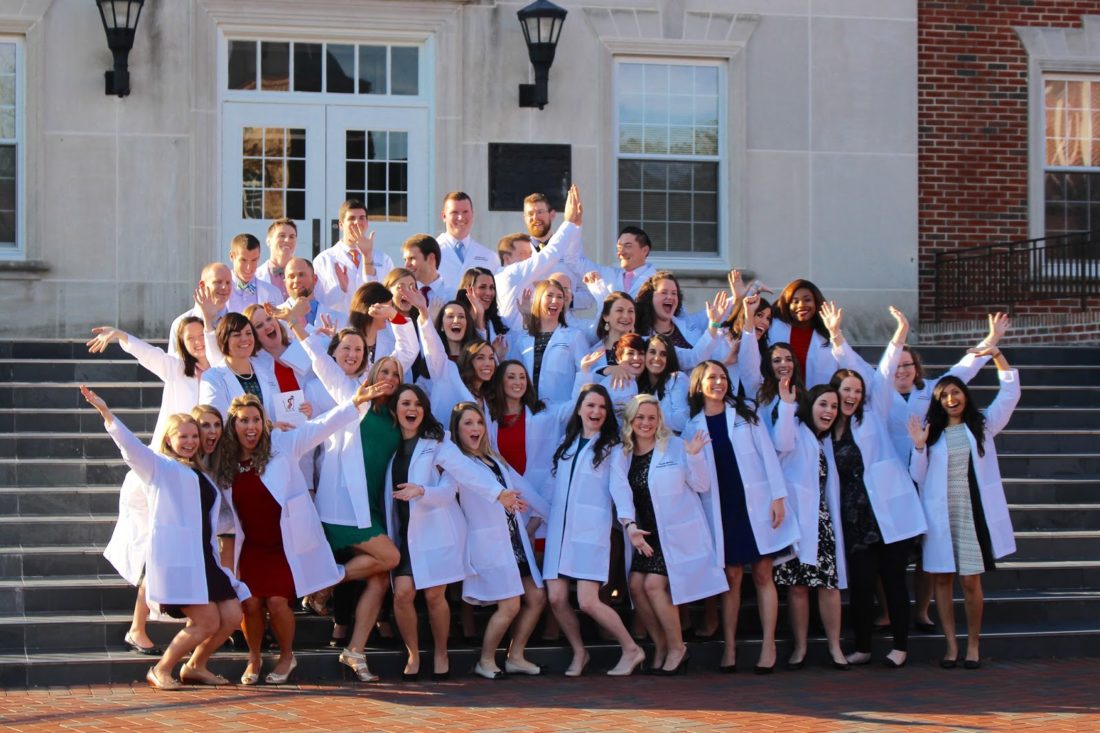 Friday was such an awesome day. The time had finally come to get my long white coat. For y'all that don't know, the length of a white coat symbolizes medical knowledge. A short white coat is worn by students and I still how remember how excited I was to receive mine the
first week of class
. Getting the long white coat symbolizes the transition from student to professional and this day meant so much to me and my classmates… almost more than the actual graduation! We got to choose a person to "coat" us and it was so special to share that moment with Ryan. After that, celebrations were in order! I was so glad to have all my loved ones in town and thought it was pretty awesome that all my bridesmaids were in attendance!
After the white coat ceremony, Sarah's family, my family and all of my friends headed to downtown Raleigh for dinner at Bolt Bistro and it was absolutely delicious! We ended the night with some drinks and arcade games at Boxcar. This was my first time there and I was so impressed with the huge selection of games and I totally killed it at skee-ball!
Saturday was the main event, our graduation day, but I had a few celebrations even before that. Since not all my closest girlfriends live in town, we thought this time in Raleigh would be the perfect opportunity for our "secret" Santa party. We exchanged gifts at our friend Rachael's house and then her boyfriend Freddy cooked breakfast for all of us. It was such a great start to the day (complete with mimosas, of course)! Then it was time to head back and get ready for the graduation festivities.
Yes, this day was happy and exciting, but also bittersweet. PA school has taken up a huge chunk of my life for the past 2.5 years. Of course I'm ready to be back in Charlotte for good and start my career, but I'll also miss group outings with my classmates and catching up with faculty. It was a little sad to say goodbye to a lot of my classmates, knowing that they're scattering across the country. We've been through many stressful times together, but also made PA school more fun than I ever thought it would be. (You can read about my 5 favorite moments here).
Sunday was an early morning spent packing up everything into our cars, saying goodbye to the roommates, and driving back to Charlotte for the LAST time!! I won't miss those frequent 3 hour drives and when I visit Raleigh in the future, it will be for fun purposes only. I'm so thankful for my two roommates and PA school wouldn't have been the same without them.
I'm so excited to start the newest chapter in my life and am thankful for my friends and family who have supported and encouraged me all the way. I also can't even begin to tell you how amazing of a supporter Ryan was- always keeping me positive when things got stressful, understanding my hectic schedule, and cheering me on every step of the way. I know 2016 will be the best year yet!!