Wow, every time I write this post I cannot believe another month has gone by!! We're halfway through 2019 and before we know it the holidays will be here… but I'll try not to get ahead of myself. Today I'm sharing a few favorites from June- a few from my recent Greece trip and some of my favorite things in my kitchen. I don't have a lot to share due to taking 2 weeks off for our vacay, but hope you enjoy another edition of Friday Faves!
BLUSH MIDI DRESS | This was a recent Amazon find and for $22, you can't beat it! I got it in blush (I'm a sucker for pink) but it comes in 6 other colors. I love the top overlay, cinched waist and the side slits on the skirt. This is an easy piece to dress up or down and could easily go with flip flops or heels.
STEVE MADDEN 'GREECE' SLIDES | I got these before my trip to Greece because I was looking for some cute white sandals (had to wear all the blue & white!) and was SO impressed at how comfortable they were. They are a Hermès "dupe" with the H design and the sole may be thin but it's super flexible. I wore them all around Greece on all the cobblestone and my feet didn't hurt at all! They are under $60 and come in a lot of colors and textures.
RATTAN EARRINGS | I wore these earrings in this blog post from Greece and think they are so fun for summer. These are also from Amazon and they're under $12. They are statement earrings but literally feel like you're wearing nothing!
ROLL-UP DISH DRYING RACK | I recently shared a few things I use on a daily basis in our kitchen and this dish drying rack is the bomb!! It doesn't get gross like the trays- all the water drains through the bottom and it rolls up and takes up minimal space under your sink.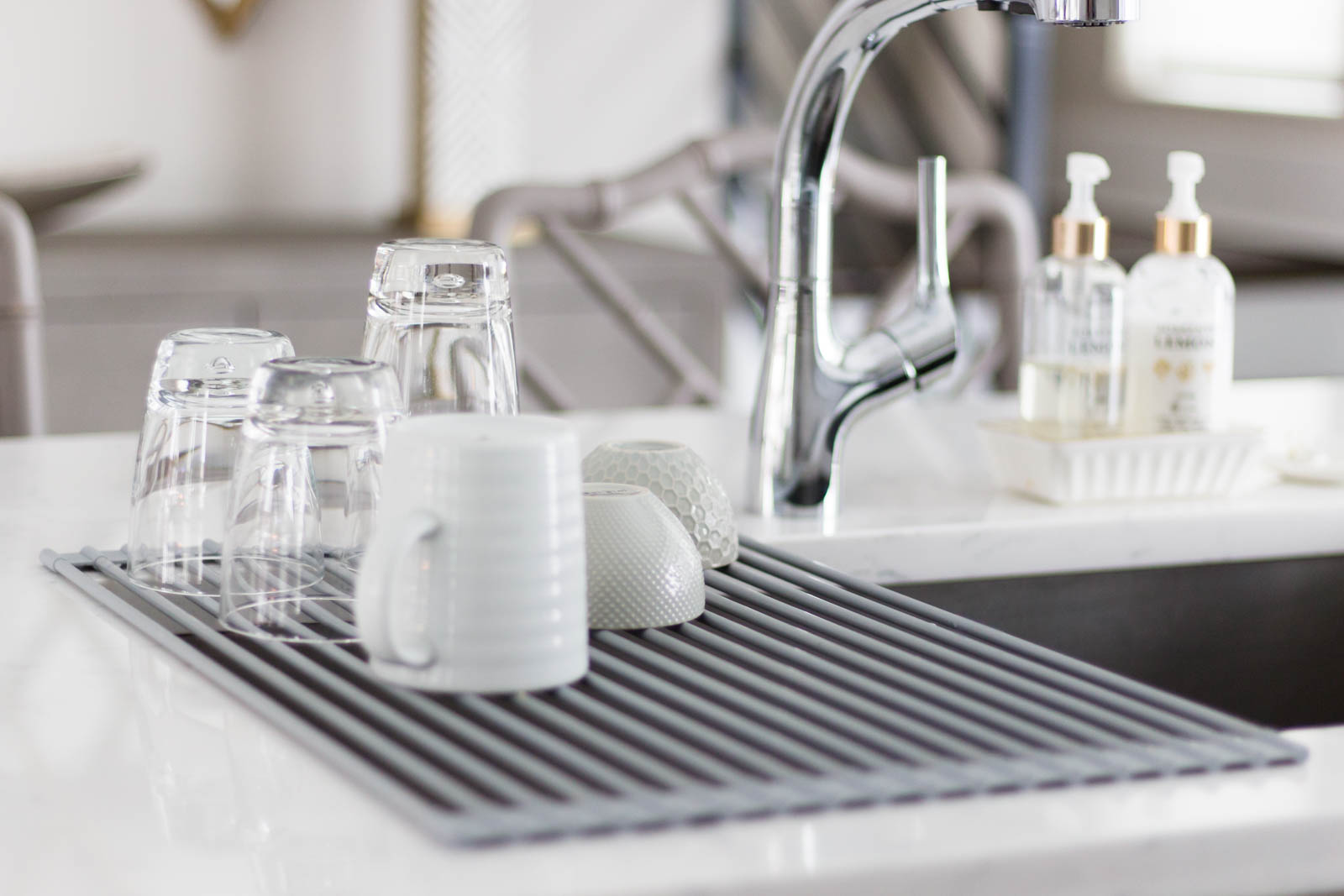 MARBLE TRAY | You guys know I'm a huge fan of marble and this is a great tray to keep your oils and favorite spices organized. It's just under $40 and has a matching paper towel holder too!
FLEX BREW COFFEE MAKER | I know we ALL have a coffee maker in our kitchen but if you're on the hunt for a new one that's affordable, I highly recommend the Hamilton Beach Flex Brew. It's only $60 and can make a full pot of coffee OR can make a single cup with either K-cups or coffee grounds. I love the versatility of this one and of course the price!
WHITE CERAMIC FRUIT BOWL | This is totally random but it honestly took me forever to find a fruit bowl that I liked. I was looking for something white and when I found this one I was sold. It says it's actually supposed to be a bread basket, but you can use it whichever way you want!