Today's the day!! Ryan & I are headed on our summer vacation to Alberta, Canada and the beautiful Banff National Park. Excited is an understatement!!! This is unlike any vacation we've ever gone on (we usually go somewhere tropical or a big city) so I'm ready to get out there and explore the great outdoors!
Packing for this location was a little challenging because the weather ranges anywhere from 45 to 75 degrees and we'll be doing several hikes as well as checking out the surrounding towns. After doing lots of research, I thought it would be fun to share what I'm bringing along and if you are going on a hiking trip sometime soon this might offer you some inspiration as well. Be sure to follow along on our travels on Instagram (@kristinahendley)!!
Banff Packing Guide
HIKING SHOES/BOOTS
I've never owned a pair of hiking shoes but wanted to be prepared for the trails. I also had no idea that Adidas had an outdoor line until recently and they were nice enough to send us some gear for our trip!! I love that their shoes are a little more stylish & athletic than your typical hiking boot.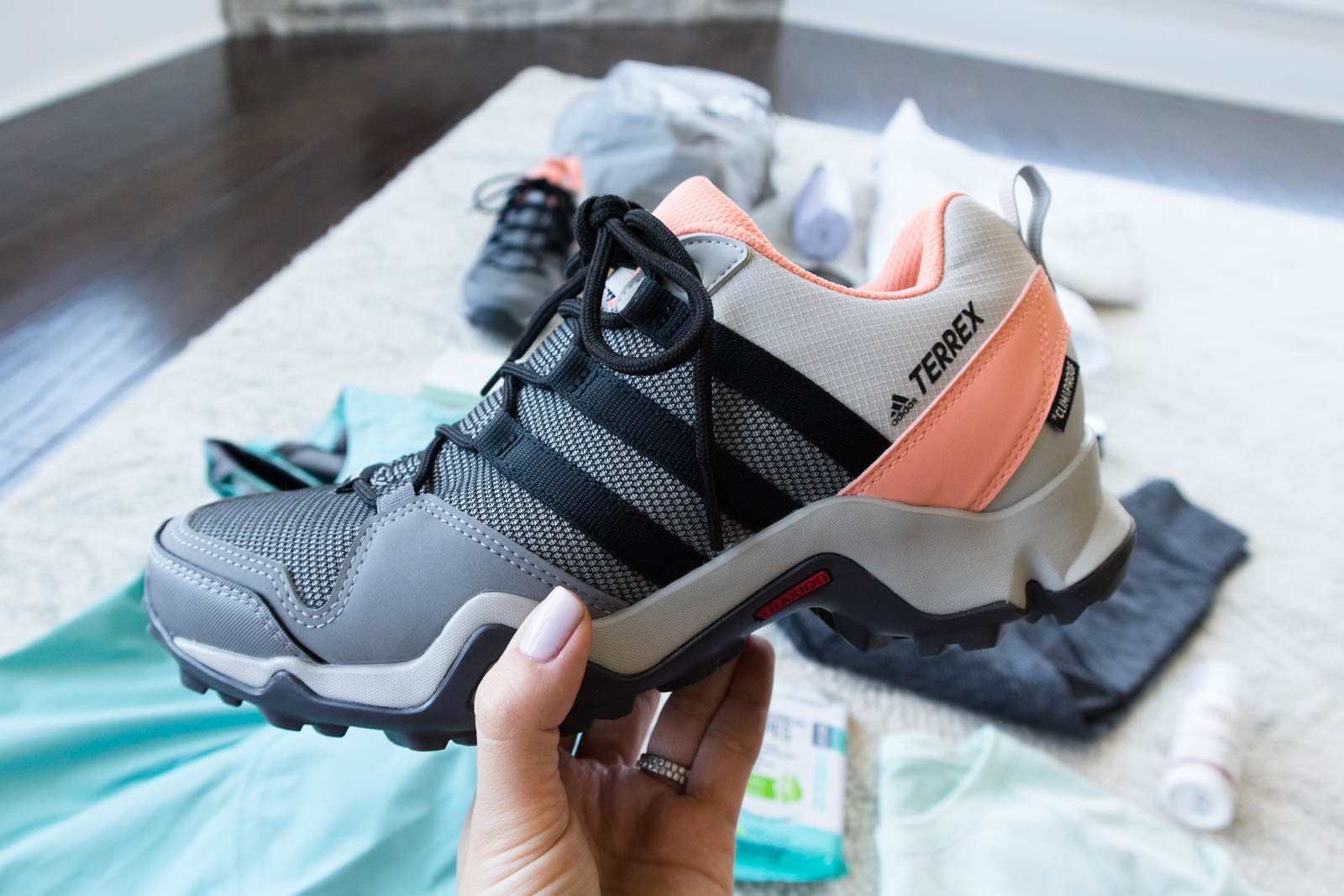 HIKING LEGGINGS
I'm not really a hiking pants kind of girl (let's be honest, they're not the most fashionable) but I wanted to find some leggings that were appropriate for hiking but still cute. Cue the Athleta excursion tights!! These are awesome- they are thicker than your average yoga leggings, so soft, and get bonus points because they come in petite lengths (tall & plus sizes too)!
SWEAT-WICKING TOP
After all my research, I learned that there is a saying that "cotton kills." Basically this means you should stay away from cotton while hiking because 1) it doesn't wick sweat and 2) if you get rained on and it's cold enough it can actually cause you to get hypothermia. Yikes! I picked up this Patagonia tee because I love the color and it feels like a super soft cotton tee, but is actually made of moisture-wicking polyester.
BACKPACK
I got this Osprey daypack for the trip- I think it's one of the smallest ones they make. We're not hiking for more than 5 hours at a time so I just need enough room for my jackets, snacks, water, first aid kit and camera!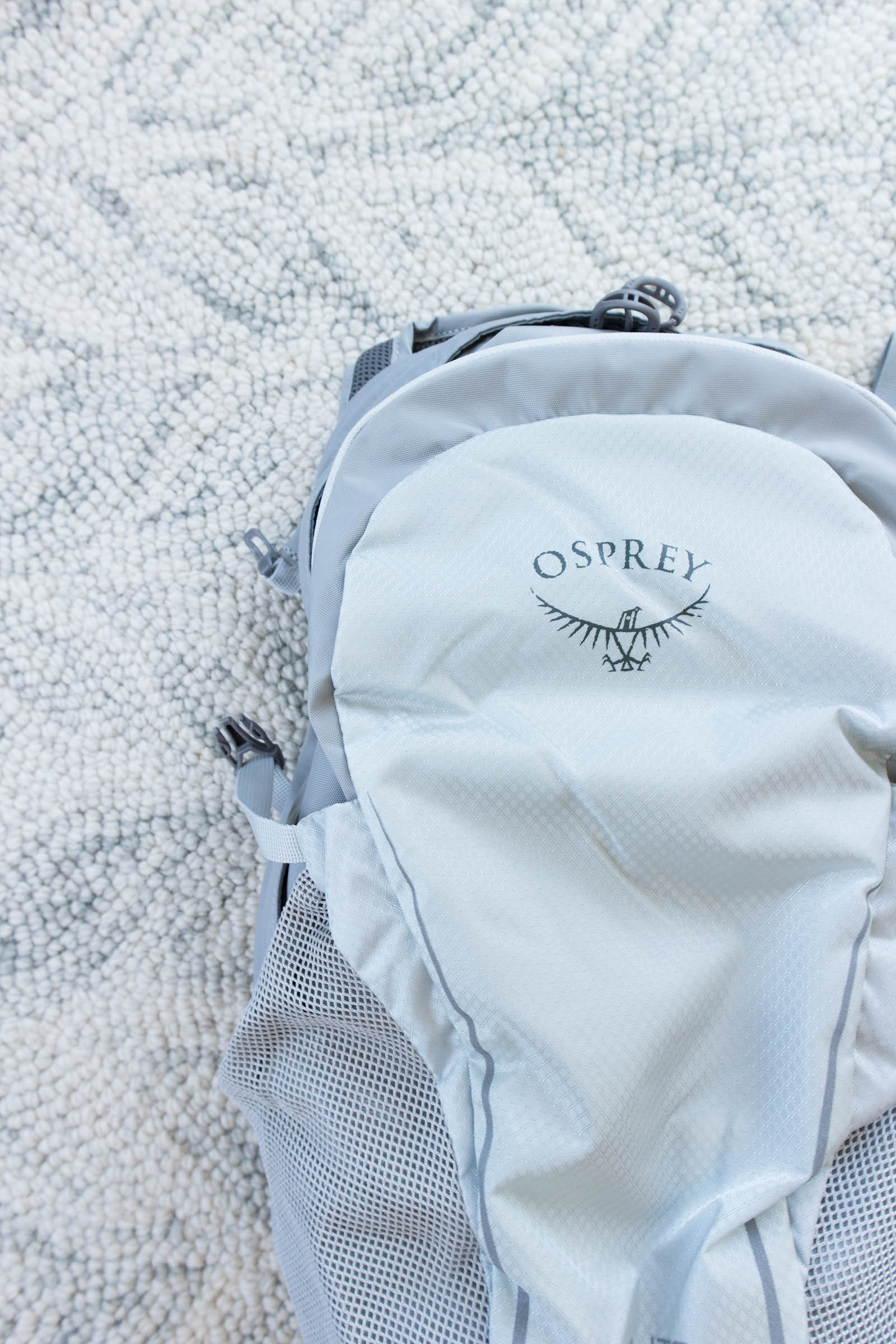 SNACKS
Make sure to pack some protein bars to keep you full if you're on a long hike because nobody has fun when they're hangry. Another go-to is dried fruit and we thought we'd take it to the next level with freeze dried ice cream!
WOOL SOCKS
Did you know you need special socks for hiking? I didn't either until gearing up for this trip. Believe it or not, wool is sweat-wicking and will do the best job keeping your feet cool, cushioned and stink-free. I went with the Smartwool ultra light mini socks.
INSULATED JACKET
Even in the summer, mornings in Banff can be quite chilly so I recommend packing a puffer jacket. These are great because the insulation will keep you warm but they're lightweight and don't take a lot of space in your luggage/daypack.
RAIN JACKET
You never know when the weather is going to change and you don't want to get caught in the rain. Make sure to pack a hooded waterproof jacket so you don't get soaked!
SUNGLASSES
Protect your eyes from the sun with a good pair of sunnies. I just picked up these- they're under $70 and polarized!
WATER BOTTLE
You have to stay hydrated on the trails so I would recommend bringing an insulated stainless steel bottle to keep your drink cold all day. You can't go wrong with a S'Well bottle!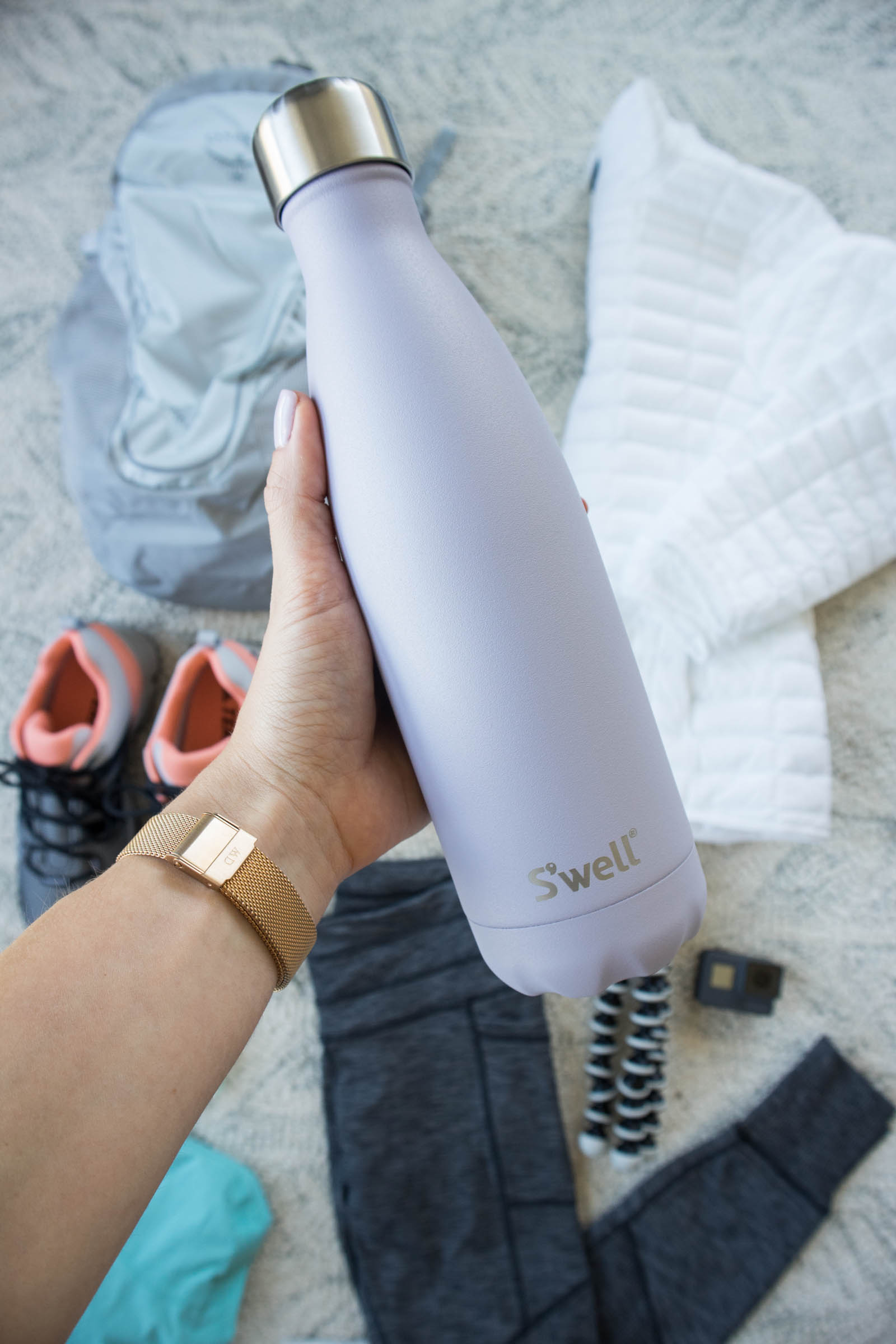 CAMERA
This one's a given and whether you use a DSLR, GoPro or iPhone, photos of all the beautiful scenery are mandatory! Do it for the 'gram!
GORILLAPOD
This one might be a little "extra" but sometimes you can't trust strangers to get the perfect photo and you just have to get the job done yourself. A GorillaPod is a nifty mini tripod that you can stand, use as a selfie stick or wrap around things like a pole or tree branch.
SUNSCREEN
Higher altitudes mean more sun exposure, even if it's cool out. I'll be packing this one for face and this one for body. And can't forget my Colorescience brush-on sunscreen, it's so convenient and easy for reapplication.
MISCELLANEOUS
Protect yourself from bites with bug spray and also pack some Hydrocortisone cream in case you get bit. It seems pretty common to see bears in Banff so purchase bear spray before hiking (I was told by an REI employee that you cannot fly with it). And don't forget the TP… just in case!