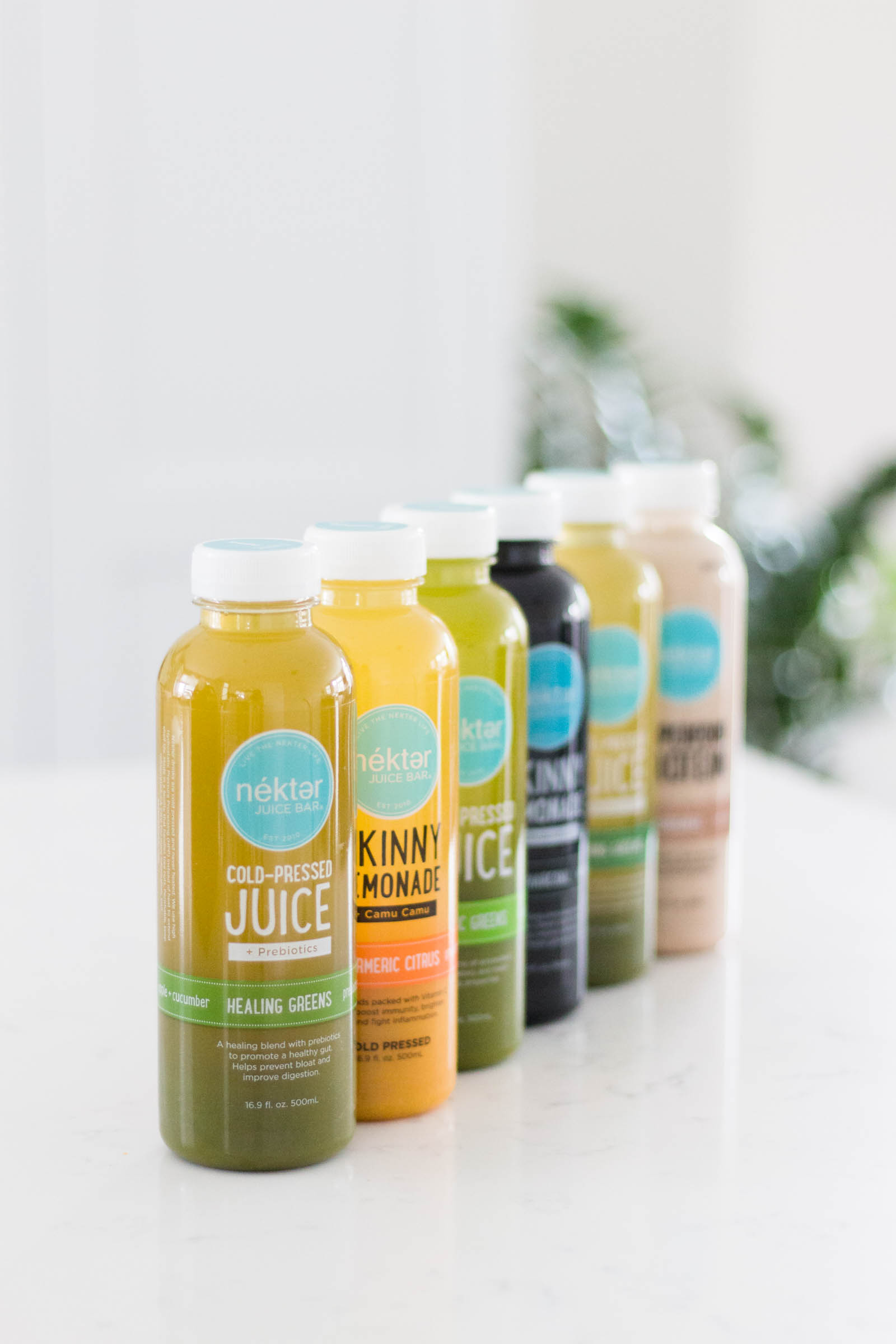 Juice cleanses- what are they and why do people do them? I honestly never gave it much thought it until Ryan and our friends were randomly talking about them over dinner the other week. In the spirit of trying something new, we decided to give it a go! Let me say that there are TONS of juice bars and I'm sure every cleanse is different, but this post is about my personal experience. If you follow me on Instastories, then you got a little sneak peek and I promised I'd share more details in a post so… here we go!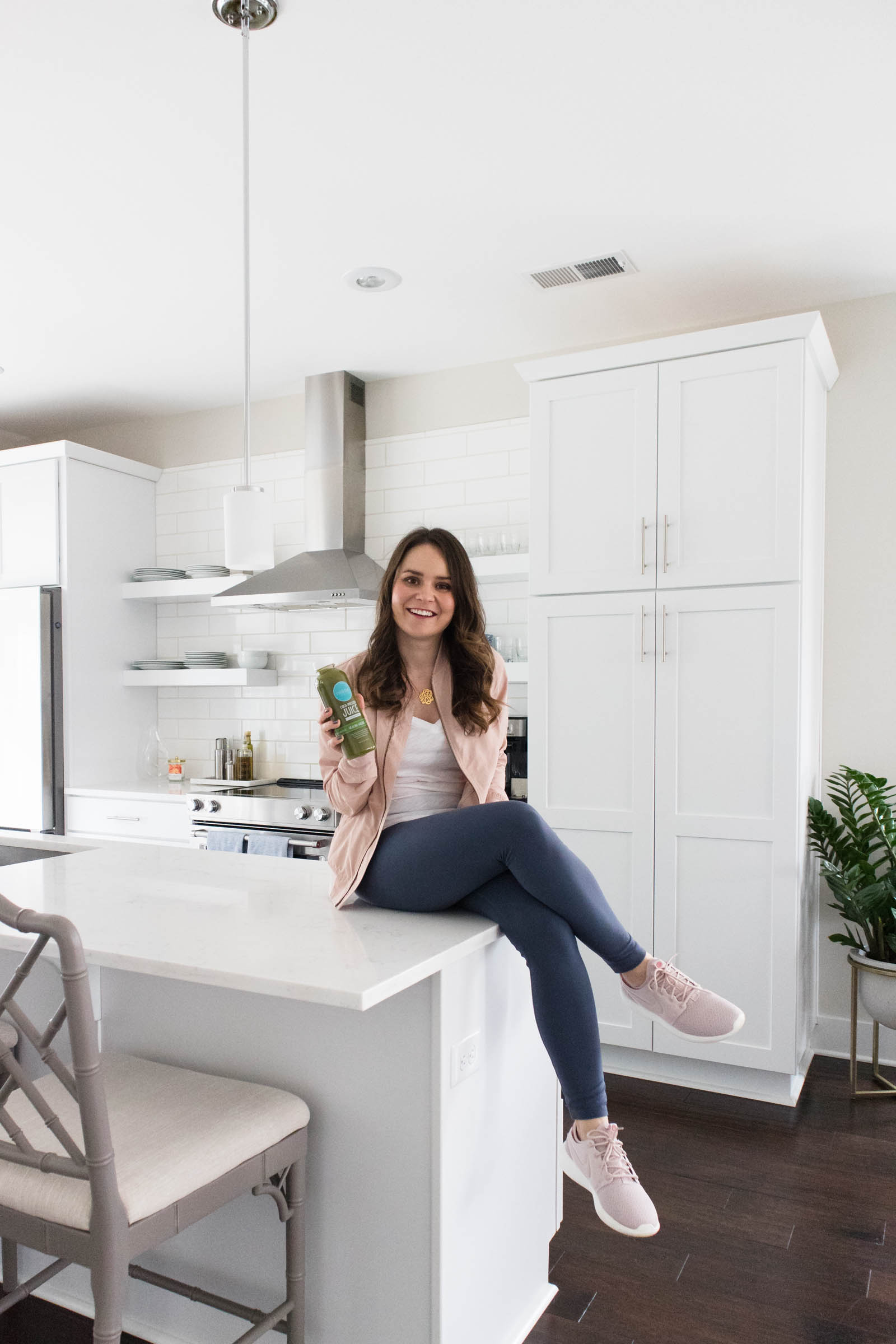 similar jacket // monogram necklace // leggings // sneakers
What is a juice cleanse?
It's a period of time, usually anywhere from 1-7 days, where you abstain from food and only drink cold pressed juice (and water, of course) to give your digestive system a break from all the processed foods and help eliminate added toxins from your body. Since this was my first cleanse, I went with the 2-day option. There are tons of local juice bars and online companies that sell cleanses- we decided to do the Classic Cleanse from Nekter since it was right around the corner from our house.
What do you drink?
Each day you get 6 bottles of juice to drink, in a specific order. There were 3 bottles of green juices, each with slightly different ingredients and all of these were great. 2 others were "skinny lemonades" – one was a turmeric citrus and the other a charcoal lemonade. I was worried about the charcoal one because hello… it was black! But honestly it wasn't that bad. The dinner drink was also good- more of a thicker, protein shake. You'd be surprised how long it takes to get through some of these juices (I was also busy at work so that probably helped). They went down a lot easier the second day.
Did you lose weight?
No, but weight loss isn't the purpose of a juice cleanse. Yes, you will lose a little water weight but it's not long term. I went down 2 lbs. the first day, stayed the same for a few and now right back where I started. The whole idea is that the cleanse should help curb your cravings and help you ease back into healthier foods.
Were you hungry?
These juices are filled with tons of vitamins and nutrients so it definitely wasn't as bad as I'd expected (coming from a girl who loves to eat at all times). First of all, did I mention no coffee?! I was worried that I would be dragging without my daily morning cup but surprisingly I wasn't craving it! The morning juices do contain ginger which is actually a natural stimulant. No headaches- that was a good sign! All the juices for one day total just over 1,200 calories so I'm sure that's a little less intake than normal for most people, but still a healthy amount. Around 1pm the first day I started to get a little headache and was craving food but that didn't last too long. The second day I was fully energetic and felt completely normal. Ryan & I did "cheat" a little and ate a few raw almonds if we were really hungry and split an avocado for dinner each night. If you're hungry you by no means starve yourself, they just recommend you eat raw/healthy things vs. a cheeseburger.
Would you do it again?
Probably. Was it life changing? No. But then again I don't think it's supposed to be. Ryan & I both felt like we slept a lot better (but then again I always sleep like a rock) but I felt more rested in the AM. It's supposed to reduce some of your cravings and I have been okay without a lot of sweets this week, which I normally crave. You do go to the bathroom a lot but it wasn't anything crazy. To be honest my favorite part was probably not having to cook or meal prep for 2 days. We also learned that we missed the act of eating/chewing more than the actual food. Weird, but true.
Have y'all ever tried a juice cleanse? I'd love to hear your experience and let me know if there area any other good ones out there!