The holidays may be the most wonderful time of the year… but also the most hectic! I feel like I have had something planned every single day of this month and while I love going to fun events and staying busy, I'm also looking forward to some R&R after Christmas. Who's with me??

We're doing a little catching up today so here's a little look at what I've been up to since settling back into Charlotte!
EXIT STRATEGY

I don't know about other cities, but Exit Strategy and other escape room-type places are taking over Charlotte. The concept is that a group of people are locked in a room and have 1 hour to get out. You're probably like, "why would I want to do this??" It's a fun activity to do that involves teamwork and working to solve a puzzle. You may have to find an actual key to get out of the room or solve a series of clues. Our room was a "murder mystery" and we had to find out who the murderer was, what weapon they used, and where it took place. Spoiler alert: we didn't make it in time… even with a few hints along the way. The hour flew by and they told us we were 3 clues away from the end. It's harder than you think it would be but I highly recommend it!!
AMELIE'S FRENCH BAKERY

If you've seen my Instagram posts and recent snaps, then you'd know there's a new French bakery in town! Amelie's actually has another location in the NoDa neighborhood of Charlotte, but I'm happy that they have added an uptown location which is conveniently a few blocks from my place. Quite dangerous for the wedding diet if you ask me. Not only are the pastries and breakfast sandwiches delicious, but the decor is so pretty (very French) and it's the perfect place to cozy up with a cup of coffee.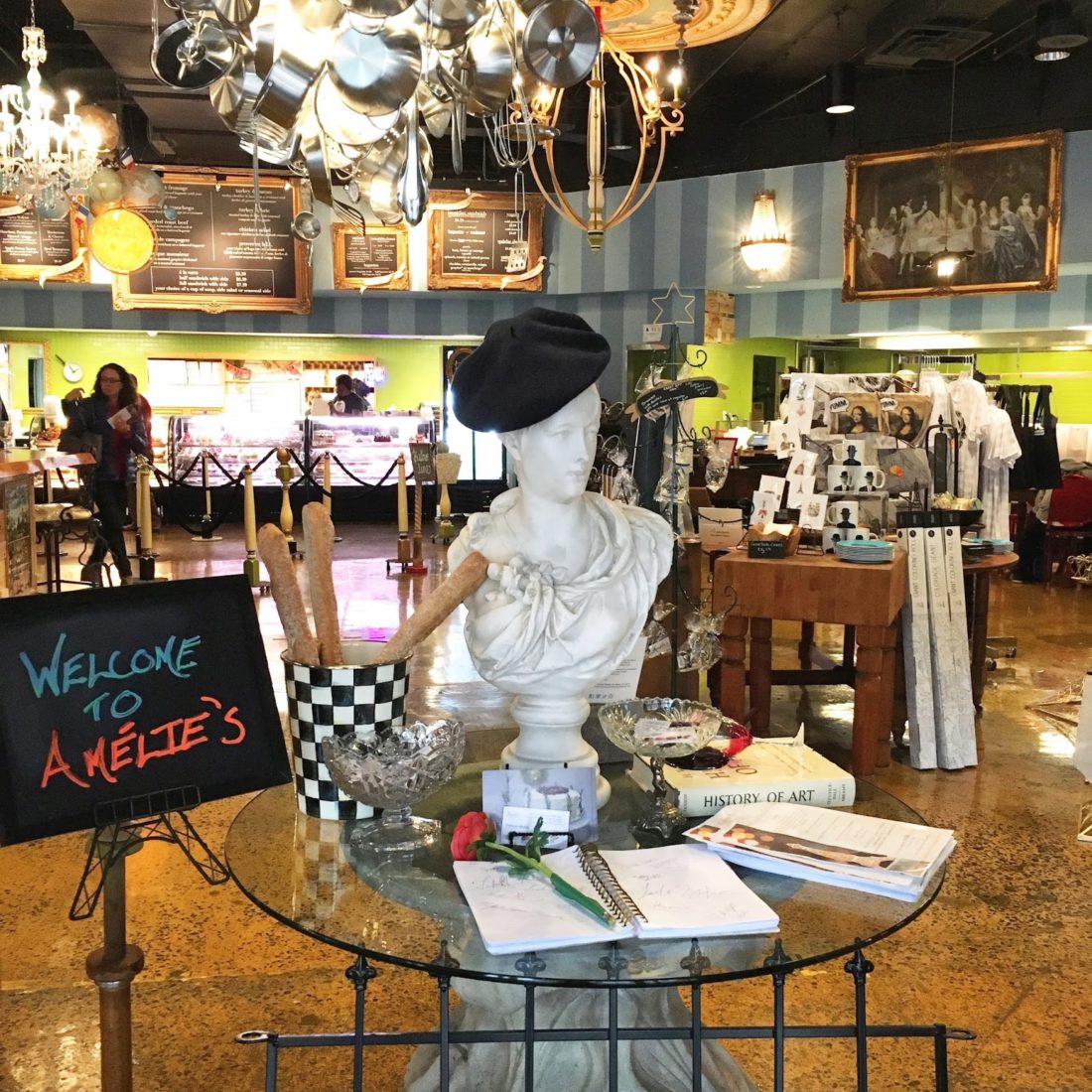 AMY SCHUMER

Ryan & I have been watching "Inside Amy Schumer" since it started but somehow we still haven't seen Trainwreck. Anyways, Amy came to Charlotte last Saturday so it made for a fun date night. She was funny as usual, but when Bridget Everett came out on stage, things got a little crazy. If you don't know who she is, imagine a 200 lb. woman wearing almost nothing, singing very inappropriate songs, and straddling guys in the audience. Raunchy to say the least, but she put on one hell of a show!
HOLIDAY ON ICE
My old roommate Sarah and her boyfriend visited Charlotte over the weekend so I did my best to keep them entertained. Of course we had to make a stop at the outdoor ice skating rink and skate around while listening to Christmas music. We followed that with dinner at 5 Church because it's an uptown Charlotte staple. The next morning, I took them to a few more places uptown and we biked through SouthEnd. Needless to say I was pretty exhausted at the end of the day but we had a great time!
CO CHARLOTTE

On Monday night, I had a dinner date with Joey and we tried out a new Vietnamese restaurant in Charlotte called CO. It's located in the Park Road Shopping Center, which has been buzzing with new shops and eateries. I got the Vietnamese ramen with pork belly, shredded pork, poached egg, egg noodles, and bok choy served in pork broth. And I'm telling you, it was good to the last drop! I'll definitely be going back ASAP.
Last night, Ryan's parents came over and cooked dinner for all of us. They're the sweetest! Luckily my guy gets to work from home today so while he works, I will study. Thanks for stopping by and I will catch up with y'all again after Christmas!