Now that I work in dermatology, I am super picky about what I use to protect my face and body from the sun's harmful rays. I'll admit it… I spent some time in the tanning bed in college. YIKES!! I know.  For some reason, I felt the need to be tan before sorority functions or holiday parties (before spray tans got so good/I could even afford them). As we get older, most of us realize that baking in the sun isn't the smartest idea. 

I see at least one skin cancer every day at work and assisting with MOHS surgery (used to remove skin  cancer from the face) has truly been eye-opening to the effects of years and years of unprotected exposure. Older generations didn't have sunscreen readily available and used things like baby oil and iodine to get their tan. I'm thankful that with technology and increasing awareness, we are more educated about our skin and have the tools to protect it. While I can't undo the slight damage that has been done, I am way more serious about protecting my skin now and for the years to come.

First let's talk about the 2 different types of sunscreen: chemical and physical. Most of what you'll find in the drugstores are chemical sunscreens in that the chemicals absorb the sun's UV rays. They technically need to be applied 20 minutes before going out and if you go this route, make sure to look for the words "broad spectrum." Just remember this- UVA rays contribute to aging and UVB rays contribute to burning so make sure to find a sunscreen that covers both.

You have to look a little harder, but physical sunblocks are the gold standard of sunscreen. They use zinc oxide or titanium dioxide to reflect the sun's rays. The upside with these is they don't degrade as quickly in the sun, are made up of natural minerals and tend to be less irritating to the skin. Back in the day, this was the thick white sunscreen that you would see on a lifeguard's nose (or at least that's the visual I get), but now they make formulations that are much easier to apply.

Whatever type of sunscreen that you choose, it's best to use SPF 30 or higher. SPF 30 blocks about 97% of rays and SPF 45 blocks about 98% of rays so as long as you reapply every 2 hours when you're outside, you're good. That being said, SPF 100 isn't doing much more good than a SPF 45. But in all honesty, any sunscreen is better than no sunscreen at all.

In the true spirit of summer, I decided to compile a list of my current favorites in the sunscreen department, both chemical and physical. I'm starting to grow quite the collection but hey, it comes with the job!
BEST TINTED SPF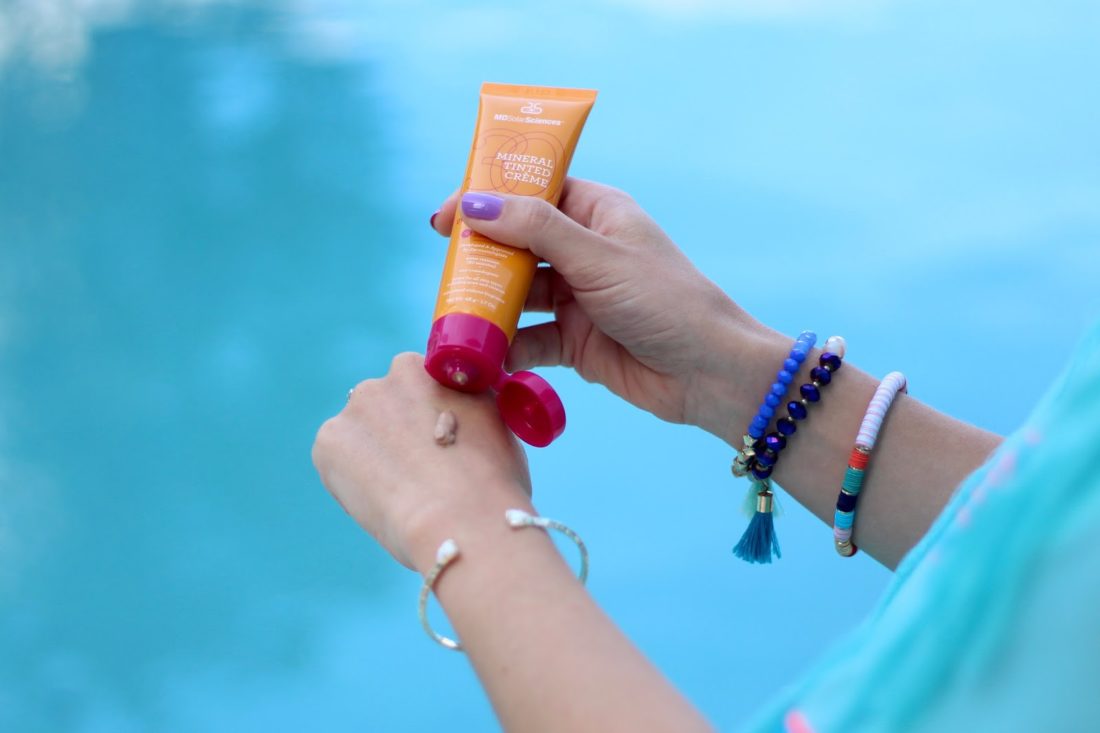 This MDSolarSciences mineral tinted creme is the newest addition to our skincare store at work and I'm obsessed. I first tried it when I was on my honeymoon and it was perfect for giving a little bit of coverage with a lot of protection. It feels so silky and smooth but not greasy- giving that nice matte finish. And you can find it at Sephora!

BEST DAILY MOISTURIZER

EltaMD is a top contender in the sunscreen world because their products offer high percentages of physical blockers (this one has 9% zinc oxide) and have easy application. I just finished up my first bottle of the UV Daily moisturizing sunscreen and it's a winner in my book. It gives you great protection but is lightweight and sheer. It gets bonus points because it contains hyaluronic acid, which increases skin smoothness and can help decrease wrinkles by helping your skin hold on to water.
BEST FOR REAPPLICATION

If you saw my Instagram a few weeks ago, you may know that this brush-on SPF is my new favorite. The ColoreScience Sunforgettale brush makes reapplying sunscreen so stinkin' easy- no need to mess up your makeup. You simply brush it in circular motions onto your face so it's pretty much fool proof. I like to use it on my face and hands in the car when driving. You can learn more about ColoreScience here.
BEST CHEMICAL SPF FOR BODY

I have used the Neutrogena UltraSheer sunscreen for years and it works very well and has a nice, non-greasy application. It's lightweight and doesn't smell like a sunscreen- which is a huge factor for me. Some people like the tropical/coconut-y smell but for me, I'd rather not smell like I'm wearing sunscreen. It's super affordable and you can find it at any drugstore or Target.
BEST PHYSICAL SPF FOR BODY

I recently picked this up from our skincare store and it will likely replace my Neutrogena. The UV Shield from EltaMD is also lightweight and barely has any scent, but provides better coverage because it is a physical block and has a higher SPF. I also like how it has a pump instead of a squeeze tube.
BEST LIP BALM

Believe it or not, it's hard to find a good lip balm that contains SPF. It's just as important to protect your lips from the sun and I always keep one of these in my beach bag. I love the pomegranate scent of the Sun Bum SPF 30 lip balm.

Last but not least, don't forget to pack that big 'ol sun hat! I like to be outside a lot during the summer and it's natural to pick up a little bit of color, but just be safe about it. If the thought of skin cancer doesn't scare you, then maybe wrinkles and leathery skin will. If you're like me and want to age gracefully, the easiest and most cost-effective thing you can do is simply protect yourself from the sun. Do you have any favorite sunscreens? I'd love to hear and thanks for stopping by!