Happy Monday, friends! I'm back with another part of our home tour and today's room is the smallest in our house yet has the most personality. You guessed it, none other than the powder room! Let's take a peek, shall we?
As funny as it sounds, I was really excited about our powder room when we were building. It was pretty "blah" before, sharing the same paint color as the rest of our house and had a pretty basic mirror… but not for long! This was the perfect place to let my creative juices flow and add a pop of color. Cue the wallpaper!! I knew I wanted to wallpaper this room from the get-go, all we needed was some awesome paper and someone to install it. Originally I was looking at the DIY peel & stick paper, but I just couldn't find a print that I loved. There are way more choices with traditional wallpaper (plus it's cheaper) and I found this "circuit" design at Wallpaper Direct. It completely transformed the space and to anyone thinking about wallpapering your half-bath… DO IT!
I also knew I wanted to replace the mirror and came across this emerald cut mirror from West Elm. We've gotten so many compliments on it and it definitely gives the room more dimension. We kept it simple with brushed nickel bath accessories and this cute wicker toilet paper holder since we don't have any storage in this room. I picked up this faux plant from HomeGoods and my MIL found these hand towels that match oh so perfectly.
This post is short & sweet because, well, there's not
that
much to a powder room but I do love this little space! See the rest of my home decor posts
here
!
Master Closet | Rooftop Terrace | Kitchen & Dining | Living Room | Master Bath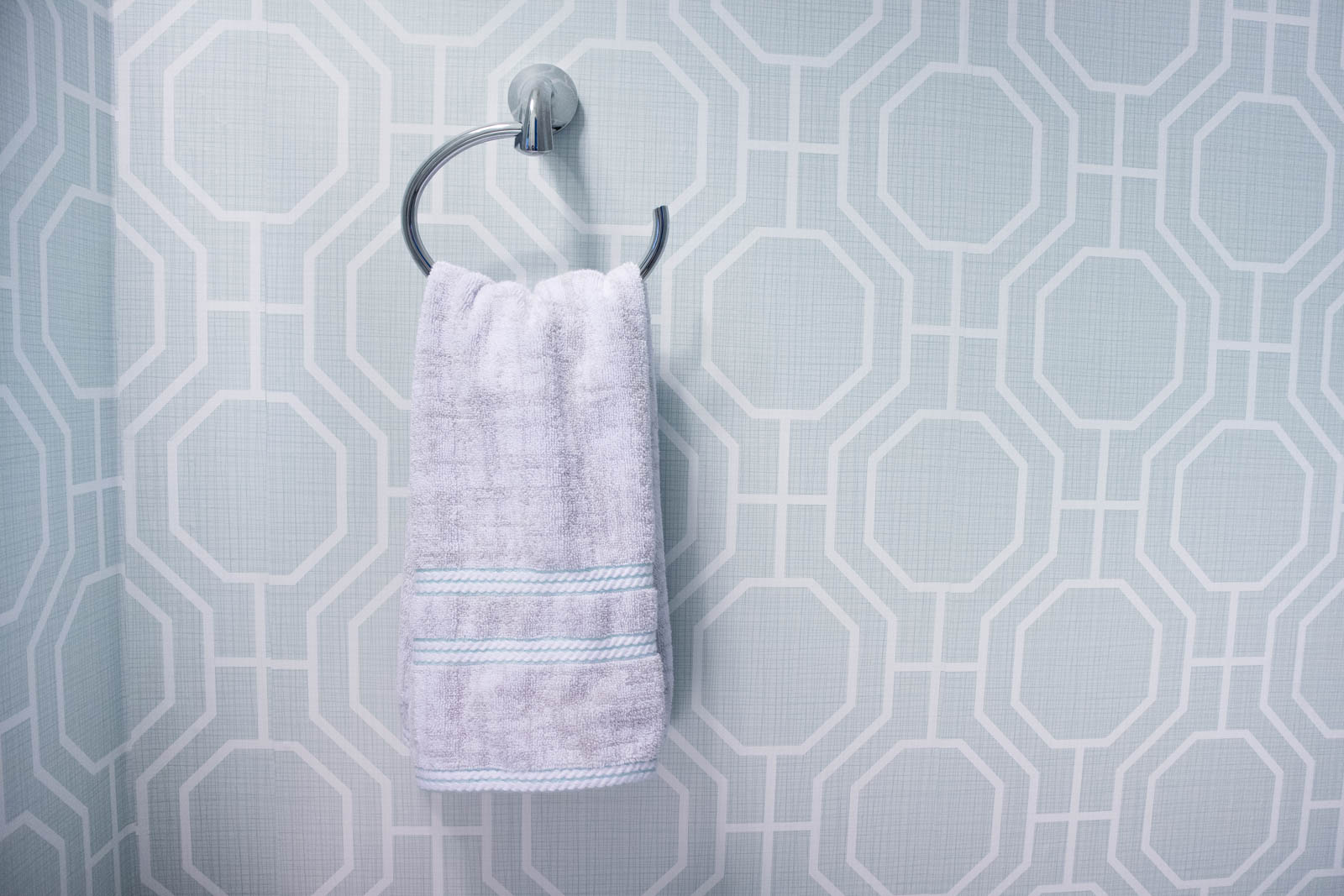 SOURCE LIST
Geometric wallpaper via Wallpaper Direct
West Elm faceted mirror
Hand towel via HomeGoods
Frosted glass soap dispenser
Wicker toilet paper holder
Tissue box & trash can