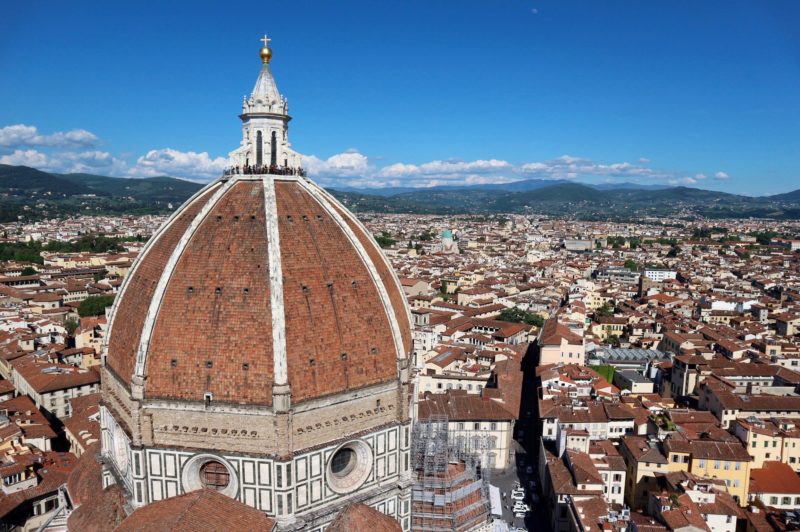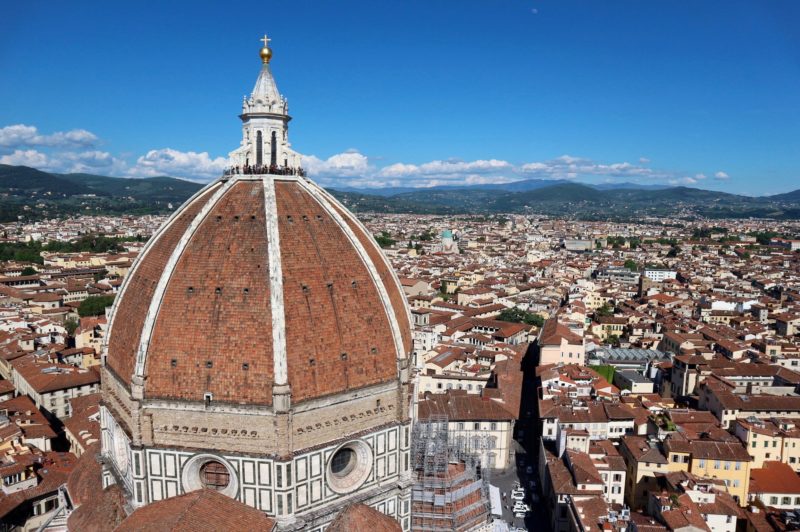 It's time for my first Italy travel guide and today I'll be talking about the city of Florence, or Firenze as the Italians call it. For our first anniversary trip, we jetted over to Italy for 9 days to explore all over the country. I know it doesn't seem like much time, but not all of us can get 2-3 weeks off for vacation (especially after starting a new job) so we made it work and were able to see so much in our time there. We traveled to Florence, Cinque Terre, Venice, Positano, Capri and Rome and I fell in love with the beauty of this country. Over the next few weeks I'll be sharing a guide from each of the five stops that we made so let's jump right in! 
We had a direct flight to Rome and thankfully I was able to sleep on the plane (thanks to some medication). I can NEVER sleep on planes but this 8 hour flight wasn't too bad. Anyways, after landing in Rome we took the train to Florence, the first stop on our tour of Italy. I heard great things about this city and there were certainly a lot of things to see and do.
Where We Stayed
We checked into Palazzo Castri which is a boutique hotel in the heart of Florence. It was one of the nicest hotels that we stayed in and it's a bit of a splurge, but our stay was actually paid for in points from my credit card (Chase Sapphire Reserve– check it out y'all, it's amazing!). The decor of the hotel was right up my alley and our room was perfect, overlooking the lush courtyard of the hotel. Breakfast was included each morning and the spread was delicious. It was super convenient and the staff were very helpful and accommodating. I would highly recommend this hotel!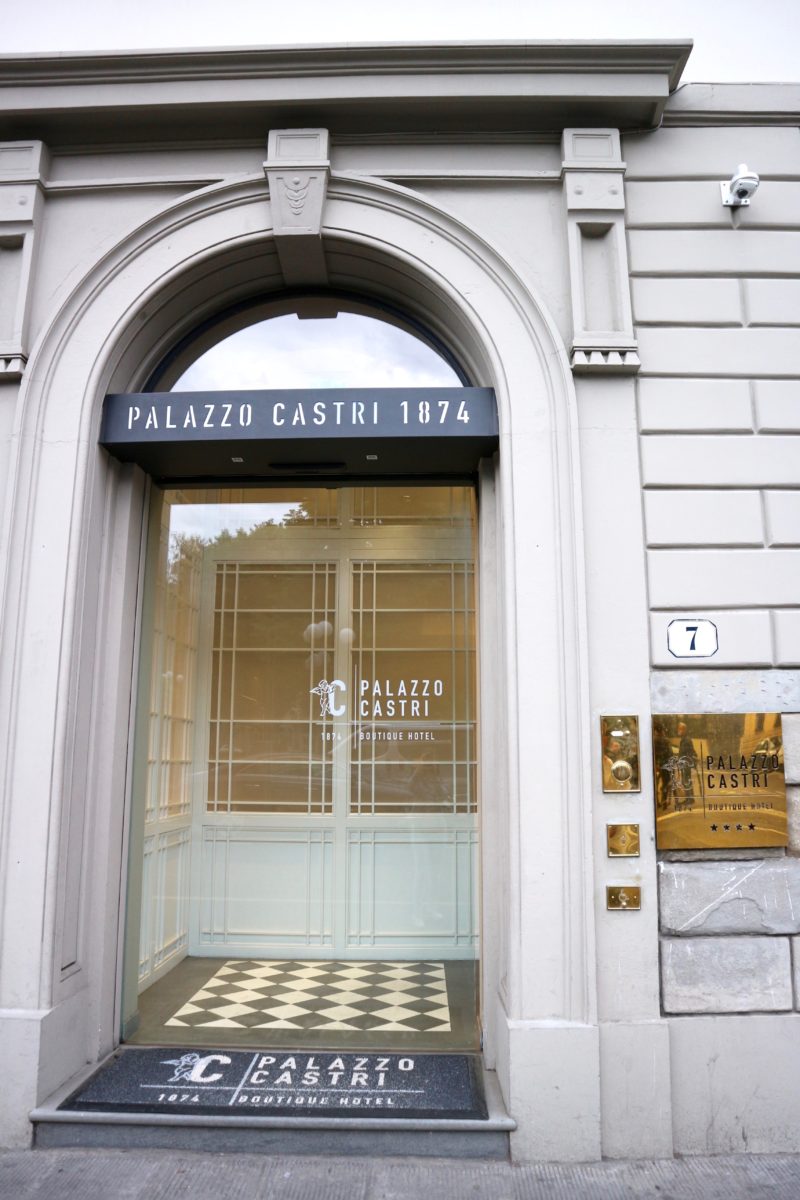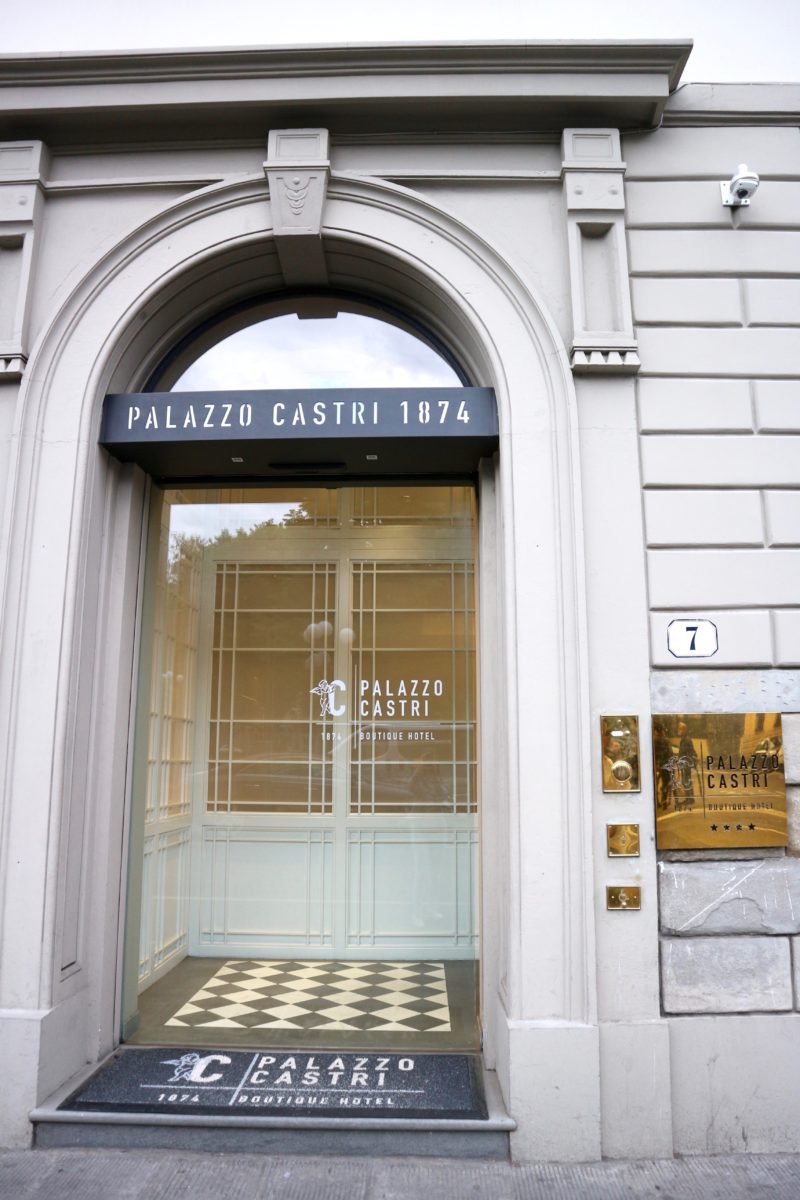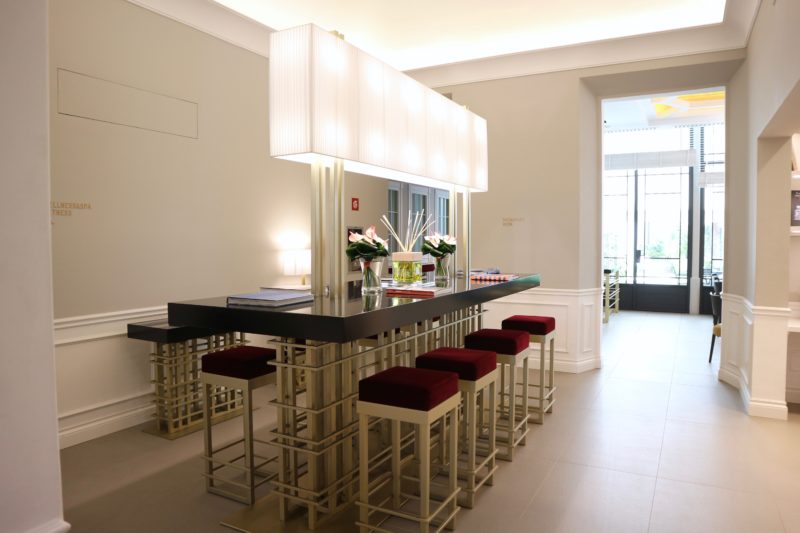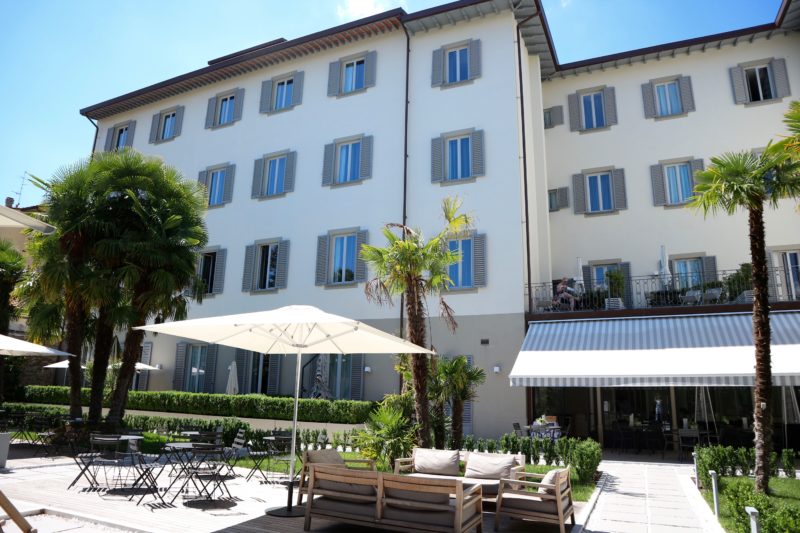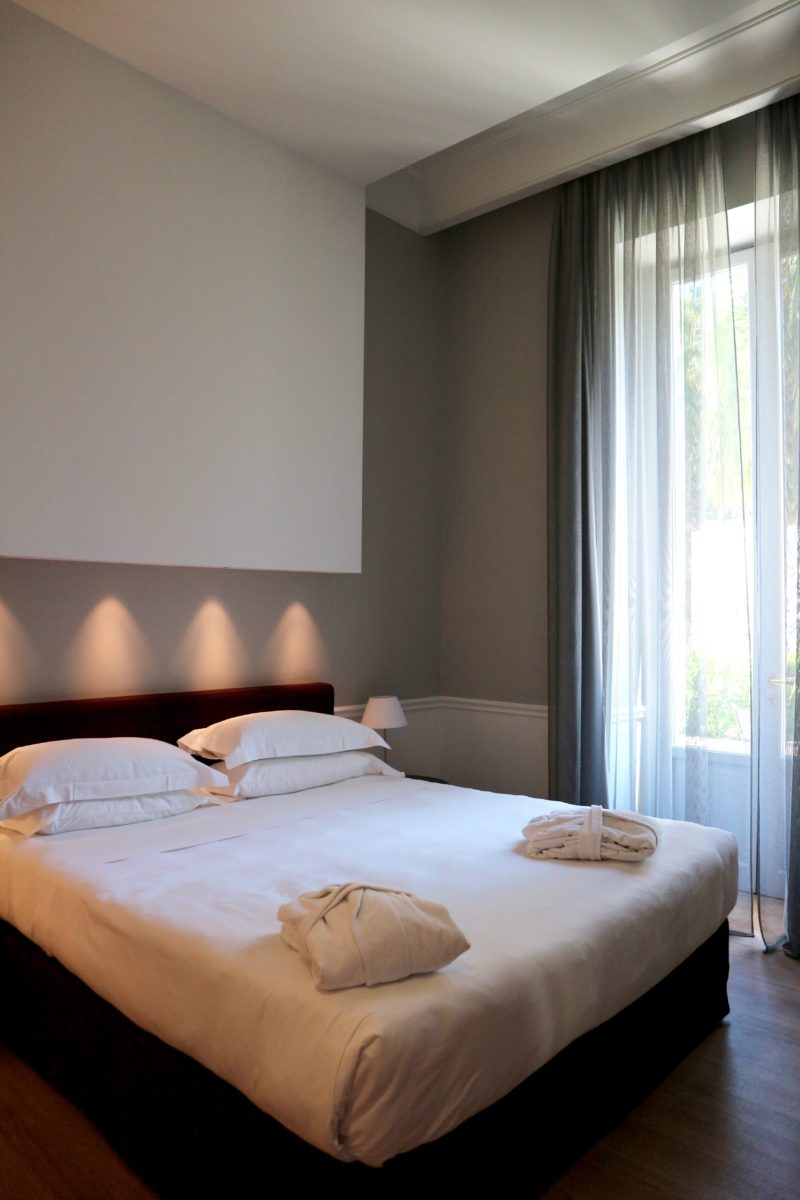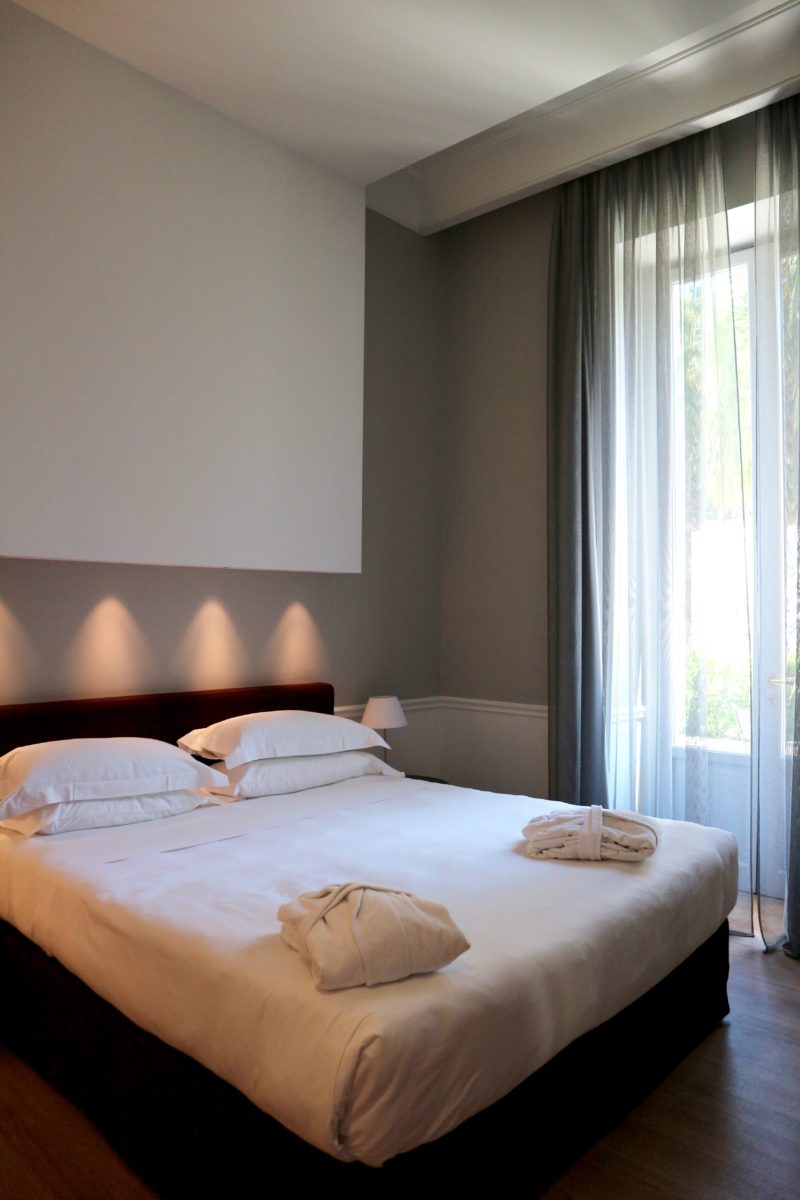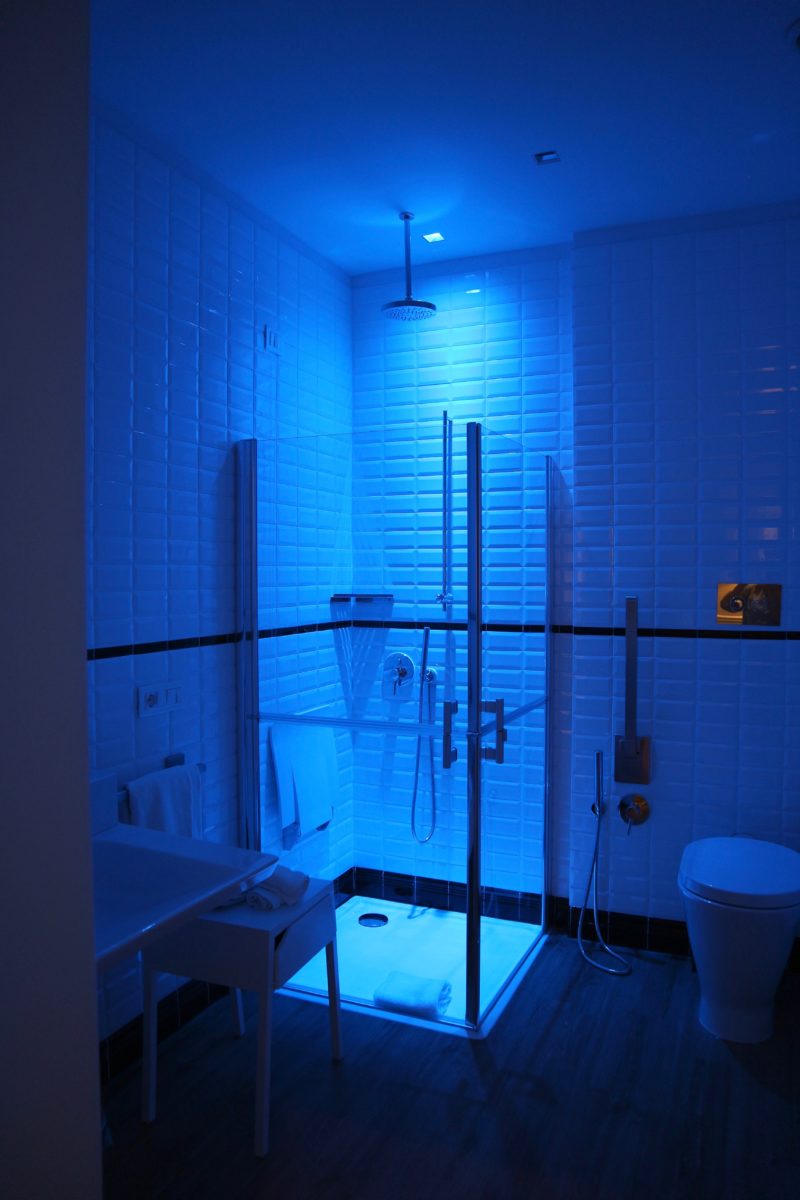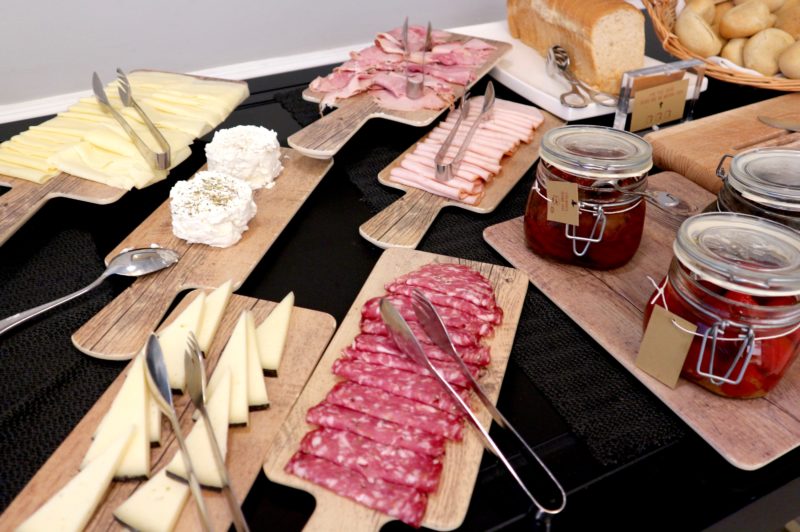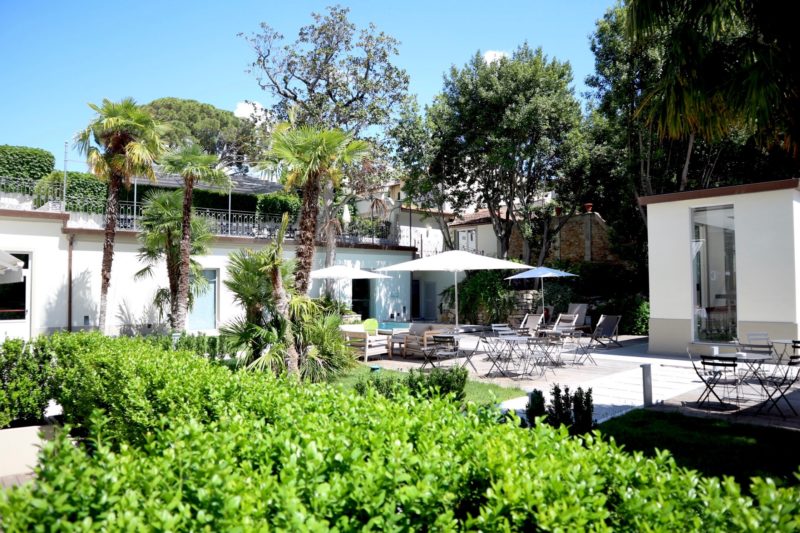 What We Ate
For dinner the first night, we went to a cute little spot called Giannino's which was recommended by our hotel. It was the perfect spot to dine al fresco on a little side street. I had to get all the Italian things so I ordered a cappuccino, prosciutto with melon and a bellini! One thing I was surprised of was how small all the coffee cups were in Italy. I was like, where are the venti's at?!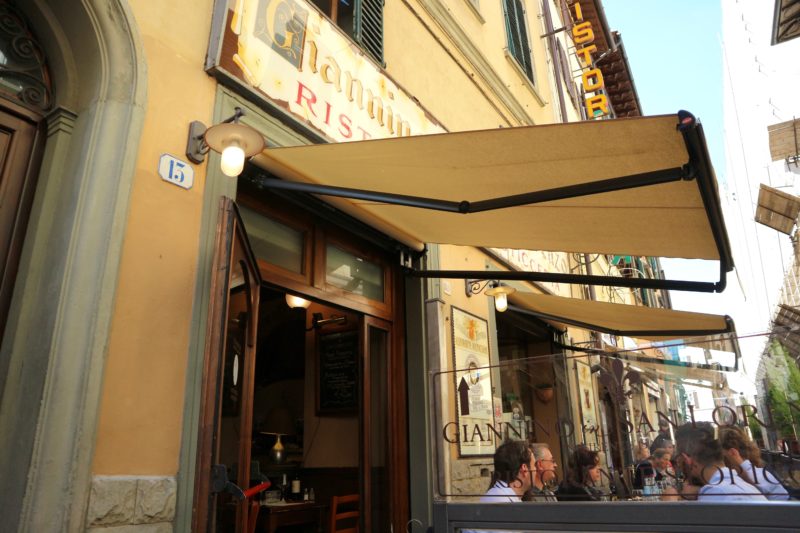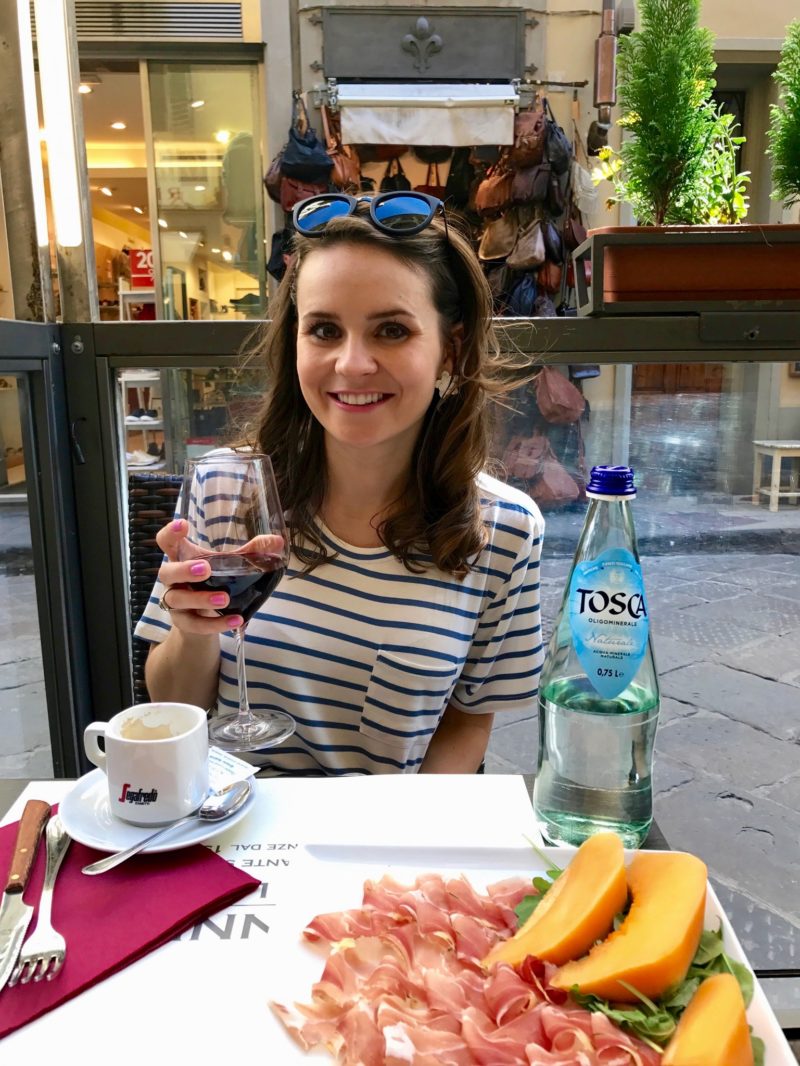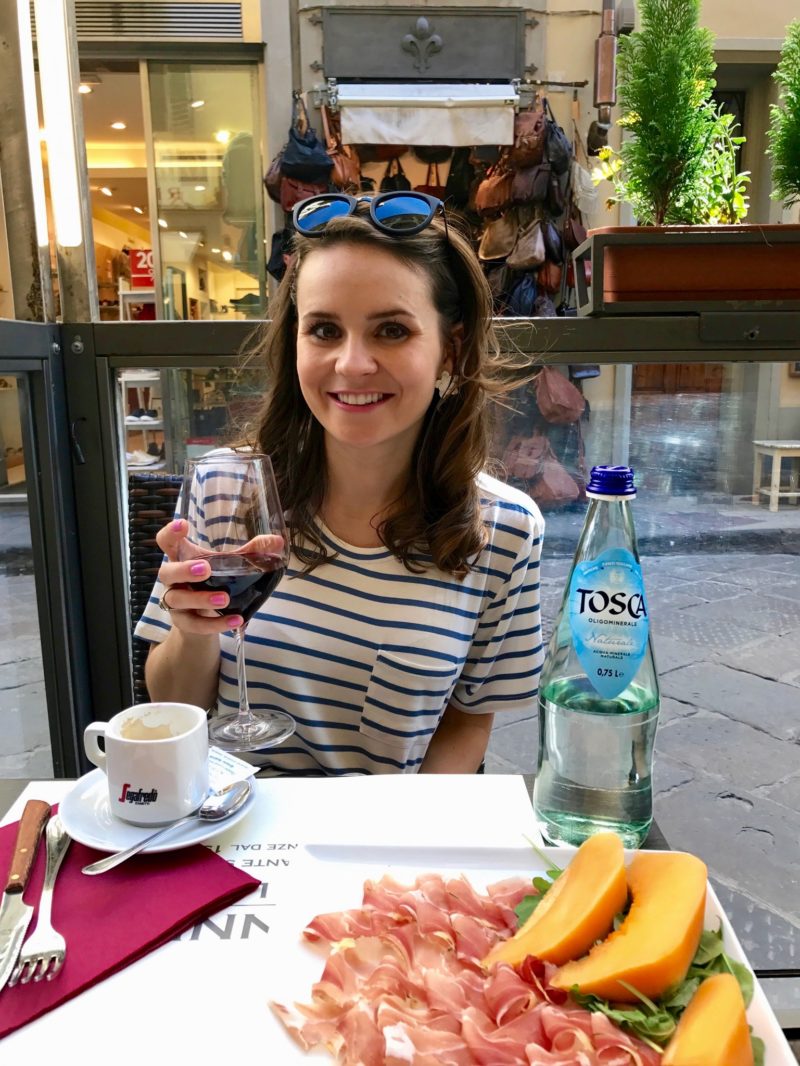 For lunch the next day, we did the wine tasting menu at Pitti Gola E Cantina, right next to Pitti Palace. The one thing I wish we had planned was a little day trip to a winery in Tuscany. We arrived to Florence around lunchtime on Friday and left Sunday morning so we wanted to make sure we had enough time to see all around the city. The weather wasn't the best our 2nd so we did the next best thing and had a long lunch complete with lots of wine. And let me just say, all the wine in Italy is amazing. So smooth and no aftertaste- ask for the house red!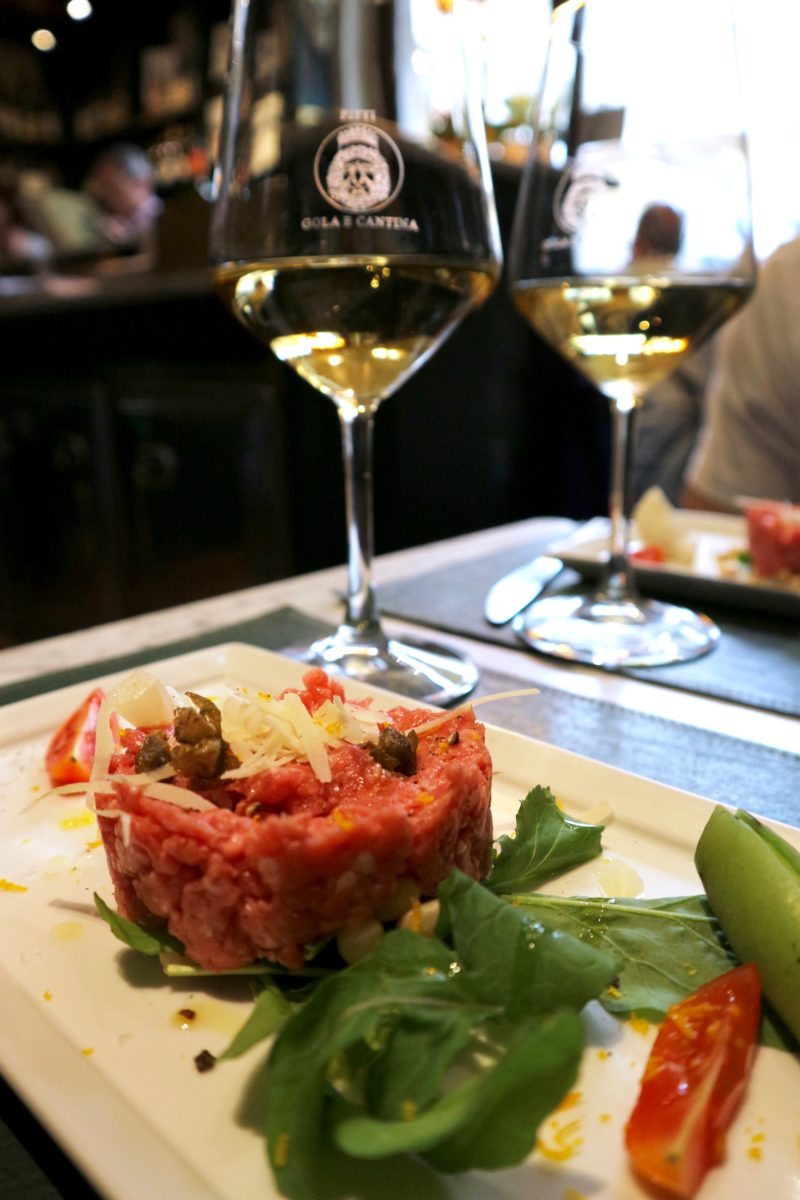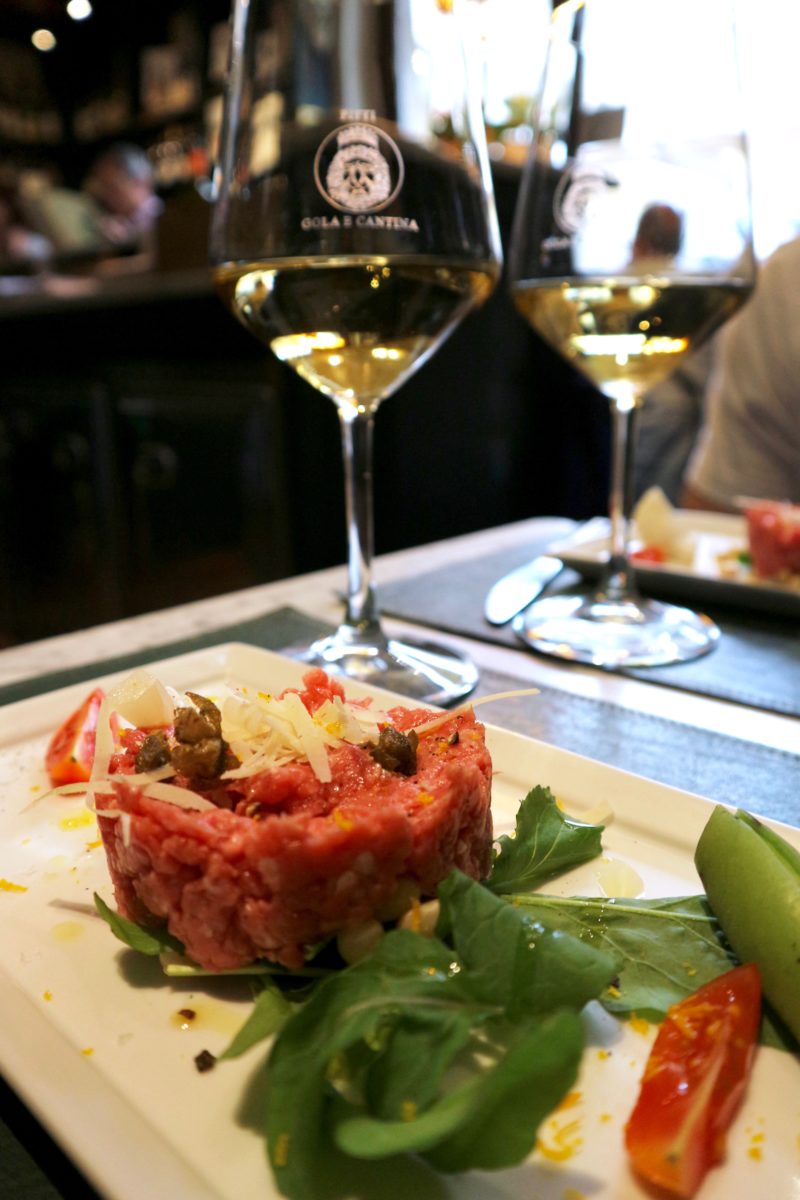 The second night we had dinner at La Giostra which was recommended by several people. Funny story- one of Ryan's friends saw that him and another one of his golfing buddies both posted Instagrams in Florence so they ended up texting each other and we met up for dinner at this restaurant! How fun is that?? He and his wife were also on their one-year anniversary trip and we all absolutely loved the restaurant. The food was amazing, the house wine was flowing, and just look at all those twinkle lights!!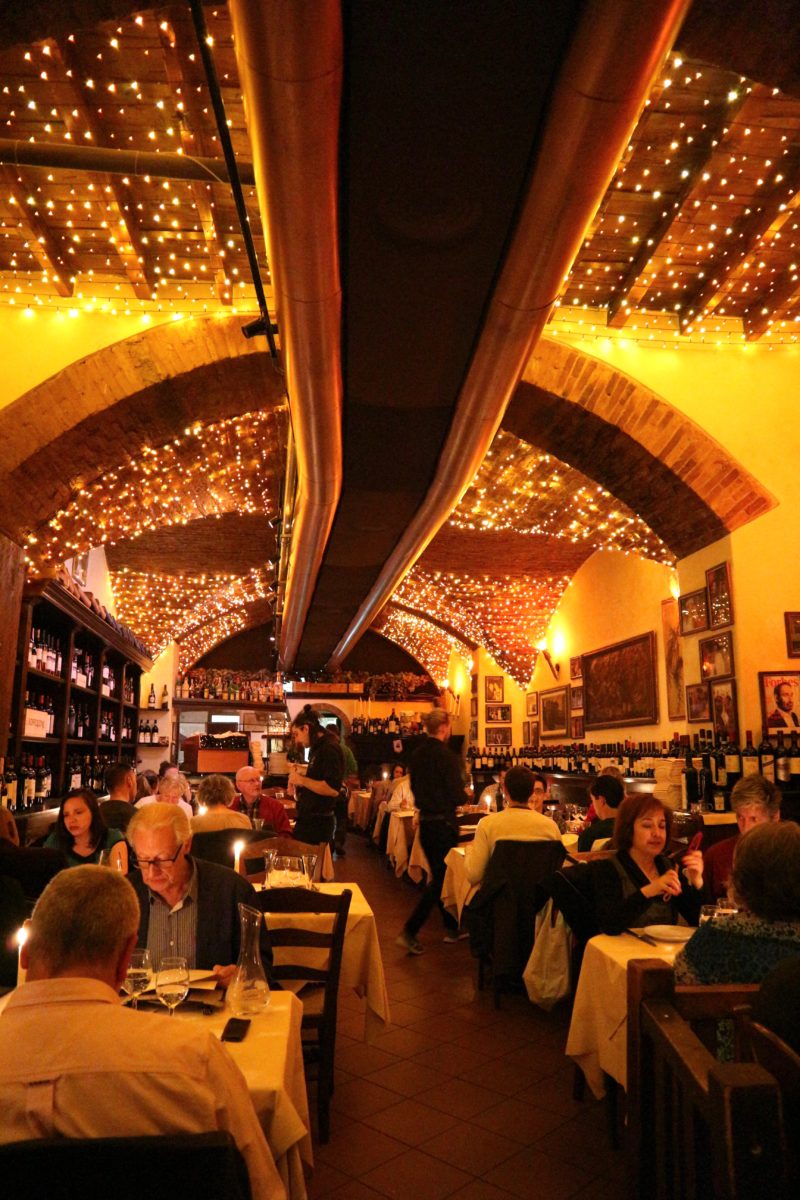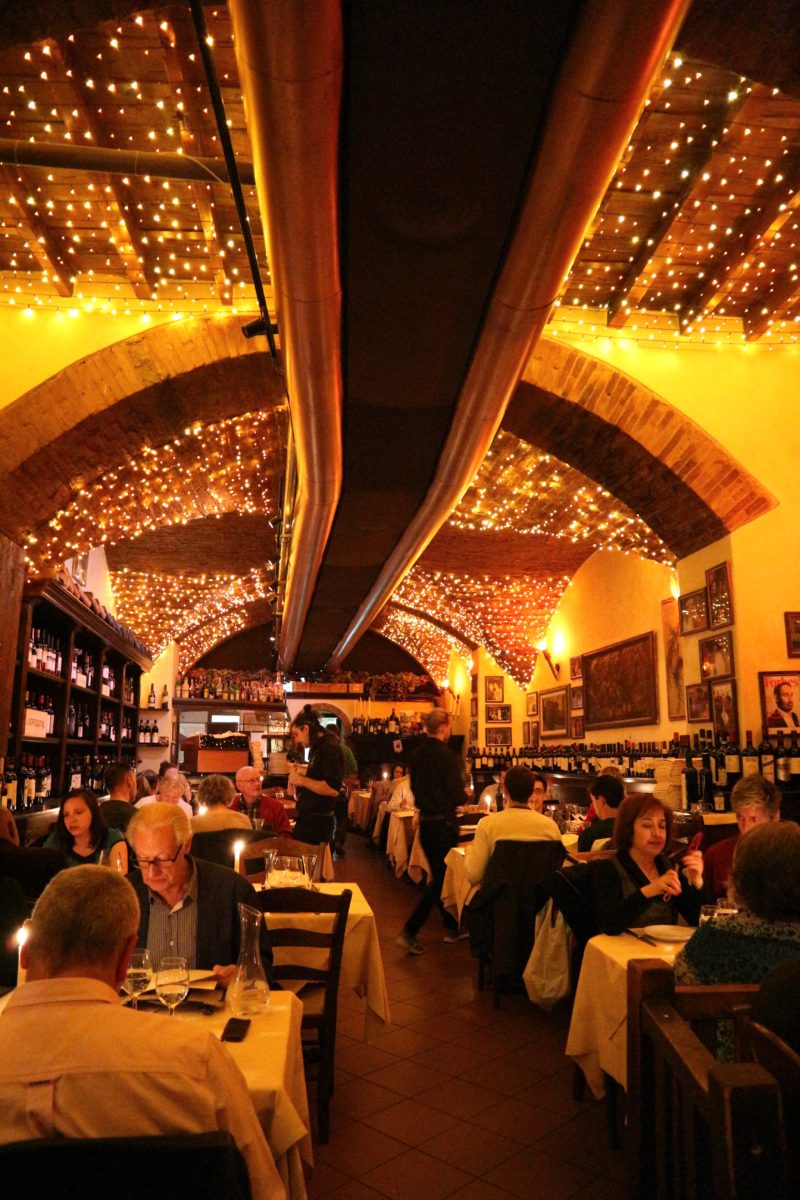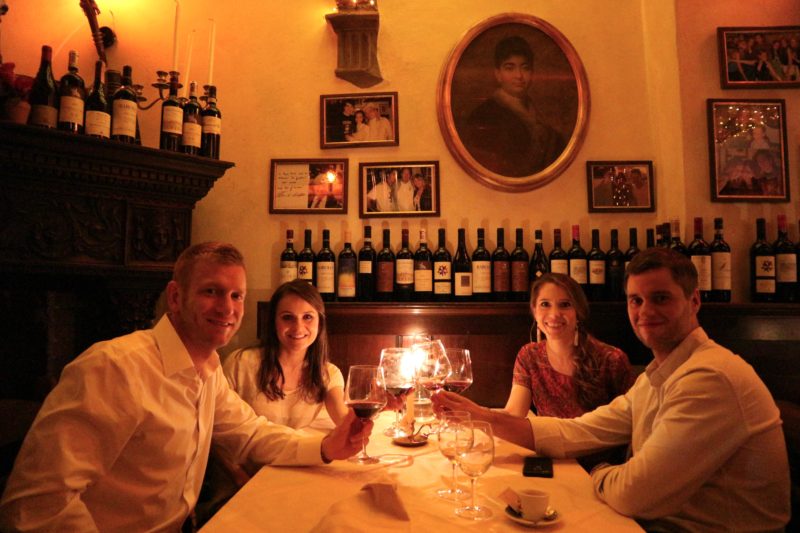 What We Did
The first day we did tons of walking. Our first stop was the Cathedral of Santa Maria del Fiore, or better known as the Duomo. First we went inside to check out the cathedral, which was free, then paid a small amount to climb to the top of the bell tower. You can either climb the tower or to the top of the dome. When we went, the dome was sold out for 2 days but honestly, I think the view was pretty amazing from the bell tower because you get a view of the entire city including the dome. Just know that if you're claustrophobic at all, this climb may not be for you. It was a ton of stairs and there were parts that were so narrow, you had to wait for people to pass by. But the views were so worth it… literally breathtaking lol!!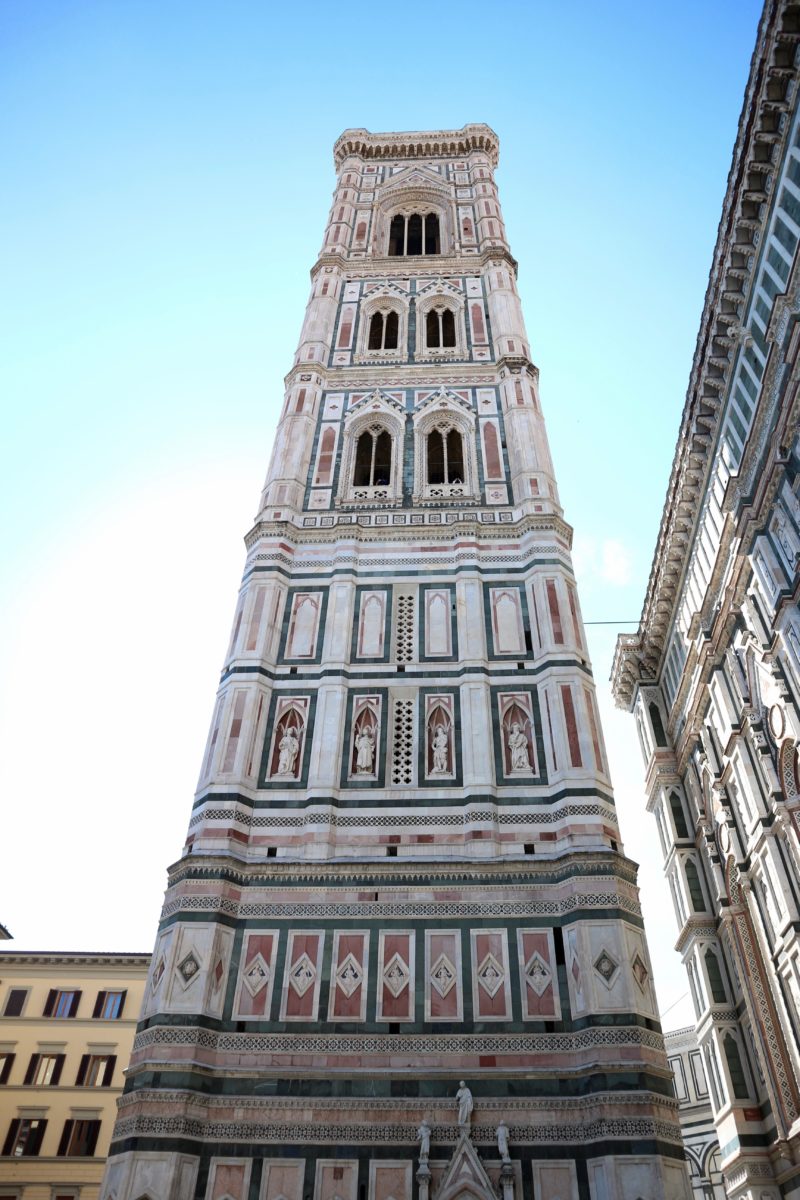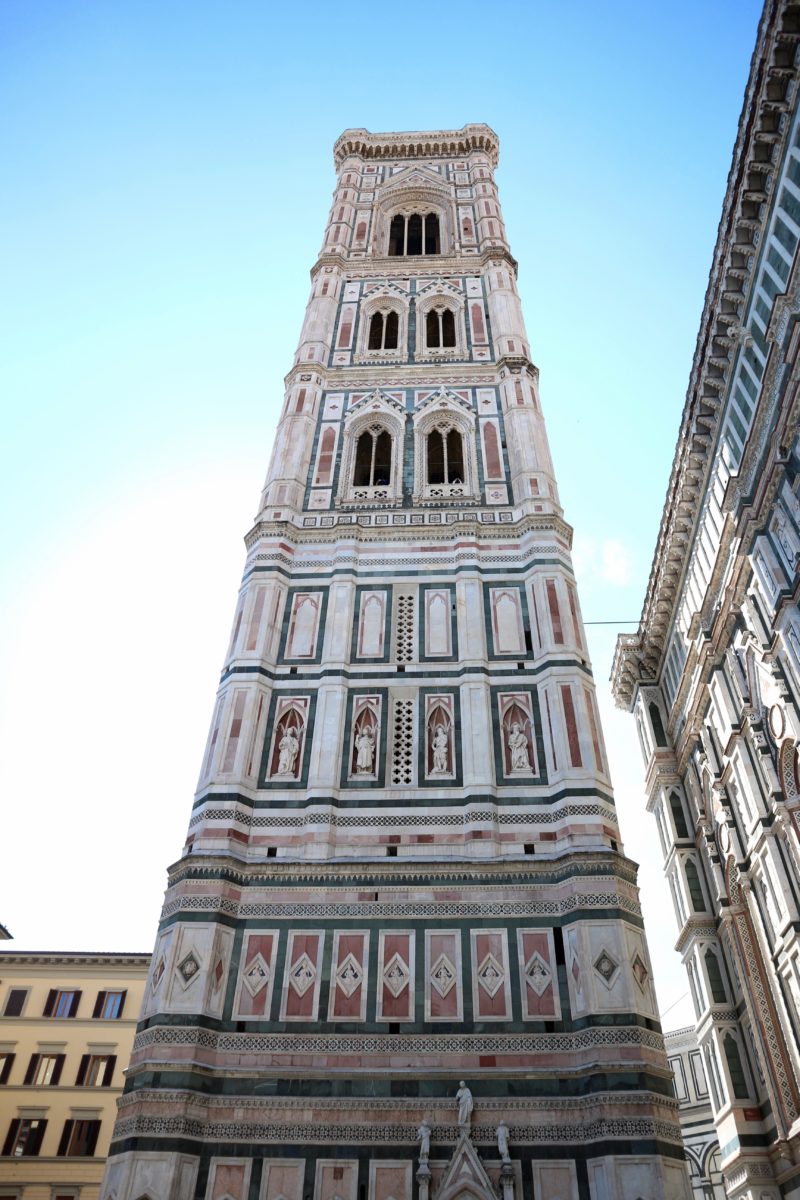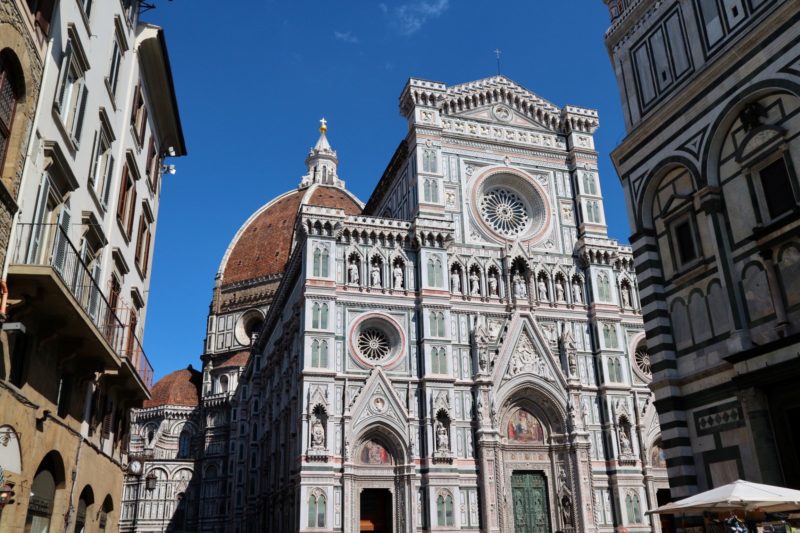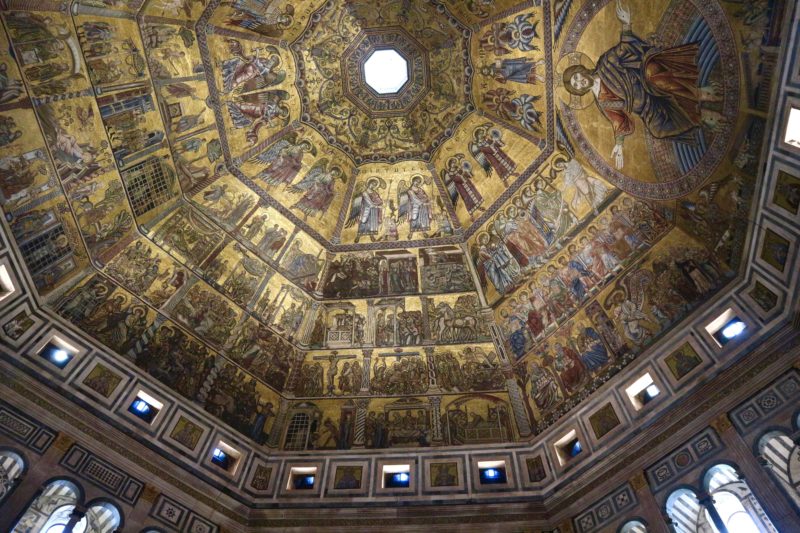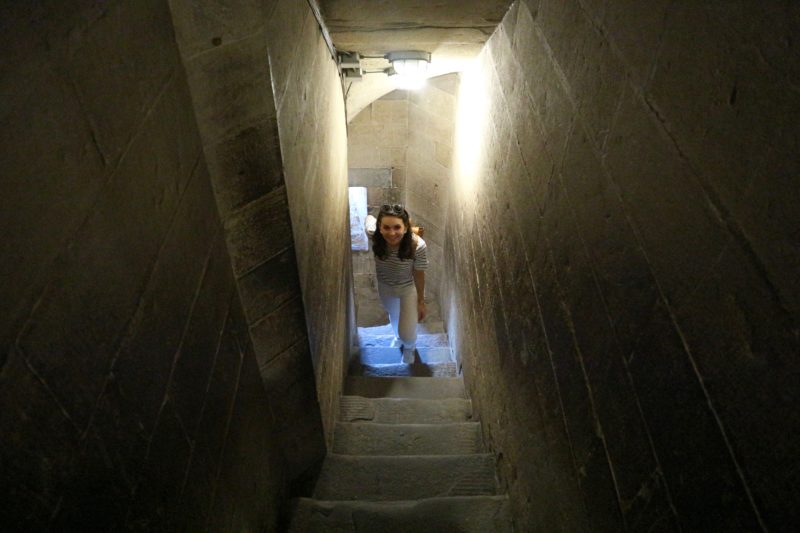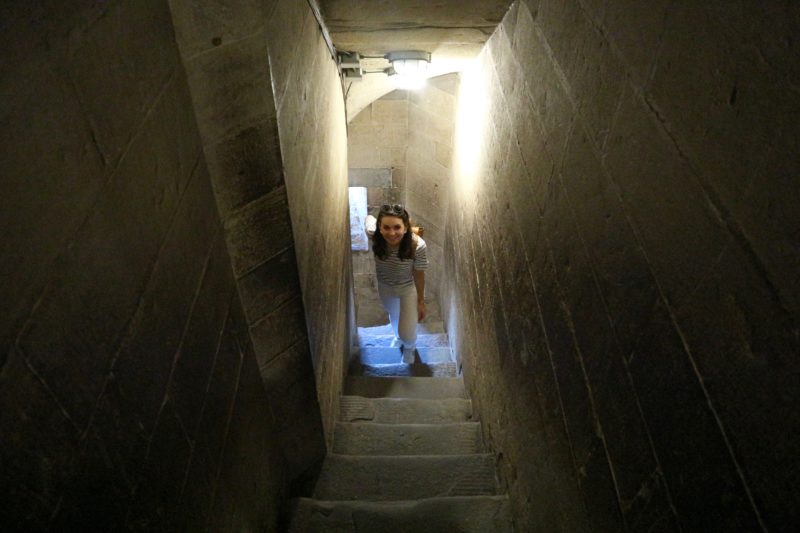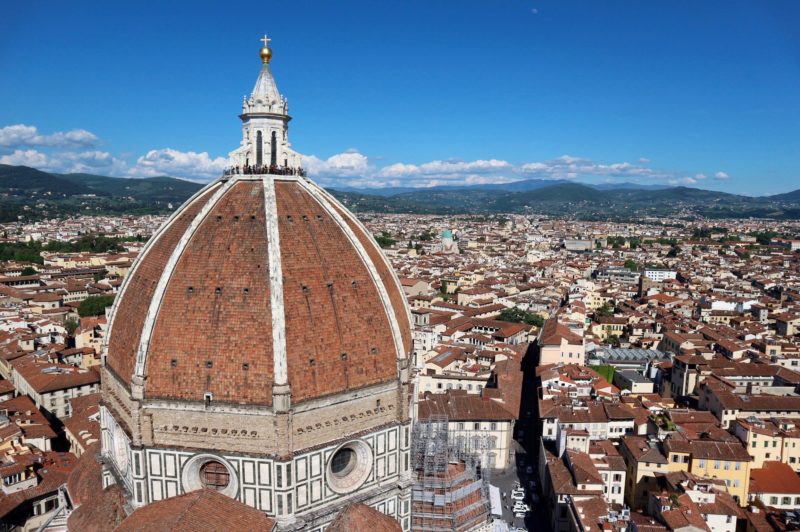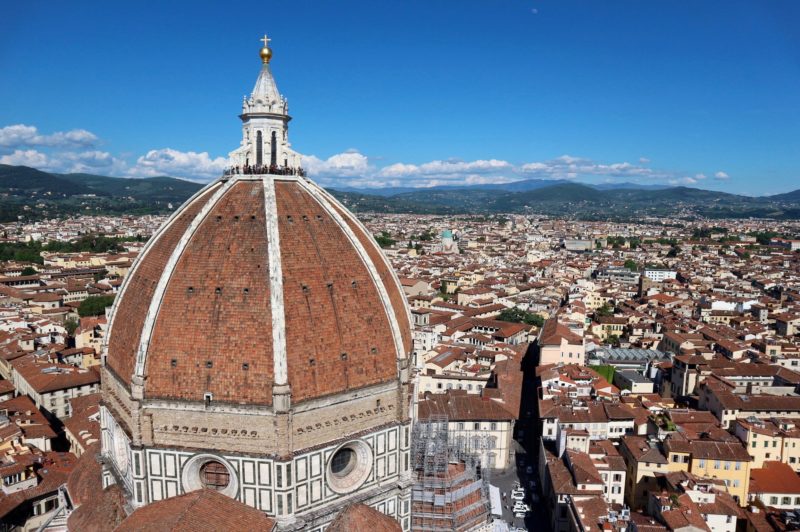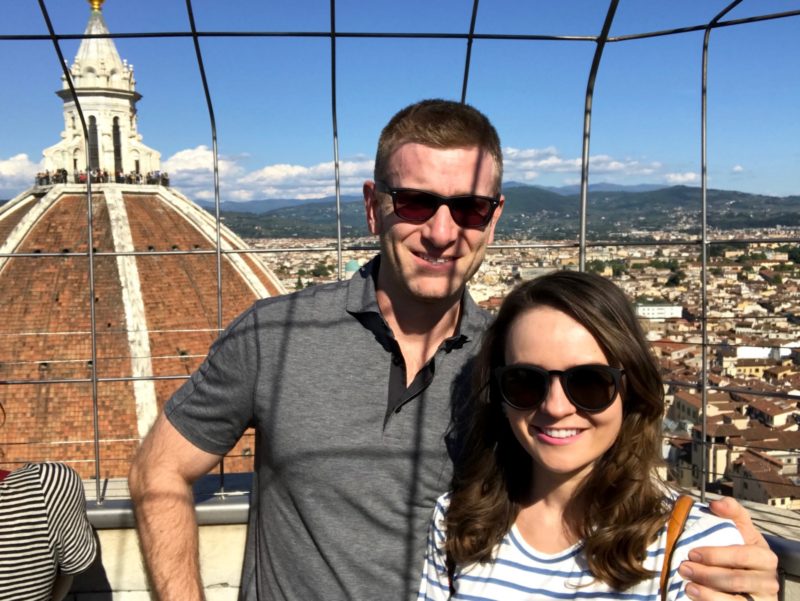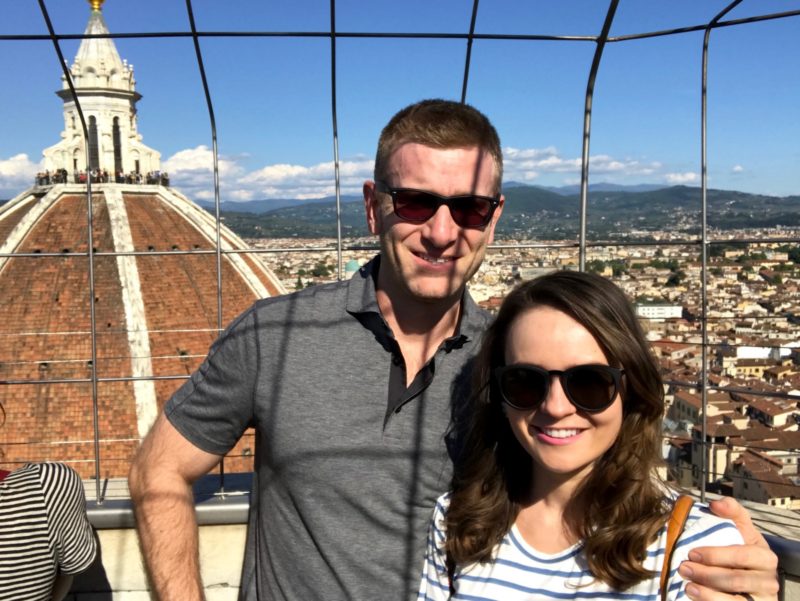 We checked out the leather market which was recommended, but honestly it felt like outdoor markets in New York City. So many people coming up to you, trying to sell you anything and everything. Ryan did get a nice leather belt for a very good price- he's the king of negotiating! If you buy something here, just know you can talk them way down. After that we made our way through the shop-lined streets and went to check out the Ponte Vecchio bridge.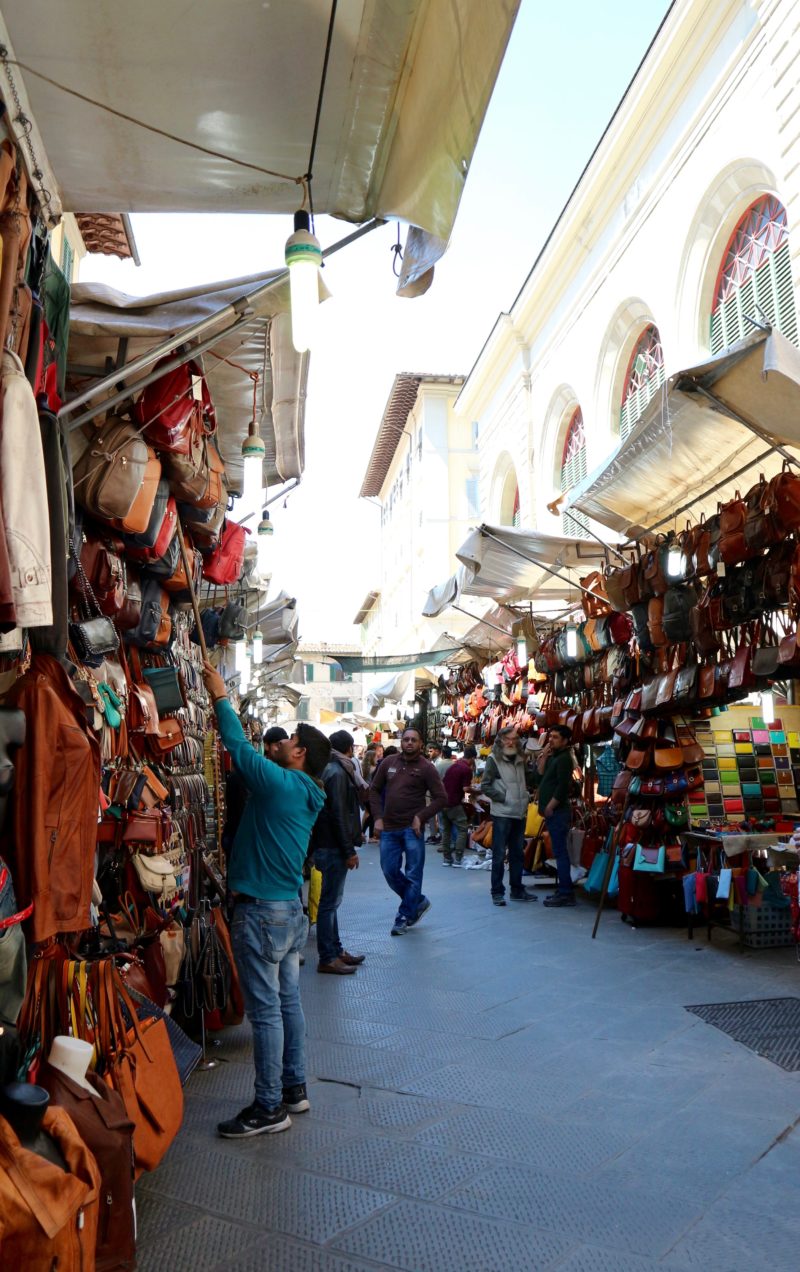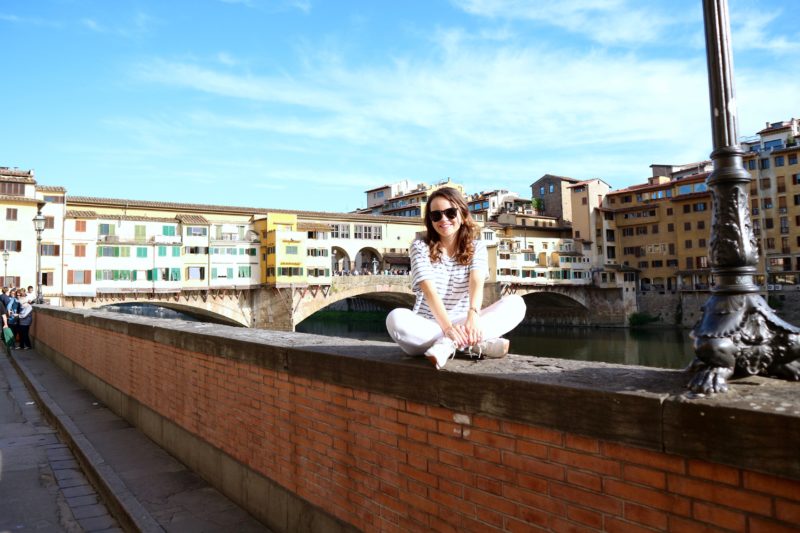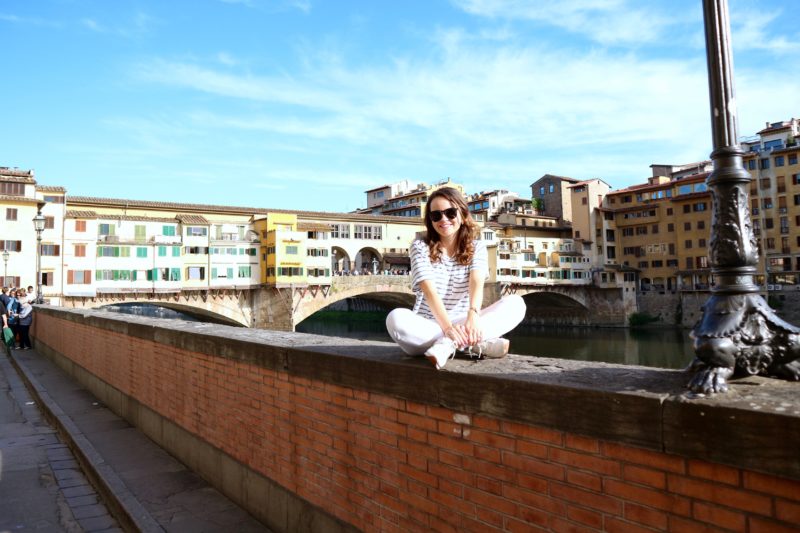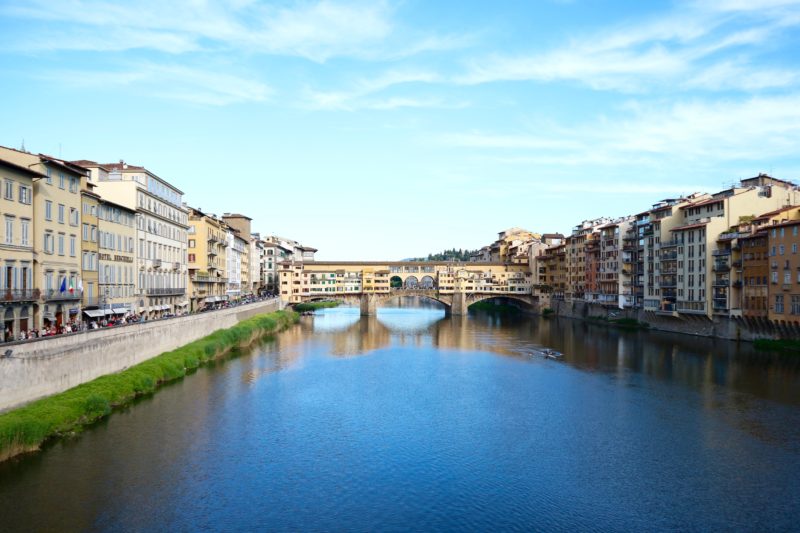 On our second day there, we went to the Accademia Gallery to see Michelangelo's David. Highly suggest getting tickets in advance online so you can skip the line. I really liked seeing all the intricate sculptures and artwork that was featured in this gallery. We didn't actually do any guided tours for any of the attractions but instead used Rick Steeve's audio guide podcasts which were great! Of course I wanted to see the main sights and get a little background story on the pieces but to be honest, history is just not my thing. I don't need a 3-hour tour of each museum so if you're like me, I'd recommend going through the museums on your own and listening to the guides on your iPhone. So much more efficient (and cheaper!).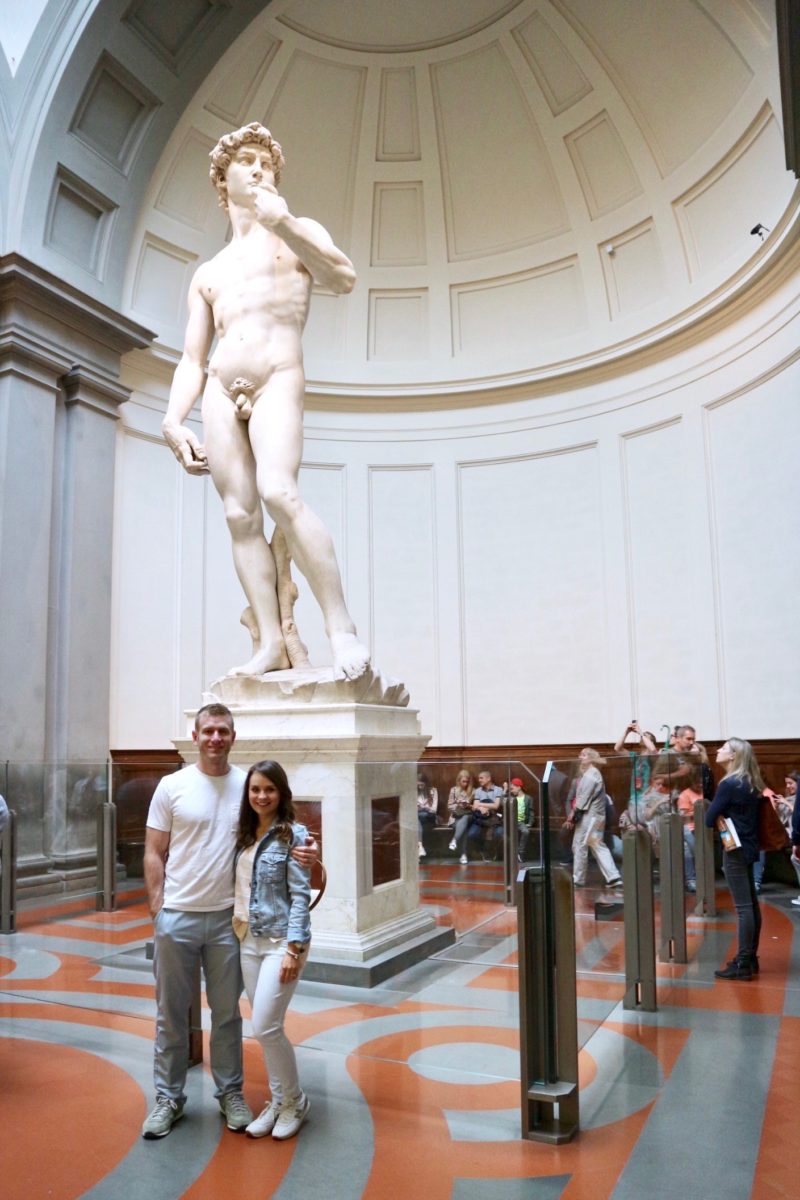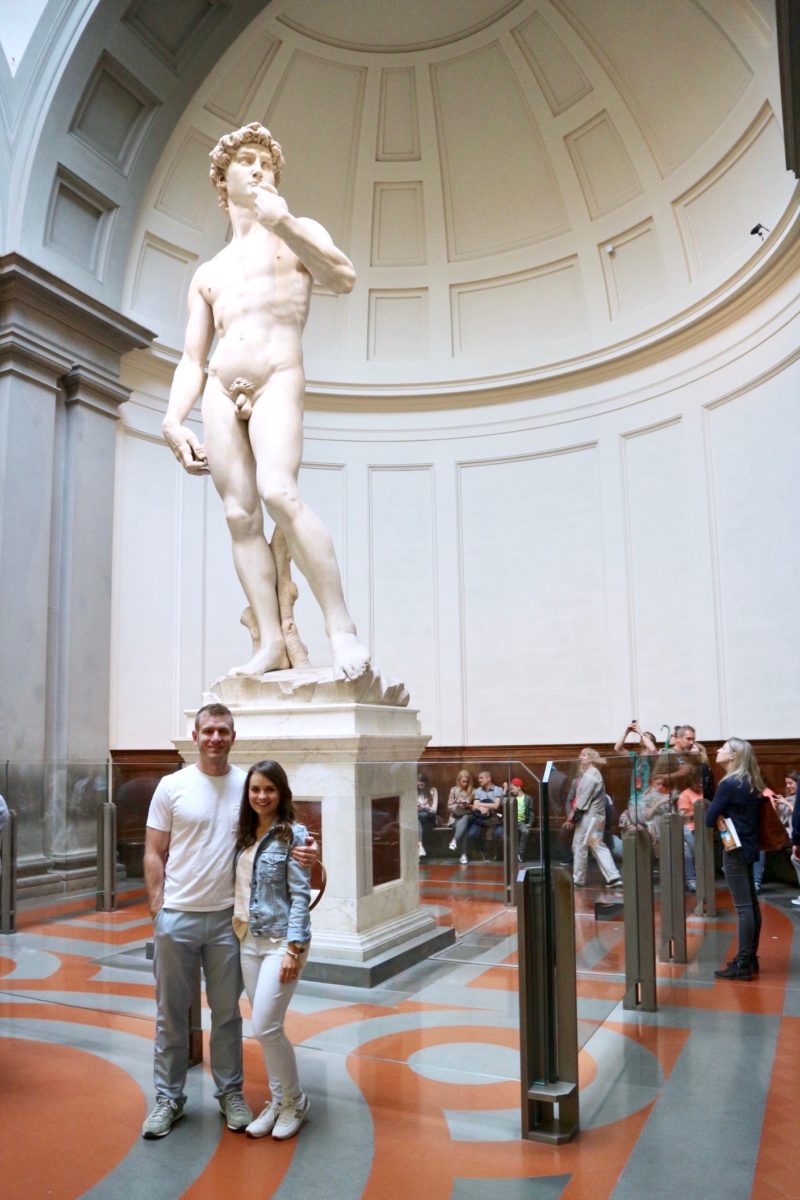 Originally, we were going to the Ufizzi Gallery to see some more artwork but the line was like 2 hours long so we were like, no thanks! Instead, we made the trek up to the Piazzale Michelangelo which is a square that gives panoramic views of the city. There were many steps to climb and little did we know that our entire trip in Italy would consist of steps… and more steps. But hey, you gotta burn off that pasta somehow!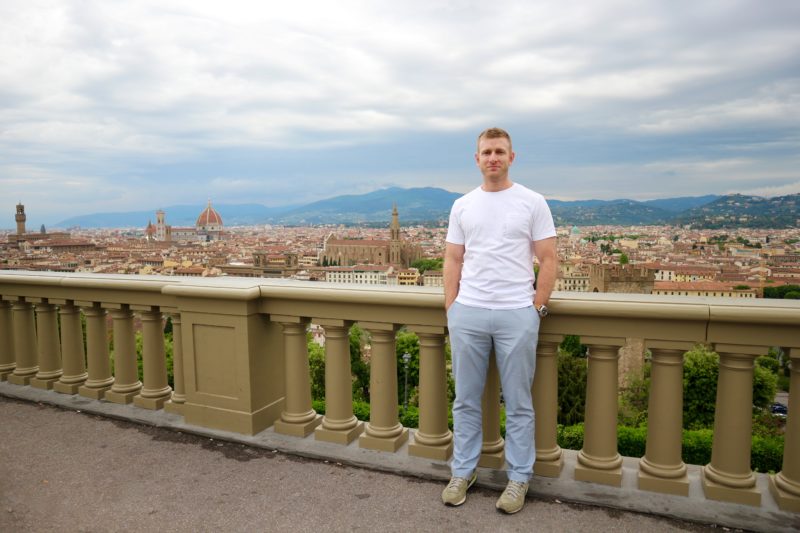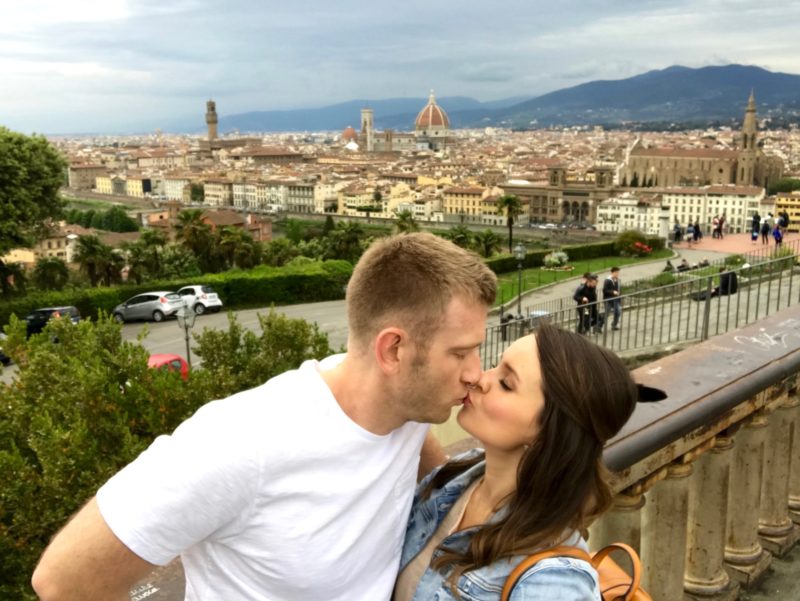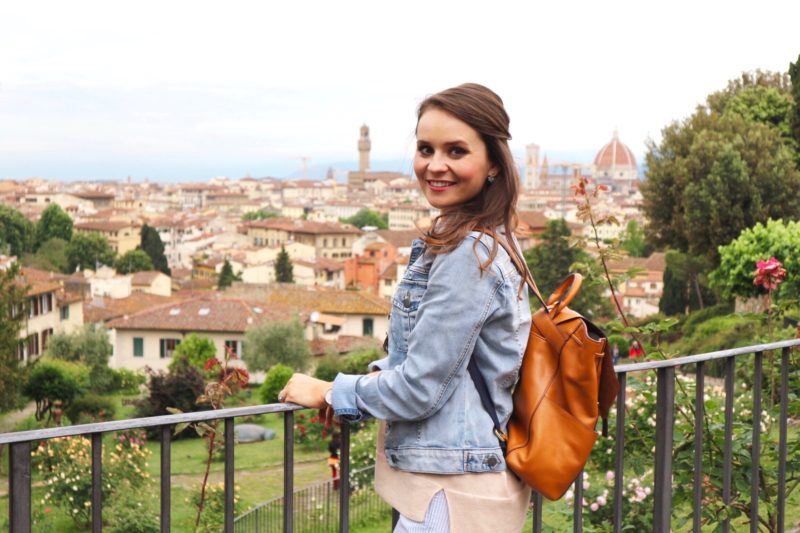 Have y'all ever been to Florence and what was your favorite thing to do? I am honestly already planning our trip back to Italy (maybe in a few years?) and would love to visit here again and plan to see more of the wine country. Hope you enjoyed this travel guide and stay tuned for next week's recap of Cinque Terre!