Alright y'all, this post has been a long time coming but I'm finally getting around to sharing my experience with eyelash extensions with you guys. The popularity of lash extensions is on the rise and of course I was curious. I wanted to know what it felt like to have super long lashes every day while saving time getting ready. Today I'm sharing 10 things you should know before getting lash extensions and also how mine turned out over the course of a month.
I had a lot of events at the end of summer (blog conference, wedding, Miami) so I figured it would be a great time to try out lash extensions. Let me first say that I LOVED how they looked and you couldn't "feel" them like you would normal adhesive lashes. The salon I went to offers mink lashes, which are the most natural looking. But on the flip side, I also wish I knew a little more about this process before I took it on. Here are 10 things that anyone thinking about getting extensions should know: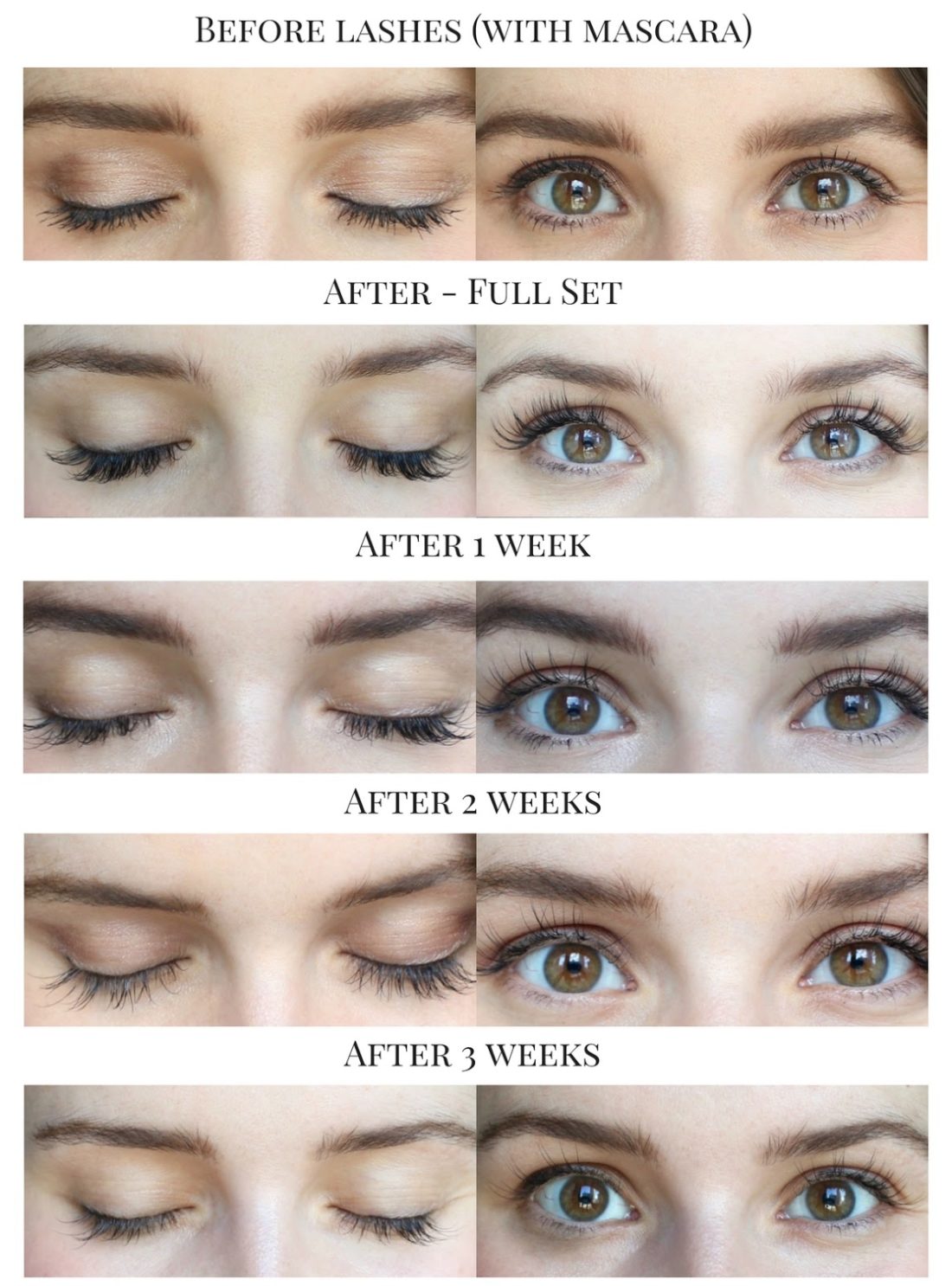 1. YOU DON'T HAVE TO WEAR MASCARA
This is hands down the best thing about having lash extensions. I loved having the "I woke up like this" look because long eyelashes just make you look so much more awake! I also felt like I didn't really need any eye makeup at all because they just look that good. Removing mascara was always the least favorite part of my nighttime routine and it felt so good to just skip this step.
2. THEY ARE AN INVESTMENT
If you want to get and maintain lashes, be ready to drop some serious $$$. Prices vary at each salon, but my full-set was $150 and fill-ins are $50. The price also depends on what type of lashes you get- mink, synthetic, or silk. As far as time goes, it takes about 1.5 – 2 hours to get a full set and about an hour for fill-ins.
3. THEY REQUIRE MAINTENANCE
Speaking of fill-ins, you'll have to hit the salon about every 3 weeks (4 if you're lucky) to get your lashes filled in. You also have to wash & blow dry your lashes to keep them free of oils and maintain their curl. Johnson's baby wash daily/ every other day will do the trick! Your lash technician will also give you a spooly brush to use.
4. NO GETTING WET FOR 2 DAYS
This is definitely something to keep in mind, especially if you work out a lot. Moisture affects the glue used on the lashes and won't let it cure as well. Avoid any heavy exercise, crying, eye makeup, and face wash.
5. YOU CAN'T RUB YOUR EYES
You have to be pretty gentle with these babies and if you love to rub your eyes or have allergies where they get really itchy, these may not be for you. If you vigorously rub your eyes, you risk the lashes falling out AND also risk damaging your natural lashes. Just don't do it!
6. BE AWARE OF HOW YOU SLEEP
During my first month with the lashes, a few more fell out than normal and I was told that the way you sleep can definitely affect this. Try your best to sleep on your back (easier said than done, I know) and if you sleep on your stomach you may wake up to flattened lashes. After sleeping, some of my lashes would sometimes point in the wrong directions (drove me crazy!) but a good wash & blow dry would usually fix this.

7. YOU CAN'T USE CERTAIN MAKEUP PRODUCTS
When removing eye makeup, make sure to only use oil-free makeup remover because oil can weekend the glue and cause your lashes to slide off. Also, liquid liner is recommended over cream/pencil because they contain oils as well.

8. PUTTING ON EYELINER CAN BE TRICKY
Speaking of eye makeup, I found it kind of a pain to put on. Yes, it was nice to to need eye makeup but when I actually wanted to put it on, I found the lashes to get in the way. And taking it off was a pain because you have to be so gentle- I never felt like I got all of my liquid liner completely off.
9. YOU'LL NOTICE WHEN THEY FALL OUT
I found that more of my lashes fell out the first month (shown in these photos) than the second month but I think that was due to me getting used to the lashes. So don't lose hope if things don't go as well the first month! Since these are so much longer and darker than natural lashes, expect to find these little guys on you pillow, on the couch, and in random places all over the house.
10. YOU WON'T LIKE HOW YOUR LASHES LOOK WHEN THEY'RE REMOVED
Y'all. This was the saddest part. I got mine removed last week (super quick and only $10) and was quite sad to see my little stubby lashes underneath. Lash extensions are "supposedly" safe and shouldn't damage your lashes, but some have say that it makes your lashes weaker due to constantly supporting the weight of the extension. You have to be prepared that your eyelashes will look wayyyy smaller because you have been so used to having long extensions. I'm guessing this is why people get addicted!
Whew, that was a lot of info! I know a lot of these things may sound negative, but I really did love having lash extensions and they really make your eyes looks fabulous. I got them removed because of cost and I also just wanted to get back in my normal routine for a while.
I figured I would get them again but after seeing how small my lashes appear now, I'm totally rethinking that. But then again, I miss them! And remember, everyone has a different experience but I just thought I'd share some things I wish I would've known before trying them out. Hope this gave y'all a little insight into the extension process and if you have any other questions, feel free to email me at medicineandmanicures@gmail.com.