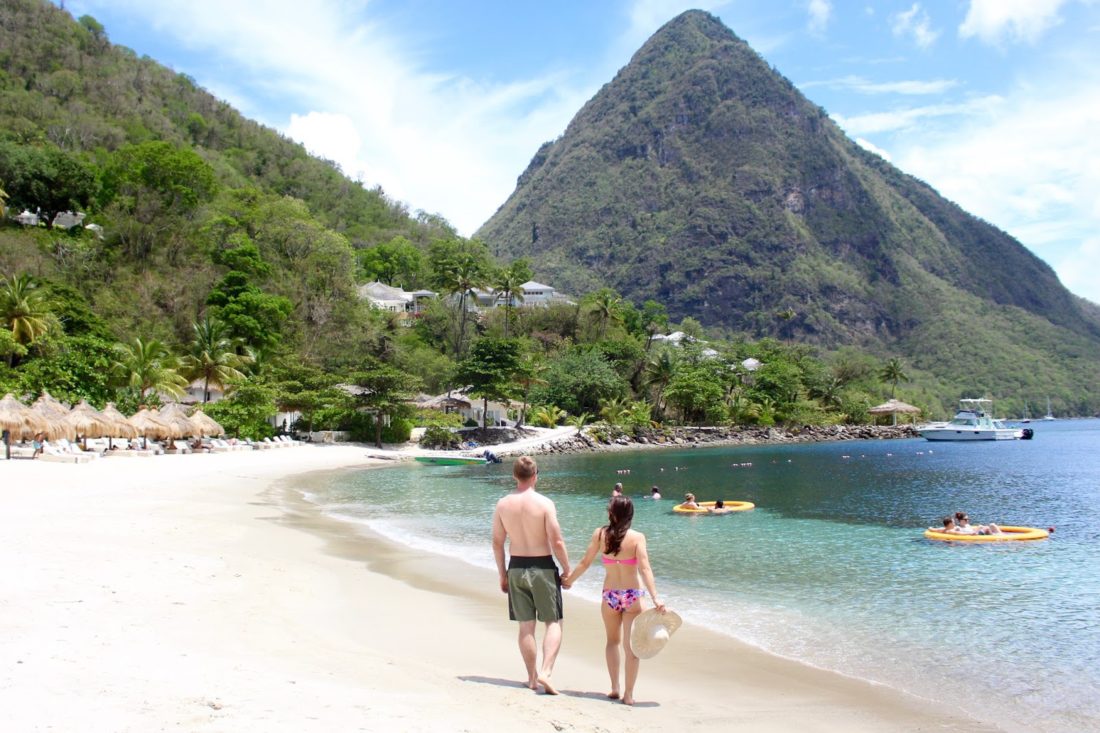 When we arrived to Sugar Beach Resort, I knew we had chosen the right place to spend our first week of marriage. Let me go ahead and say the accommodations, food, and service at were probably the best we've ever had. Top-notch everything.
We had lots of goodies in our fridge as well as snacks and a fruit plate when we arrived. Shortly after, our butler brought us a bottle of champagne which we popped before dinner. He also gave us our little "baby phones" which we could use to reach them at any time. Whenever we needed a ride down to the beach or to dinner, we would call and the tuk-tuk would be there in a flash.
We spent most days down at the beach. The thing about St. Lucia is that there aren't that many beaches, or at least the southwest part of the island, so I'm glad we had direct access at our resort. We loved the comfy daybeds down at the beach and we both finished reading two books under the little huts. And there was even Wi-Fi at the beach which was pretty nice! And I can't forget the cute little "coconut man" who walked around every day selling his fresh coconuts.
We woke up everyday to beautiful weather and delicious breakfast after delicious breakfast at The Terrace. There was a buffet as well as a made-to-order menu with almost anything you could imagine. Some of my favorites were the blueberry French toast, smoked salmon eggs benedict, and the smoothie bar. Oh, and can't forget the fresh watermelon and passionfruit juice. AMAZING!! We were happy that breakfast was included in our rate because to be quite honest, the food at this resort was quite pricey. As in $30 for an appetizer pricey. That being said, the food was SO delicious and these two foodies were quite impressed! We ate at all three restaurants and were glad that our resort offered some variety in cuisine. Bayside is the more casual, beachfront restaurant with lots of great local dishes. The Great Room is the "fancy" one that features global cuisine- get the sea bass! Cane Bar is the hip and trendy sushi bar. Lots of great options, just make sure your wallet is prepared.