I'm back with another townhouse update!! It feels like I have been talking about this house for forever (but really… we purchased back in September 2015) but we're finally getting close to moving in. ALMOST!! I thought I'd share another update with you guys because it's been a while so let's check out the progress, shall we??
DECEMBER 9th 
By early December, our exterior was pretty much finished!! As you can see, it's very modern and has TONS of windows. The orange accent is a bit funky but it adds a fun pop of color. They still need to finish the tile and railing on our rooftop terrace.
DECEMBER 23rd
Since my last update, we have gotten a kitchen… and paint!! When I first walked in and saw the white cabinets and white countertops, I got all the heart eyes! I love the fresh and clean feeling of an all-white kitchen. I'm also super excited about the double sinks in the master bath and just look at all those drawers. At first the designers told us they wouldn't have room to have drawers and I was not a happy camper, but thankfully they came through!
JANUARY 15th
We also have floors! Well, the hardwoods at least. You can't see them because they're covered up with the cardboard but they  look good from what I can tell. I can't wait to see how the kitchen pops against the dark wood. They have also started doing the trim which you can see in our downstairs guest bedroom.
JANUARY 24th
They have bulldozed/flattened the mud in the front yard and sidewalks are in so now we have a little path to our front door. Hopefully sod will be next! The outdoor light is new too and we have electricity. They have also started staining the stairs and I love how they look!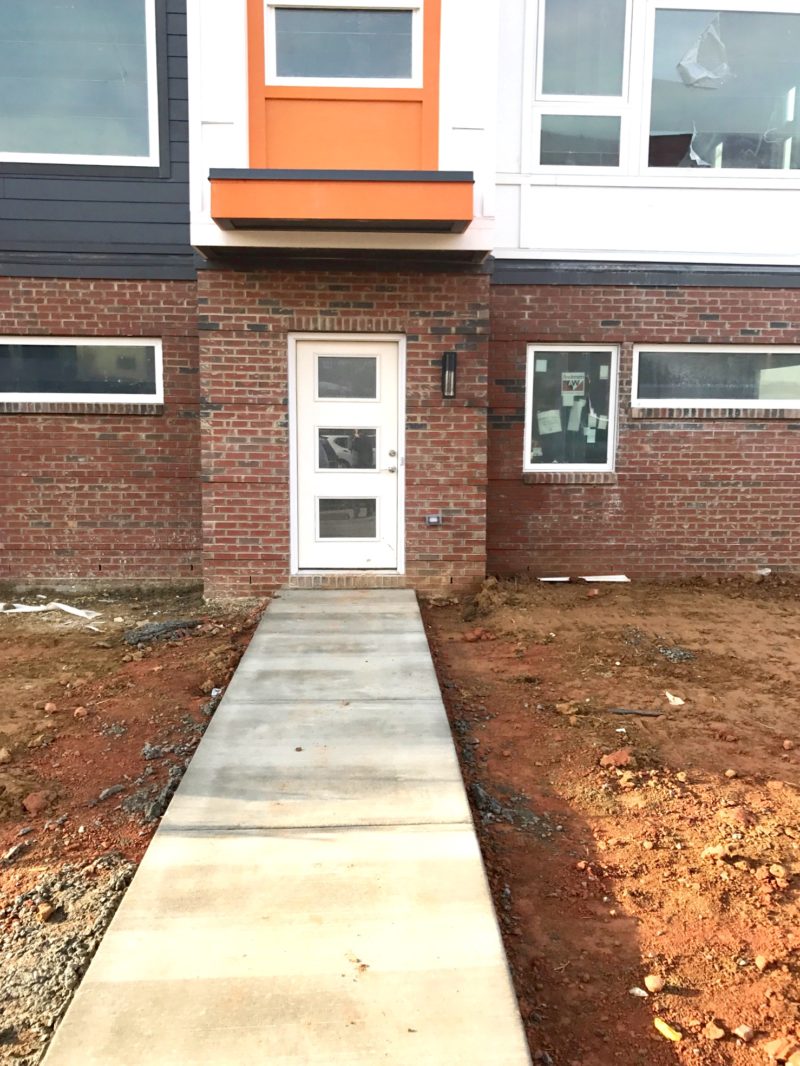 It has been really neat to see our place being built from the ground up but… we're so over the waiting. And would you believe they STILL haven't given us a move-in date?! I mean, all that's really left is the upstairs carpet and another fresh coat of paint. Oh, and of course fixing all the little mistakes they made along the way. Oh, the joys of home owning. Hopefully we will get a closing date very soon and until then, I'll be praying to the real estate gods!