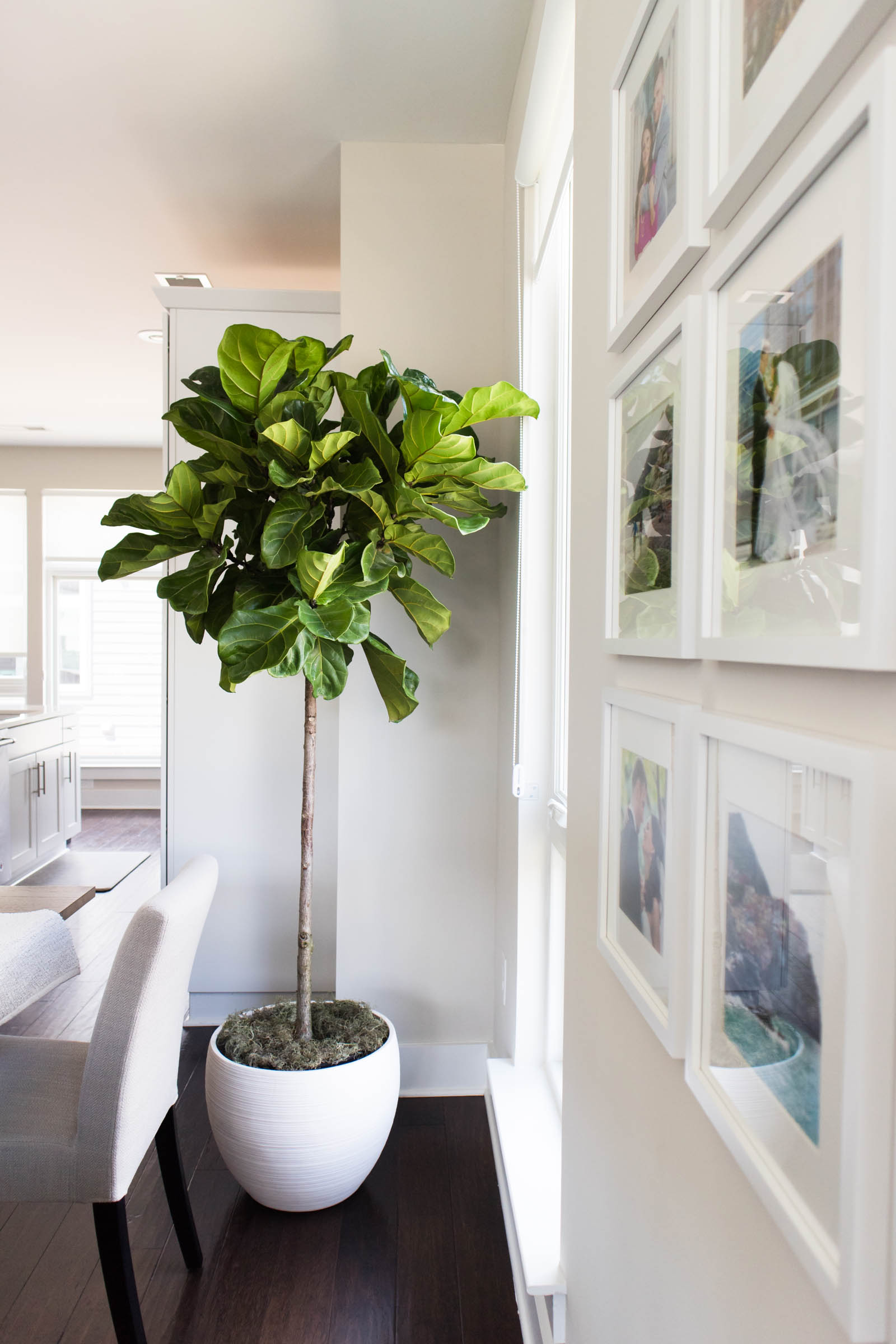 We've been in our house for just over a year now and while there's always a project to do, I feel like our living area is finally "finished"… if there ever is such a thing! We recently made some new additions to our living space and I'm excited to share another #hotelsapel update! All sources are listed at the bottom of the post.
CHECK OUT MY FULL HOME TOUR HERE
First up, the fireplace!! The corner under the TV finally has a purpose and this truly makes our living area complete. We brainstormed several ideas of what to put under here but kept coming back to the fireplace. I didn't like any corner shelves that I saw and we considered putting two "poufs" under there but I'm so glad we went with this option. I really think it will add value to our home! Our townhome HOA does not allow gas lines to be placed so our only choice was an electric fireplace. We went with the Dimplex Wickson model because after looking at a few so many this one had the most realistic flame. Even thought we got it primarily for aesthetics, it does have a heat source too! We then added a marbled natural stone tile and a mantle to compliment our hardwoods. Below is a little before and after!
Next up was the giant wall above our stairs. We knew we wanted some sort of artwork but it just took a while to find the right piece. As soon as I saw
this painting
 I knew it was the one- it matches our color palette perfectly and I love the pops of metallic silver and gold!! I'm a big fan of abstract art and think this one flows well with the contemporary decor of our living area.
And last but not least, there's Fanny. She's our fiddle leaf fig that I am hoping and praying to keep alive- we've already got a few brown spots so I'm just trying to follow directions the best I can and keeping my fingers crossed (I bought this moisture meter so I can know exactly when she needs watering). I've done well with all my other houseplants but these are known to be a little finicky. However, I do love the height and pop of green that it adds to the room and it's just such a pretty houseplant!

And that's all for today's update, hope you guys enjoyed! As always, I love sharing home decor posts with y'all and if you have any specific areas you'd like to see me blog about, don't hesitate to send me and email or comment below. Thanks for stopping by!
SOURCES
Crate & Barrel sofa & loveseat
Cocktail ottoman
Brass table lamp
West Elm pillows (jacquard & blush velvet)
West Elm globe chandelier
Marble & brass nesting table
Crate & Barrel framed artwork
West Elm rug
Gold bookshelf
Silver tray
Pineapple candle
Dimplex electric fireplace
Crate & Barrel dining table & chairs
Silver centerpiece bowl
West Elm woven metallic runner
Target white gallery frames