Hi, friends!! I'm excited to share another home tour post with you guys today. Can y'all believe that we've been in our new house for almost a year? These home decor posts have been some of my favorite to share over the past year- but what am I going to do when I've shared all the rooms?! All I know is- I love home decor and plan to continue incorporating in the blog whenever I can. Now, let's take a look inside our master bedroom!
After moving in, I was anxious to start decorating our bedroom- we had someone painting it the day we closed! Choosing a paint color was tough. The rest of our house was a light grey/taupe neutral so I wanted some sort of color in our bedrooms and our last bedroom was blue so that was out. I wanted something different so we went with Chaise Mauve by Sherwin Williams. Yes, it's a shade of purple but it has grey undertones which I thought would go well with our bed. I probably asked Ryan 100 times if he was sure he liked it (because it's definitely a more feminine color) but he agreed and we both love how it turned out!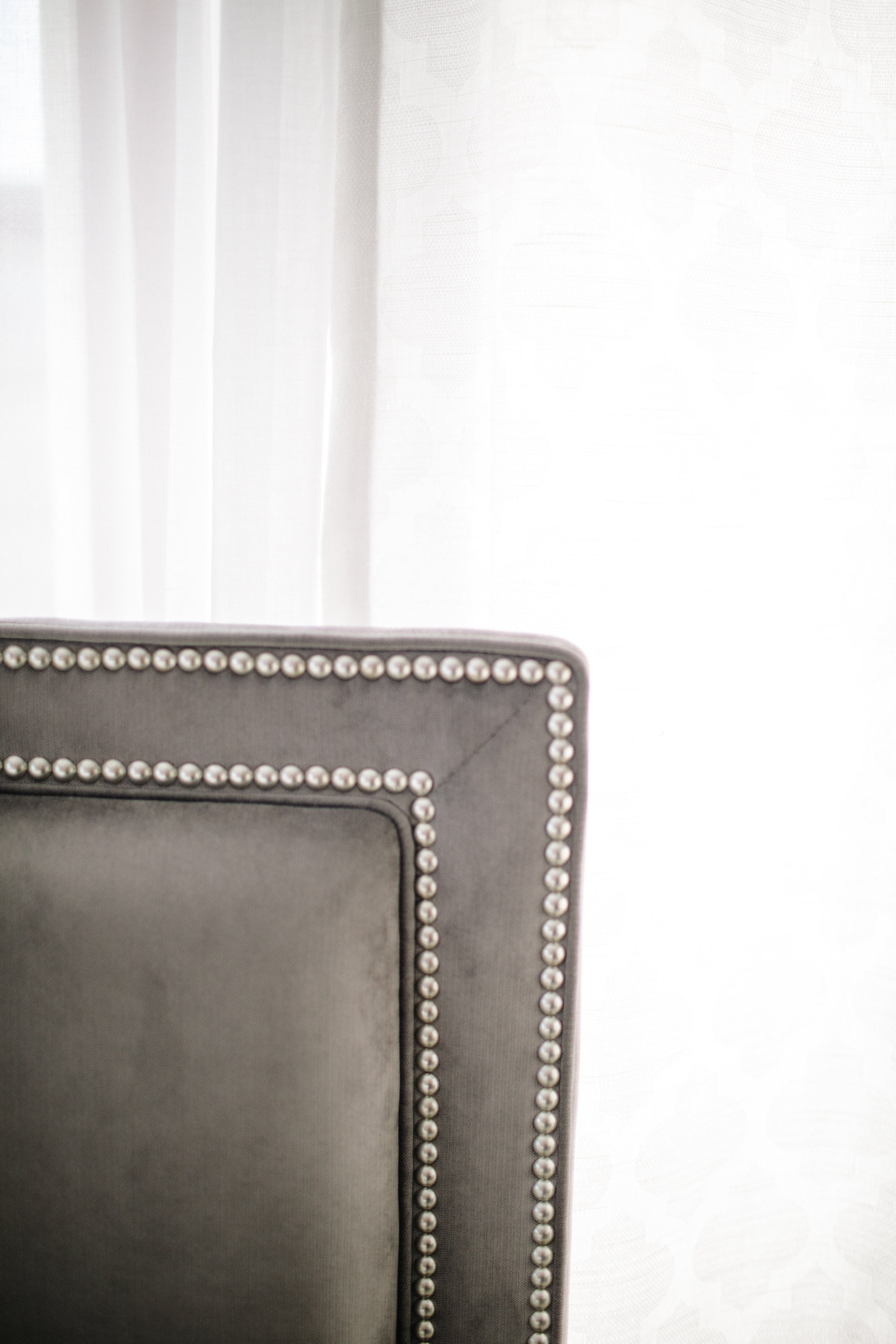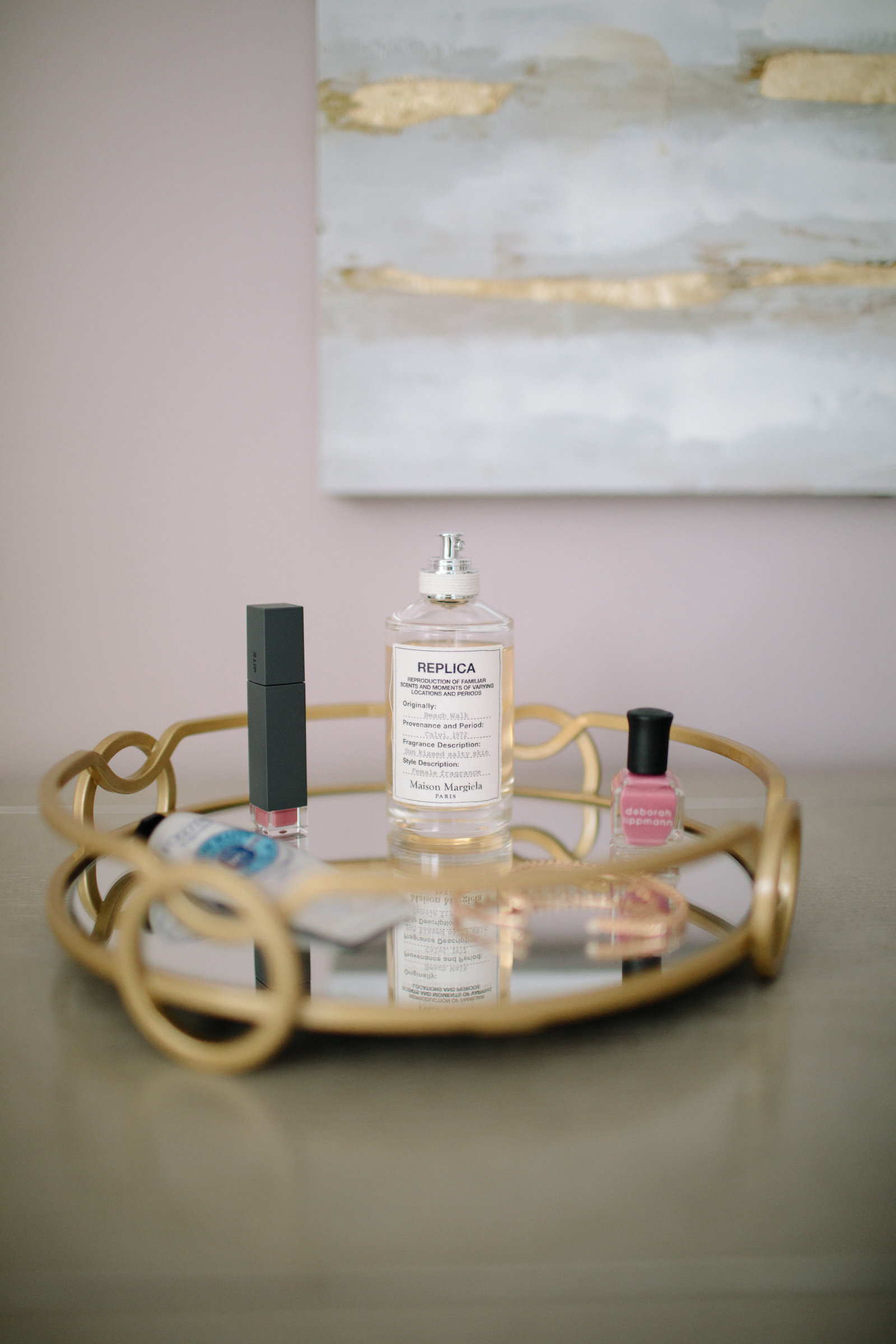 Of course I was super excited to have our first king bed and an upholstered headboard was a non-negotiable. We got ours from Ethan Allen and got to pick out the grey fabric and railheads. Since we had color on our walls, we wanted to keep things neutral with the grey bed and
all-white bedding
. I looked at so many ways to make beds but y'all, we just couldn't have 7 pillows on our bed to take on and off every day… just wasn't happening. So, we went the simple route with three euro shams and a cozy 
mongolian lamb pillow
.
We searched high and low for bedroom furniture and finally found the 'Criteria' collection from Bernhardt. The heather grey finish with chrome accents worked perfectly with our headboard. The tall chest is one of my very favorite pieces! I found the artwork above our dresser from HomeGoods (love a good steal!) and the colors couldn't have matched more perfectly.
If you read my earlier home updates, you may remember me saying that our bedroom would be challenging to decorate because it was in a corner with two giant windows on each side, windows that were not centered on the walls. We got around this by installing drapes and sheer curtains to "center" our bed. We have remote controlled blackout shades but I knew I wanted the softer look of drapes in this room, so we just had to cover part of a wall with the curtains to give the illusion that our bed was centered. I won't lie, this part wasn't ideal and a little stressful at times, but I owe a big thank you to Ryan's dad for installing the curtain rods and finally making our bedroom look like a bedroom!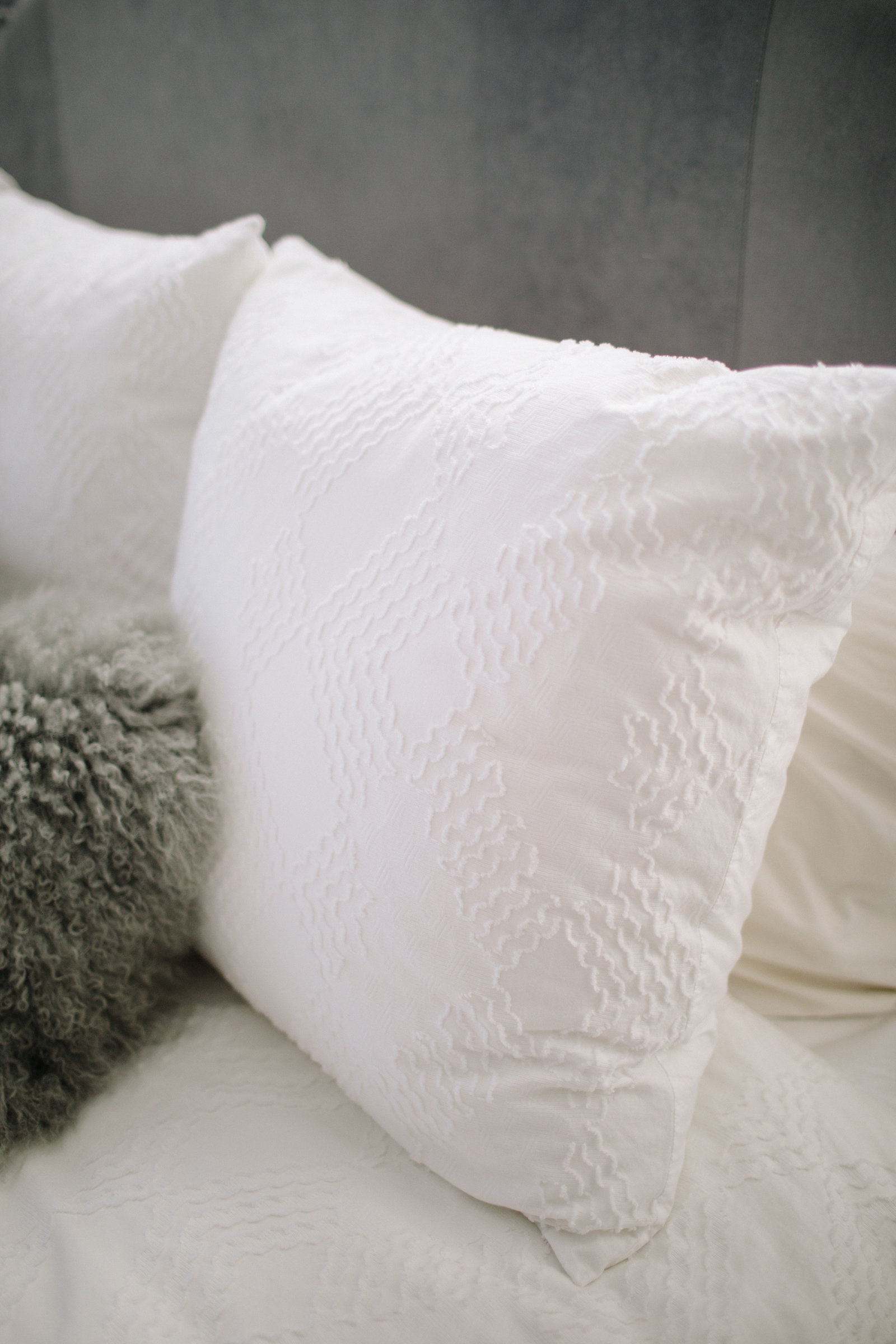 For some it might be easy to neglect the master bedroom or save it for last when decorating because it's the room that other people don't see, but not us. Sleeping happens to be my favorite pastime and I wanted our master to be comfy, cozy, and relaxing. Although it was a bit of a challenge, seeing this room completely decorated makes me so happy… if only it could always be this clean! Thanks for reading and you can check out the rest of my home decor posts here.
Master closet | Rooftop terrace | Kitchen & dining room | Living room | Master bath | Powder Room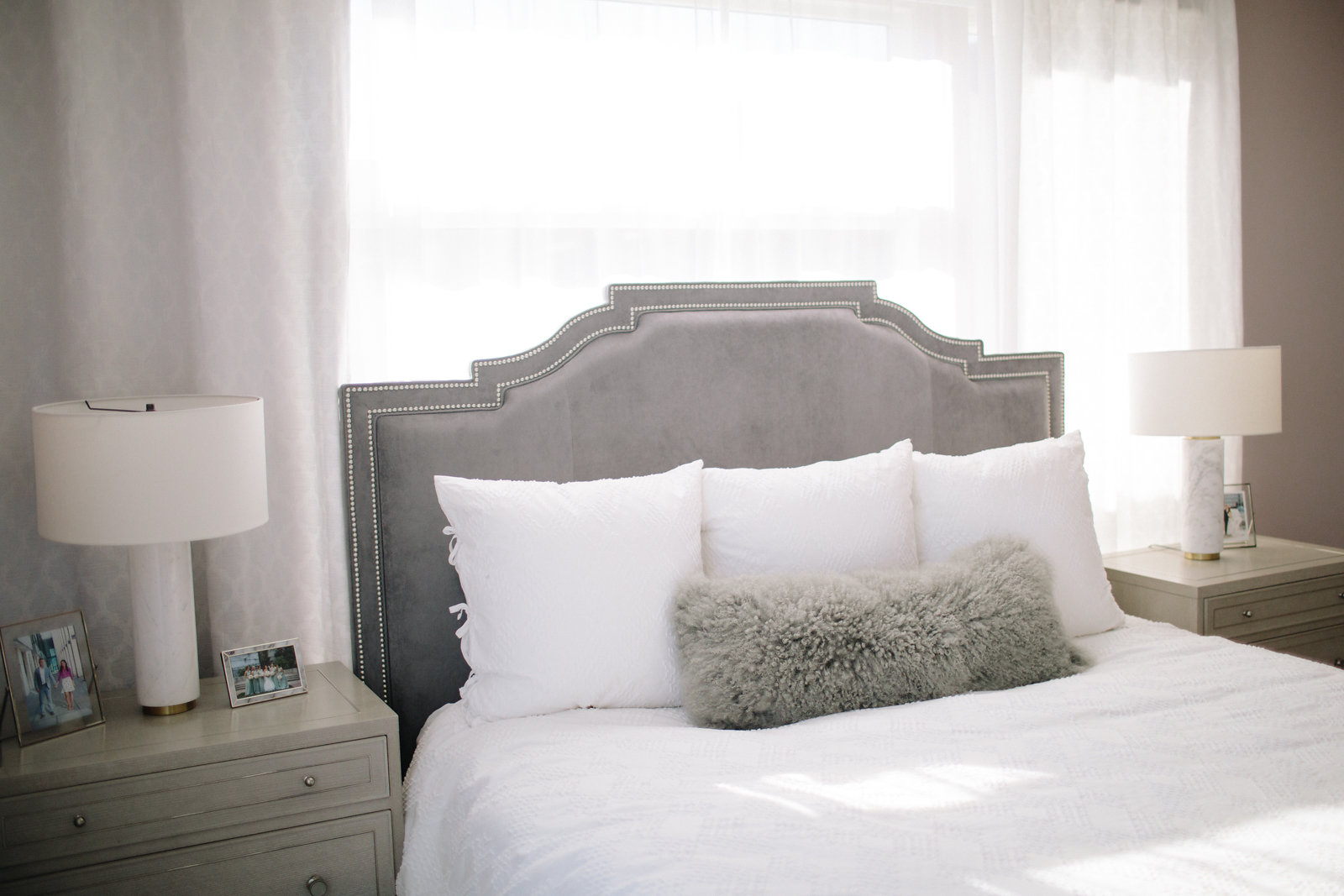 Photos by Paige Winn Photo
SOURCE LIST
Paint color – Chaise Mauve by Sherwin Williams
Ethan Allen upholstered Quinn bed, custom fabric
White textured duvet & shams
Mongolian lamb pillow
Marble lamps
Bernhardt nightstands and dresser
Bernhardt chest
Faux flowers
Gold mirrored tray, similar
Artwork via HomeGoods
Silver mirror
Patterned drapes in stone
Brushed nickel curtain rods