Here we are, the first blog post of 2020! I loved sharing our home building journey with y'all last year and this year I will be sharing more about our design process and of course home decor! Choosing all the finishes of our home was one of the best parts of the process and today I'm talking all about door and cabinet hardware.
When picking out hardware we had to decide on the front door entry set, interior doorknobs and cabinet knobs and pulls. I initially discovered Emtek hardware through another blog (The House of Silver Lining… absolutely gorgeous!) and loved their clean lines and brass hardware. They are one of the best in the business and we have been super impressed with the quality. We love how their products are customizable and are made here in the US in southern California.
For the front door, we went with the Orion tubular entry set. The cool thing about their knobs is that you can do a split finish. We chose a matte black finish for our exterior handle to tie in with our windows and gas lantern. On the interior though, you will find a round matte brass doorknob to match the rest of the downstairs hardware. This detail was so important and we were glad this company allowed for that type of customization.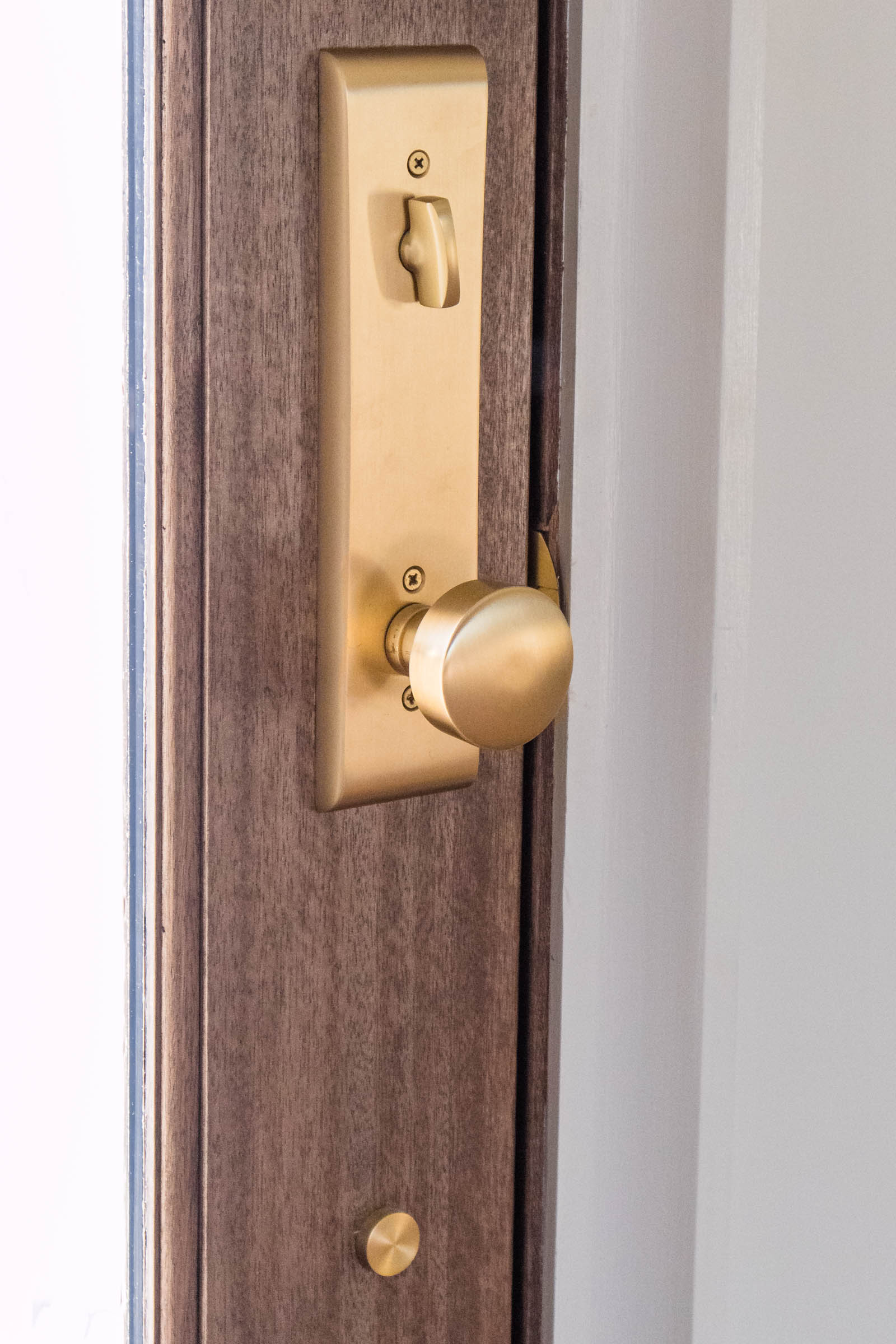 From the initial stages of designing our home, Ryan & I knew we wanted black doors throughout the house. We love the contrast and doesn't hurt that they won't show as many fingerprints! As you guys know, I'm a huge fan of brass and am so glad it's back in style (and we're not talking about the super shiny, yellow versions of 80s). Now, we know interior design trends come and go so we didn't want to deck out our entire house in brass finishes, so instead we focused on the first floor. I couldn't be happier with our
Laurent knobs
 in satin brass, they really pop against the black doors. We chose to put them on a rectangular rosette (
that's the proper term for the backplate- I learned lots of builder lingo during this process!
) since our doors are 8 feet tall.
For cabinet hardware in our kitchen and living area, we went with the brass Newport knobs on all our cabinets and the Alexander pulls for our drawers. Since we did a paneled fridge, we added the 18″ appliance pulls. In our mudroom, we also added 4 brass hooks for coats, bags, or whatever we may need to hang up in there.
Emtek also makes some really cool pocket door hardware. We have 4 pocket doors in our home and we love how they save space (oh and soft-close hardware is a must in our opinion)! For our master bath entry we went with a mortise set which has two flush pulls and a button on the inside of the door so you can grab the finger pull. You can get this keyed, locking or passage/dummy which is what we got. We never lock our bathroom door and figure if we need more privacy, we can always lock the bedroom door.
Upstairs, we decided to switch things up and use chrome hardware for our fixtures and cabinet hardware. We selected the Jasper pulls and Newport knobs for the master and secondary baths. Not too modern, not too traditional- they are the perfect finishing pieces for our cabinets and we are so happy with how they turned out. Door and cabinet hardware may seem like small details but just keep in mind that you will be touching these items every single day so make sure they're not only pretty but durable as well!
This post was written in collaboration with Emtek.