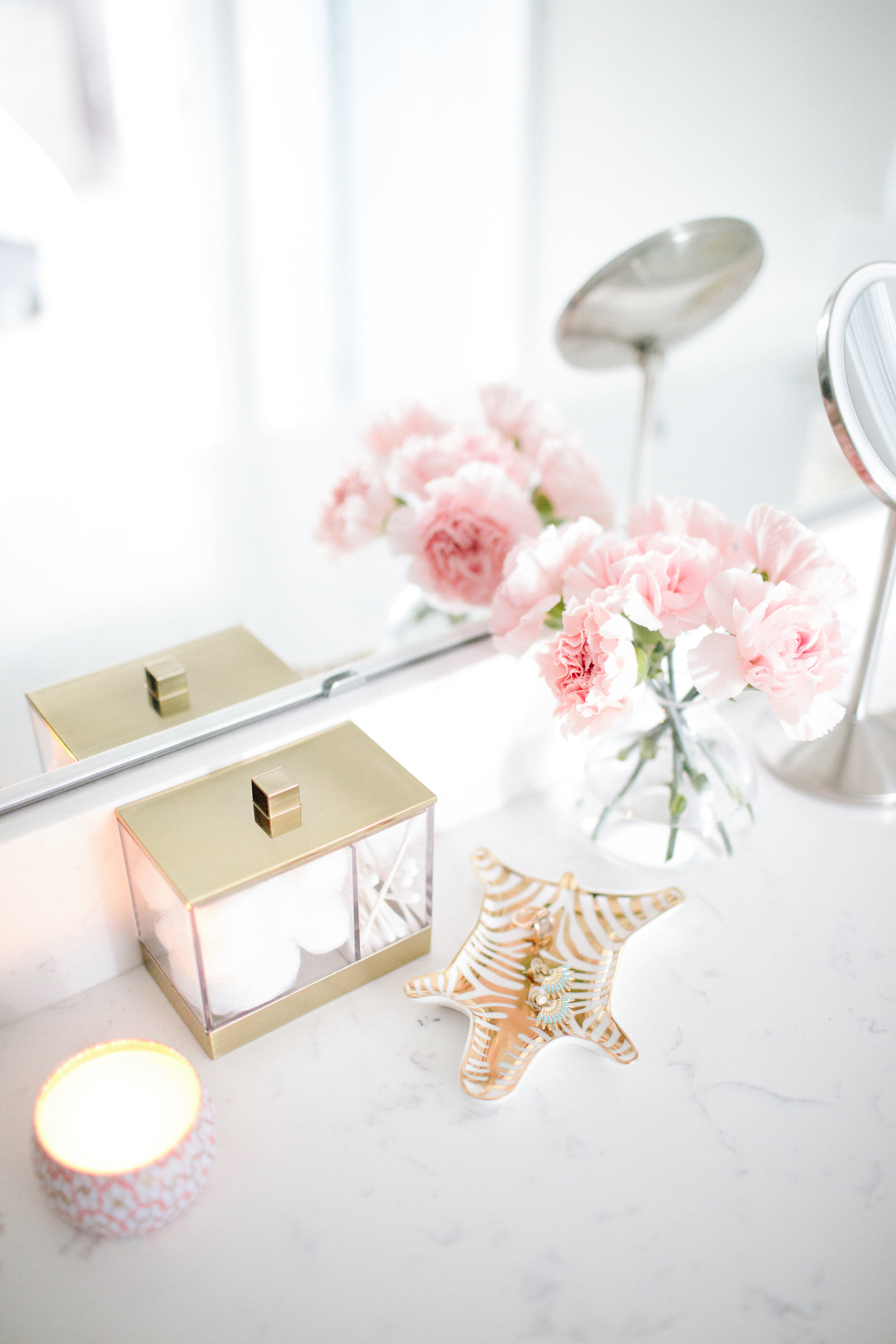 Oh hey, Friday! Only one more workday stands between me and a long weekend in Charleston with Ryan and the in-laws. It will be their first time visiting so can't wait to show them around and eat some amazing food in one of my favorite cities! I'm back with another home tour post and today I'm sharing a look inside our master bathroom. Warning: lots of white ahead! You can check out my other home tour posts here.
Let me start by saying the master bath was one of the rooms I was most looking forward to in the house. Coming from a condo with one bathroom with one sink, you could understand why! We didn't have a large countertop and were constantly bumping elbows when brushing our teeth at night. Also, not ideal for guests but we made it work. Ryan & I were both excited to have our own sinks, more counter space and more storage (yay for drawers!!). Along with our all-white kitchen, we kept the same theme in our bathroom with white cabinets and quartz countertops. The brighter the better!
I wanted to keep things neutral in this space to complement our bedroom so I went for grey & white floral towels. I picked these up from World Market and am super impressed with the quality. I think they are sold out online but may be available in stores- I've also linked a similar option below. I also wanted to mix metals so I added pops of gold with our vanity accessories, gallery frame and clock (because I'm forever asking what time it is when getting ready).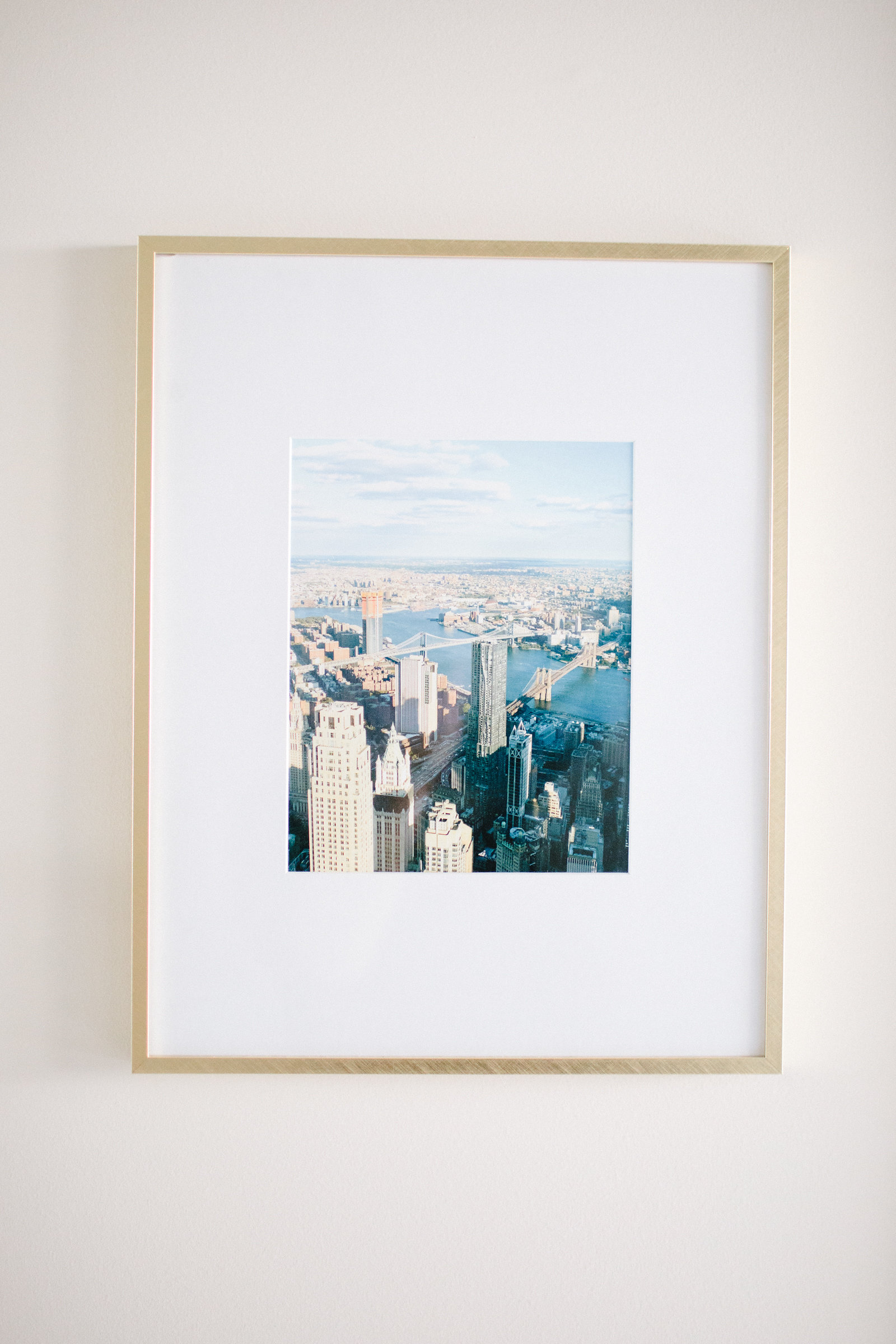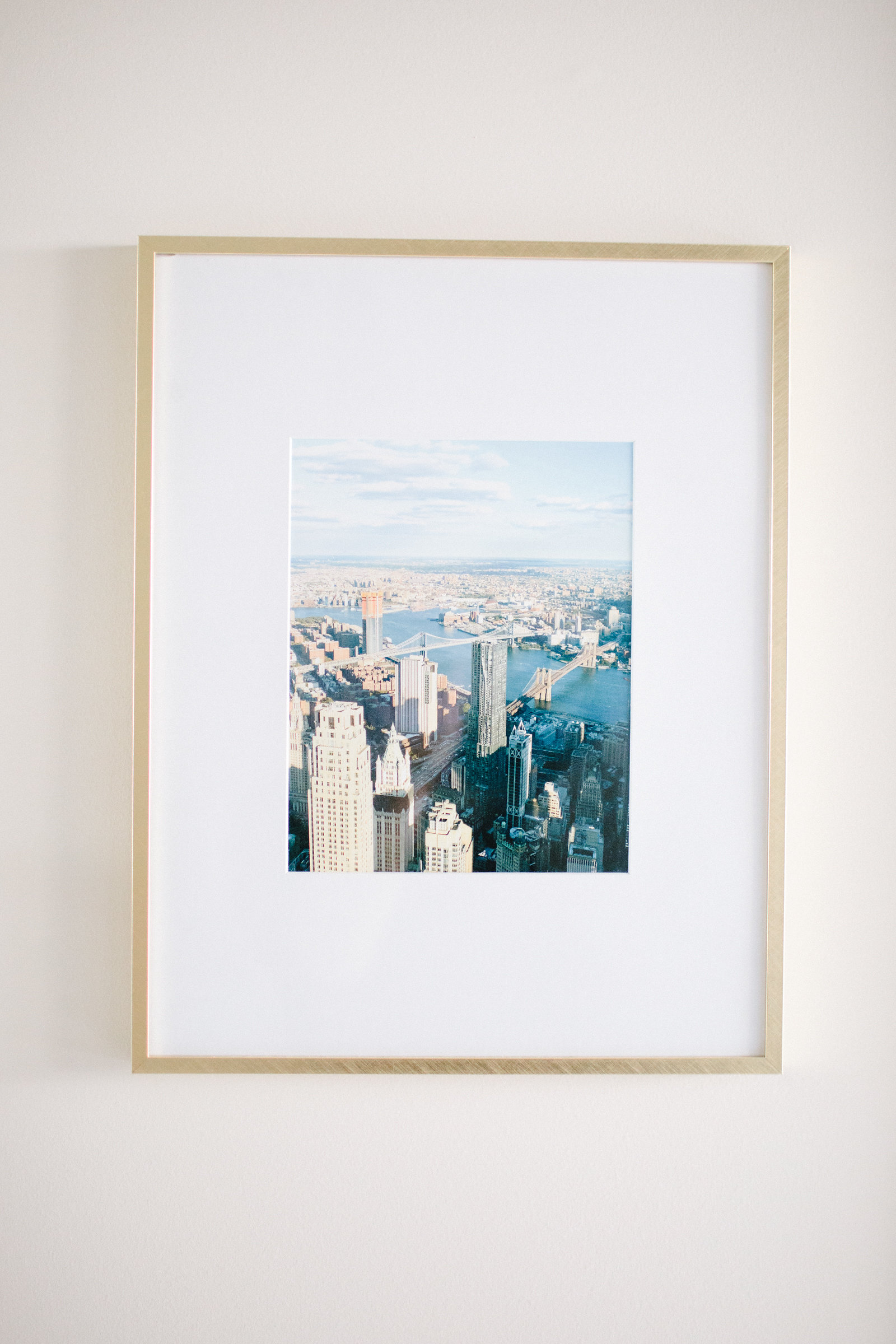 One thing that we decided to switch up was the towel bar. Folding my towel after every shower just wasn't going to happen so Ryan's dad was nice enough to replace the towel bar with hooks. It just makes life so much easier! And not pictured is our little water closet- not much to see there but it does have a window with a view of uptown Charlotte. If I could add
one
more thing to this bathroom, it would be a freestanding tub. This girl loves her baths but at least the guest bathroom is just down the hall!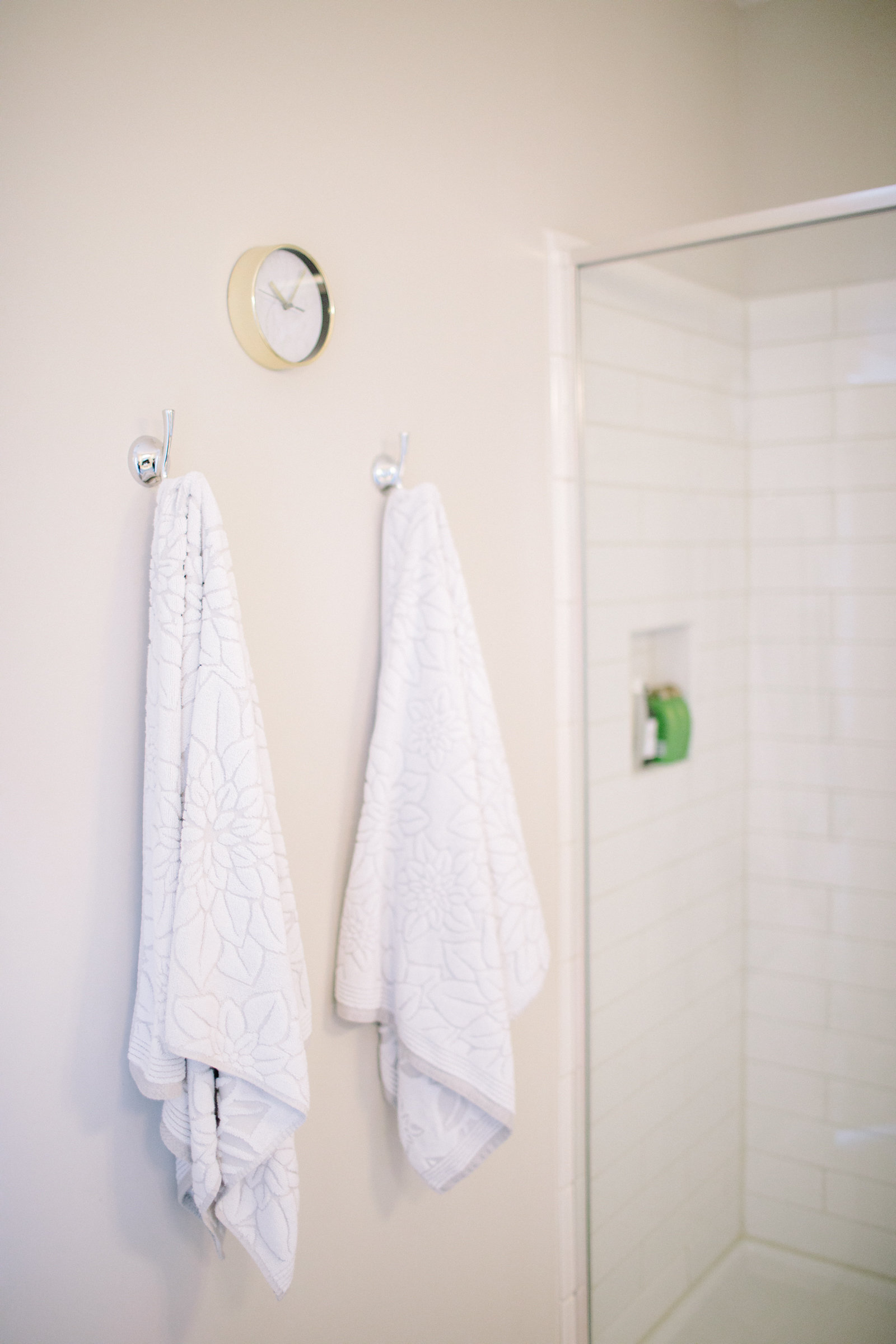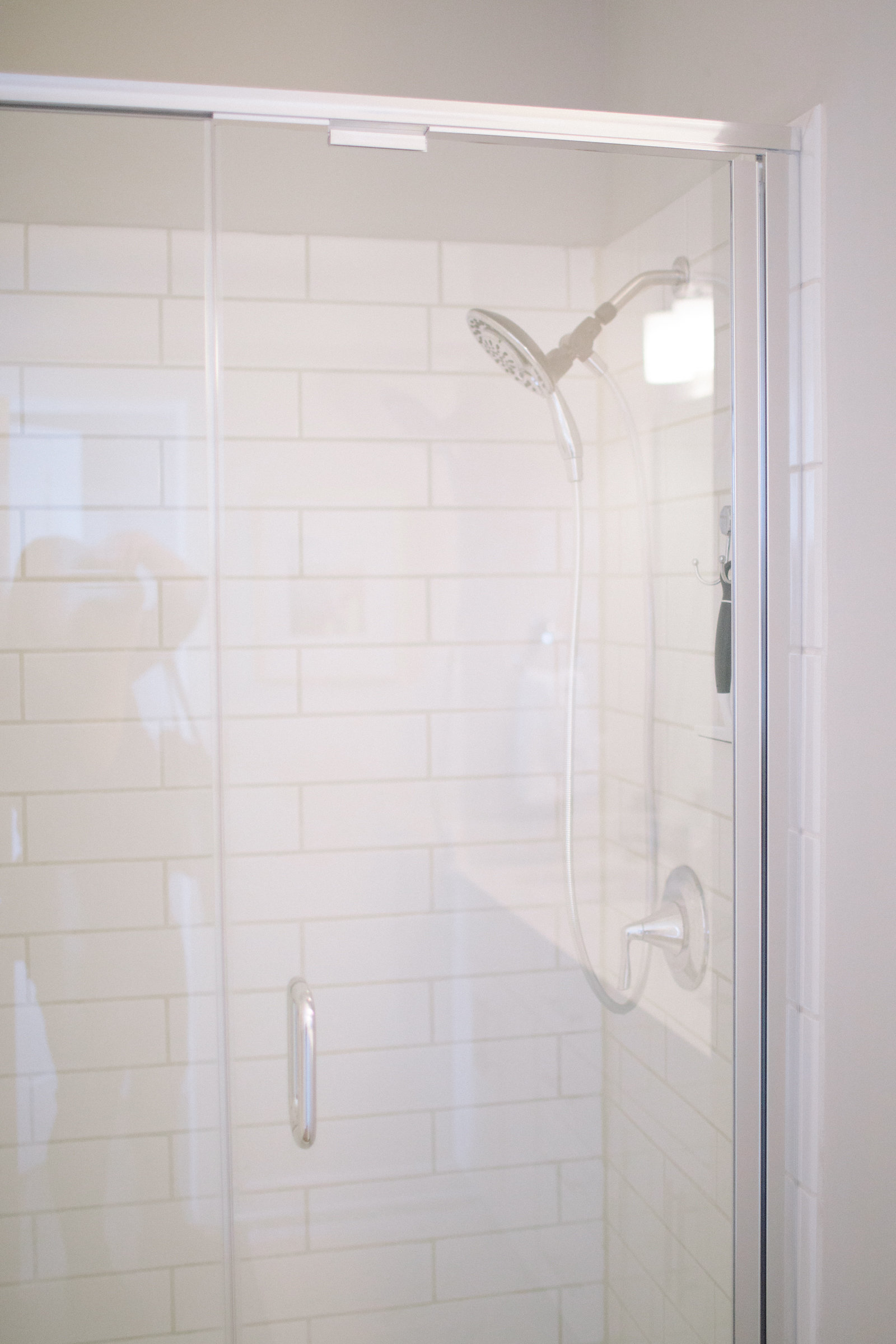 Hope y'all enjoyed a peek into our master bath! Next month I'll be sharing our master bedroom and you can check out all my other home tour posts below. Thanks for reading and make sure to follow along on this weekend's travels on Instagram (@kristinahendley)!
Master closet | Rooftop terrace | Kitchen & dining room | Living room
Photos by Paige Winn Photo
SOURCE LIST
Grey floral patterned towels (similar)
Gold soap dispenser
Vanity canister
SimpleHuman sensor mirror
Grey runner
Gold gallery frame
Metallic zebra dish
Brass & marble clock