Happy Friday, friends! Last weekend Ryan & I drove up to Boone for the day for a quick ski trip which inspired this post. Now, let me first say that I am no expert on skiing (in fact, I've only gone 3 times) but I picked it up pretty quickly and am officially a huge fan of the sport! Last year I was clueless about ski gear and borrowed a few things from one of my friends but now that I know there will be more ski trips in the future, I decided to invest in some quality gear that will last me for many years.
Getting geared up for skiing or snowboarding is a bit of an investment so I did LOTS of research before making these purchases so if you're planning a trip this winter, hopefully this guide will help you if you're in the market for some new ski gear!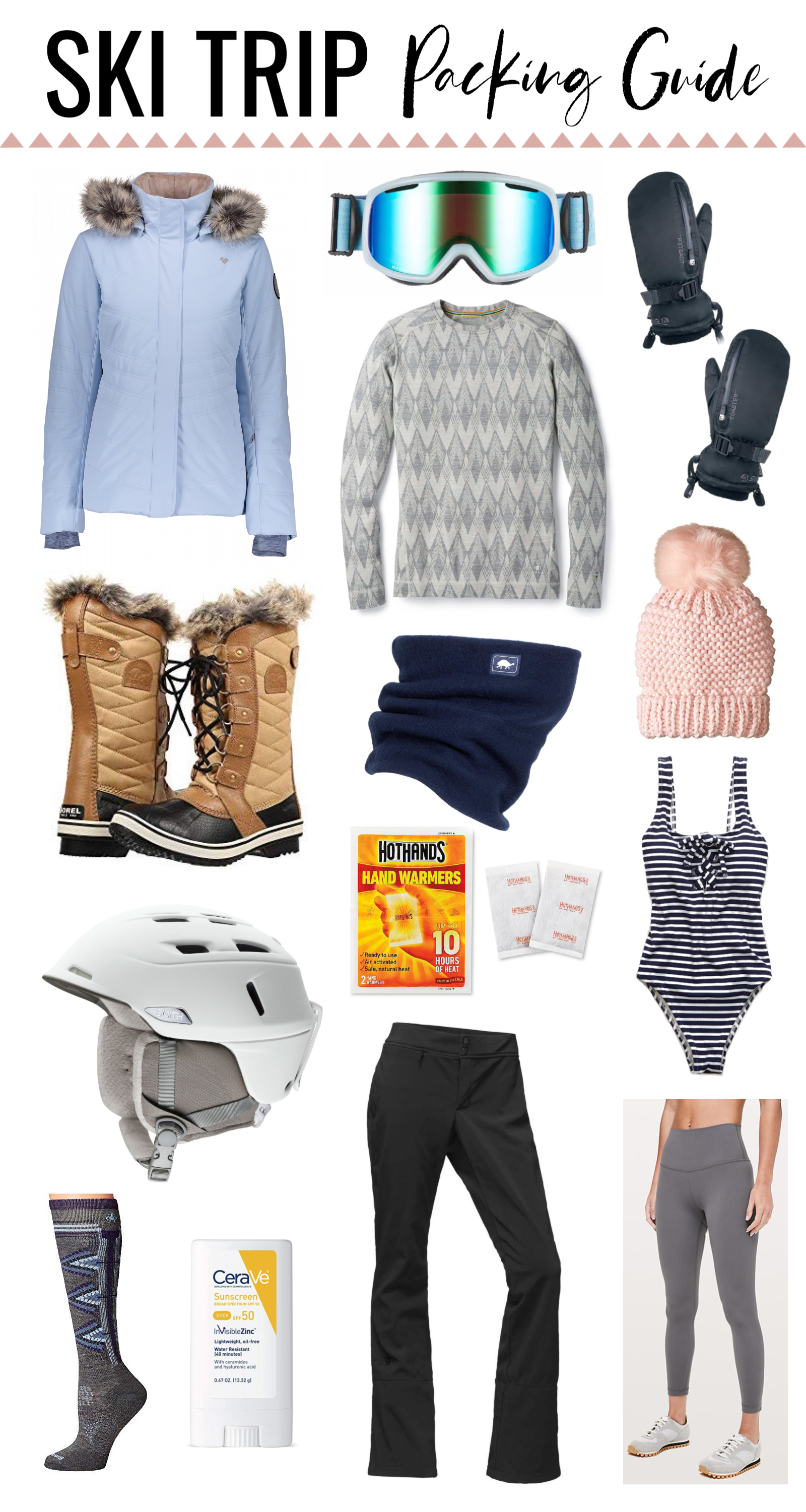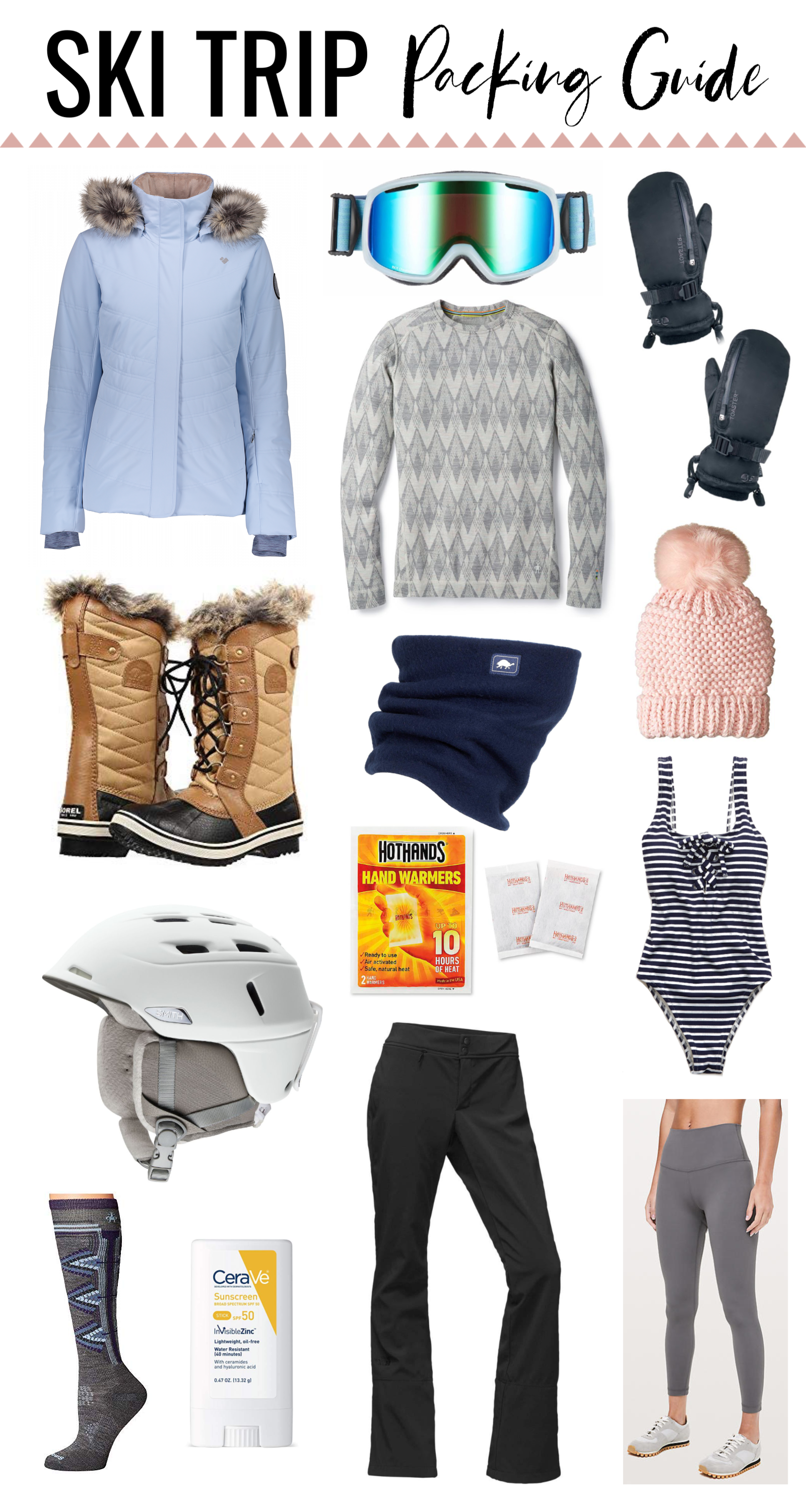 What to pack for a ski trip
---
SKI JACKET
First and foremost, you need a functional ski jacket before hitting the slopes! Ideally you want something warm, comfortable, breathable… and a little bit stylish because why not?! Ryan got me this
Obermeyer Tuscany II jacket
for Christmas and I am IN LOVE with it! It's an insulated jacket which means you don't have to wear a ton of layers underneath, definitely a base layer and maybe a thin fleece. Another plus is that several of their jackets come in petite sizes (which you know me & my short arms were a huge fan of)! I went with the 4P for reference. I'm a huge fan of the faux fur on the hood and it's nice that it's removable, as well as the hood if you want to switch up your look. The jacket is water and windproof but the material is so soft and flexible. The great thing about this jacket is it's not too "sporty" looking, so you can rock it off the slopes as well. If you're in the market for a good quality & stylish winter/ski jacket, I can't recommend it enough!
SKI PANTS
When it comes to ski pants, you definitely want something windproof and waterproof (or at least very water resistant). You can either go with an insulated pair which are a bit bulkier, but add extra warmth OR opt for a softshell pair which are generally more fitted and lightweight. I personally went with these North Face STH softshell pants because they fit so well and were the most flattering of the pants I tried on (they are also on sale!). I'm already short and the insulated ones just looked so bulky on me. l've worn them with leggings underneath and haven't had my legs feel cold at all- hopefully they perform well out west! If you prefer insulated, I'd recommend the Obermeyer Malta pants or Patagoina Snowbelle pants.
BASE LAYER TOP
You'll want a good quality base layer top to wear underneath your jacket to insulate and wick away sweat. Stay away from cotton for this one- wool or polyester is best. My pick is the SmartWool 250 crew neck top, it's lightweight but warm and not itchy at all.
GLOVES/MITTENS
Whether you go with gloves or mittens is personal preference, but I've heard that mittens are usually warmer. I got a pair of the Swany Toasters and couldn't be happier with them. They have an inner glove lining and have a zipper on the front that opens up so you can access your fingers (and the index finger is touch screen compatible)!!
GOGGLES
Some people choose to ski in sunglasses but if it's super cold or windy, you'll definitely want a pair of goggles shielding your face. You don't have to go crazy on goggles, you can generally find a good pair between $50-$100. I went with the
Smith Riot Chromapop goggles
. Avoid the very cheapest pairs because they may not have enough venting which can cause your face to get hot and your goggles to become foggy.
BEANIE
A cute pom beanie is a must for any winter trip if you ask me and I have been loving this chunky knit beanie from Free People (on sale right now!). It's super warm and not itchy at all… the bigger the pom pom, the better!
WOOL SKI SOCKS
Wool is the gold standard in ski gear- it's lightweight, keeps you warm and doesn't hold odors so you can easily rewear the items. When it comes to ski socks, you want something thick with light to medium cushion and ideally socks that come up to your knees and past your ski boots. You don't want them to bunch up in your boots because that can be uncomfortable and cause blisters/bruising. I would also recommend Smartwool for these!
LEGGINGS
Unless it's 50 degrees out, you'll probably want a base layer underneath your ski pants to provide some insulation. Wool would be an excellent option here but I have just been wearing my Lululemon Align pants as my base layer and have been happy with them so far.
HELMET
Protect your head, people!! It amazes me how many people I see skiing without helmets and it's just plain scary. Most resorts offer helmet rentals but they can be anywhere from $10-$20/day and you can purchase a good quality helmet for around $100 so I think it's a good investment. You won't outgrow it and will have it for every trip!
SUNSCREEN
Just because it's cold you can't skimp on the sun protection, especially when you're skiing at higher altitudes. I would personally bring sunscreen in a stick form because it's easy to use and not messy. This one from CeraVe is under $10 and is a physical sunscreen which is perfect for a day at the slopes.
Extras…
HAND WARMERS
Depending on the temps and how cold you get, you might want to stash a pair of hand warmers… just in case! I brought them on my first ski trip last year in Boone and definitely didn't need them, but when its 20 degrees out things might be different.
NECK WARMER
In extra frigid or windy environments, you may want to add a neck warmer for some extra insulation. I like the fleece ones from Turtle Fur because they're super soft and can be pulled up over your mouth if needed (and only $15)!
SNOW BOOTS
Depending where you are going, you might be out and about in snowy weather and may want a pair of warm, waterproof boots to walk around in. I've had my eye on these Sorel boots… may have to pull the trigger soon!
SWIMSUIT
Just in case you come across a hot tub, don't forget to pack a swimsuit! Besides, what better way to relieve those sore muscles?!