This girl loves jewelry… a little too much these days. One of my favorite recent purchases are these Tory Burch heart studs. They're not a statement piece, but definitely add that little something extra to your outfit. I wore this outfit to the movies when Ryan & I went to see Godzilla (would recommend).
My little stud collection is slowly growing, my favorites being my Tory trio and my diamonds from Ryan. Lately I've been seeing fun, colorful studs as well as cute phrases and mismatched initials. I would have to say Kate Spade & Tory Burch have the cutest studs, would you agree? Here are some of my favorites:
Kate Spade
Tory Burch
More fun studs!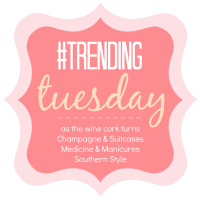 Join
Amanda
,
Katie
,
Zelle
and I every Tuesday to chat about the latest trending topic. You can link-up on any of our four blogs every Tuesday! All you have to do is…
1) Write your post about something you've noticed is trending, whether it be a pair of shoes on your wish-list, a new song or TV show you're into, or something news or sports related.
2) Share the logo above on your blog and link back.
3) Link-up at the bottom of the post so some new readers can check out your topic & say hi!
To go along with my little jewelry rant, the lovely ladies of #trending and I are bringing to you a statement necklace giveaway! Odds are you've probably seen this J.Crew Factory necklace around, because it goes with everything. Enter until next Monday (and if you just can't wait, find it here).

Reader Interactions